31 Cheap Easy Dinners
It's hard to resist the allure of an easy takeaway dinner during the week–especially when you're busy and tired. On average, Australians spend nearly $42 a week on takeaway from delivery services like UberEats, MenuLog and DoorDash. But with the rapid rise in the cost of living, every penny counts these days. That's why we've put together 31 ideas and recipes for cheap, easy dinners that are actually do-able and will save you time and money.
Overview:
1. Rice Paper Rolls
Rice paper rolls are a cheap, versatile, and healthy dinner option. Classed as low GI and low in fat, they're a great way to include nutritious vegetables into your family's weekly meals without too much effort. As they're low fuss and require no baking or cooking, they're also a fun and safe meal to get the kids involved with.
And with each rice paper packet containing approximately 40 rice papers for around $3, it's a meal option that will feed the whole family while being gentle on your wallet.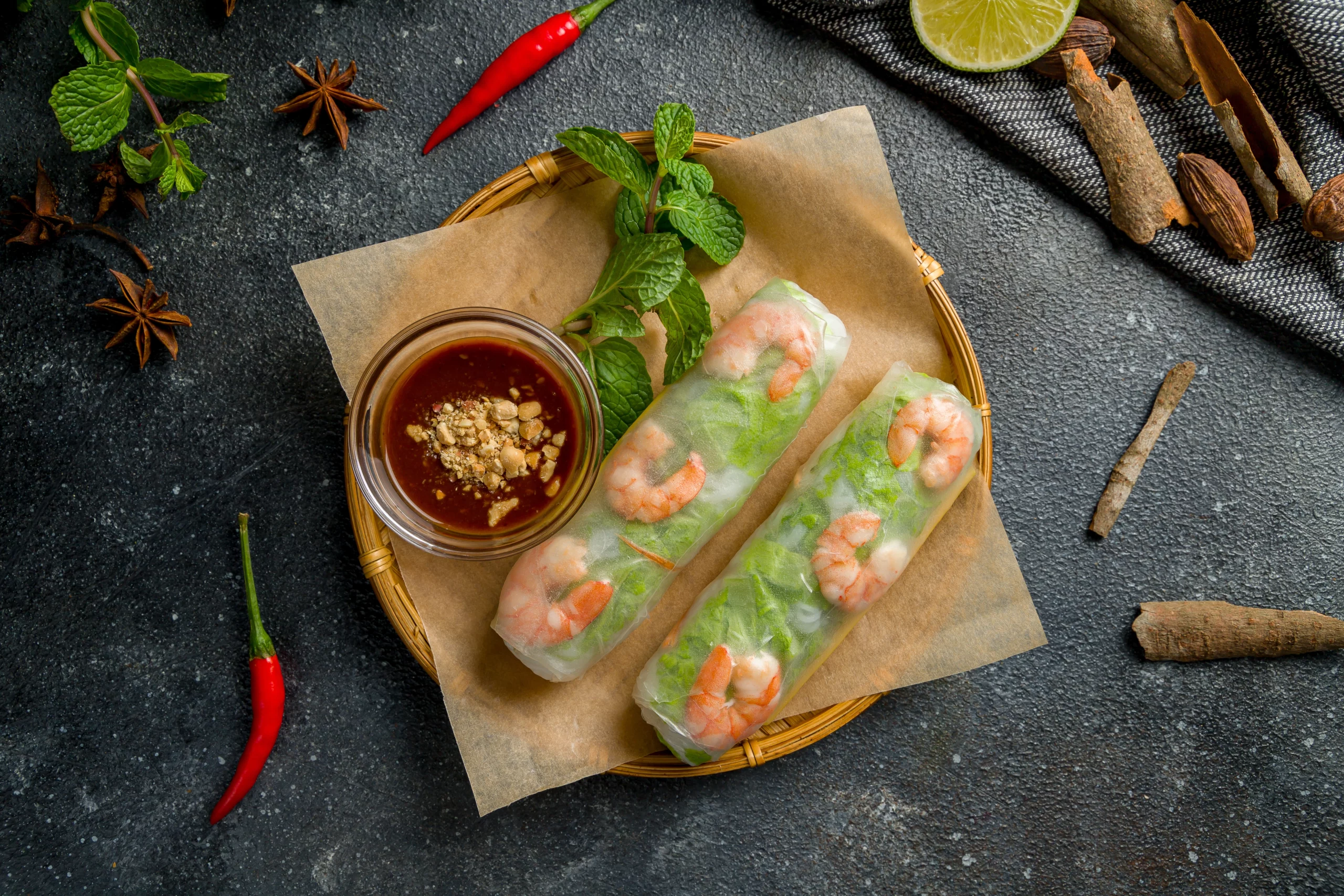 If you're looking for filling ideas, popular rice paper roll fillings include:
Proteins such as prawns, fish, chicken, beef, pork and tofu
Vegetables such as lettuce, carrot, cucumber and bean sprouts
Herbs such as mint, coriander, basil
Or you whatever your taste buds desire!
2. Pizza Night
Crank up the Italian music and call the kids into the kitchen–it's homemade pizza night! Homemade pizza nights offer an inexpensive, easy, and fun way to feed the whole family. With the convenience of cheap pre-made pizza bases available at the supermarket, it's a meal you can throw together at the last minute with whatever you have in your fridge.
It can be the perfect opportunity to get the kids involved in the cooking process and have some fun. You can experiment with toppings and flavours, or have the kids make pizza faces using toppings options like pepperoni, capsicum or olives.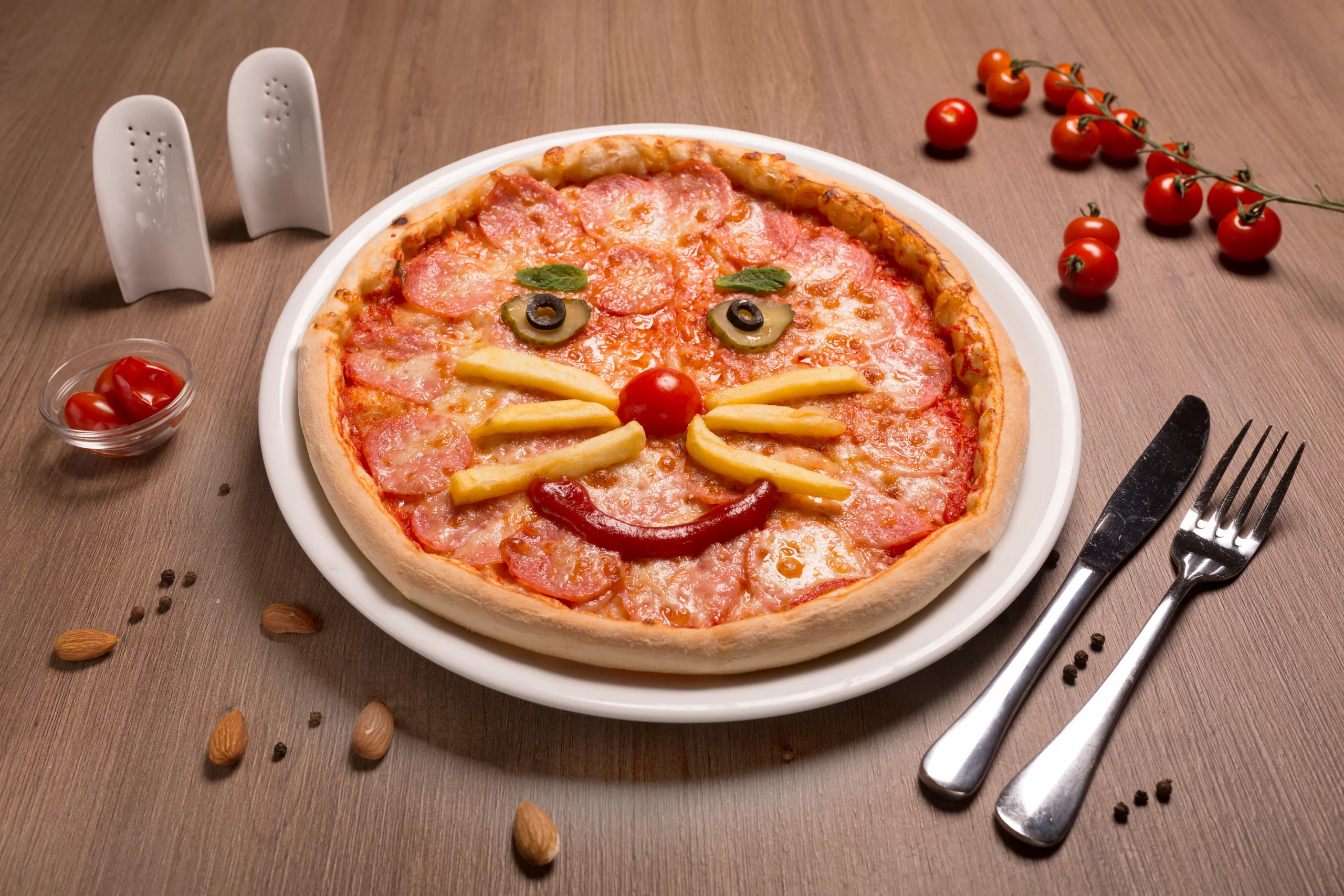 3. Toasted Sandwiches
Toasted sandwiches are a classic cheap and easy dinner meal. It's something you can throw together quickly without a ton of ingredients or prep work.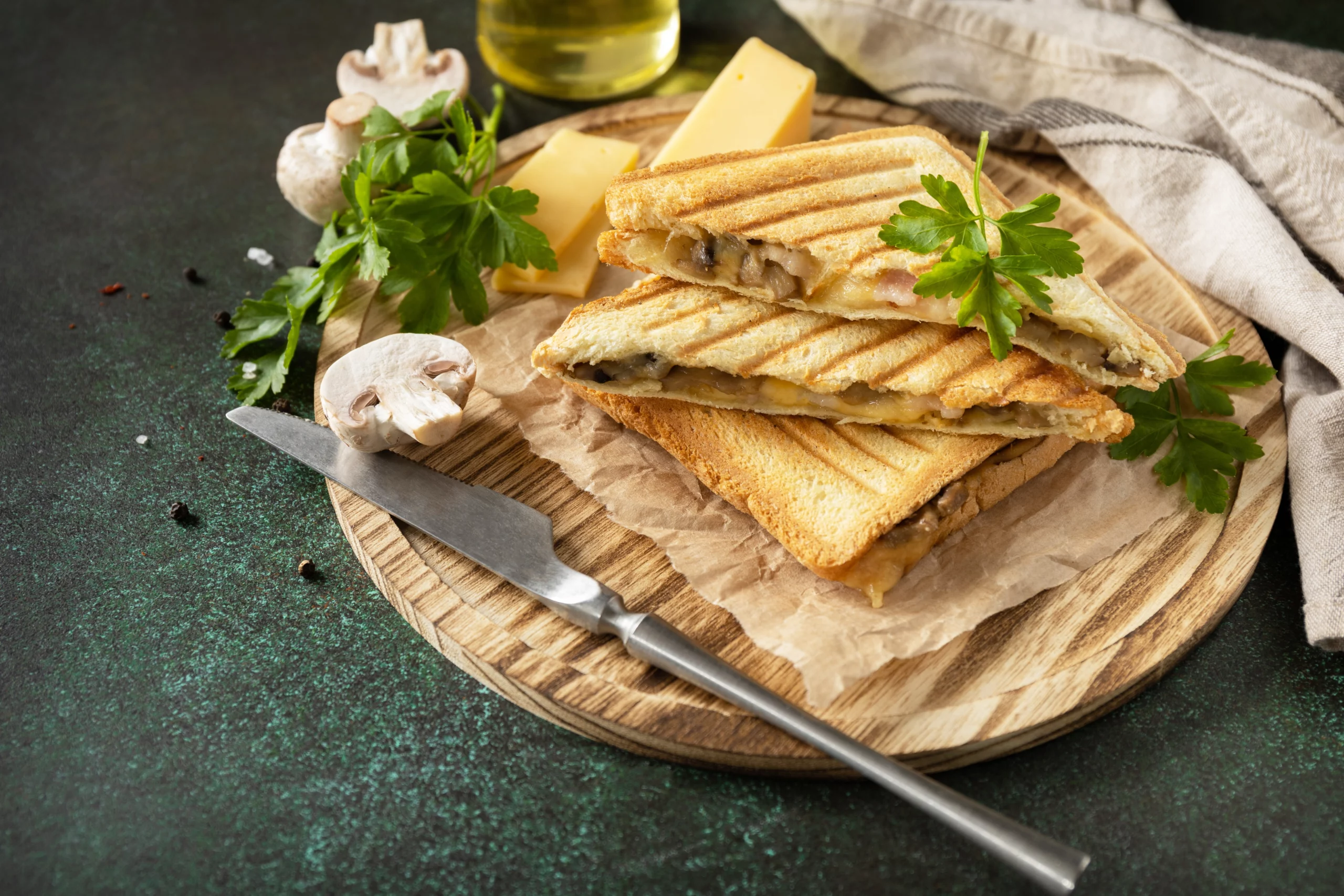 But just because it's a quick and easy meal doesn't mean it has to be boring. Why not try experimenting with different fillings. You could stick with the old favourite ham, cheese and tomato. Or you could get a little inspired and try something like a spinach, pumpkin and tamarind grilled cheese sandwich.
4. Leftover Vegetable Soup
Vegetables are one of the most common leftover ingredients we find buried and forgotten in the fridge. A basic vegetable soup can be the perfect cheap and easy way to utilise any stray vegetables while enjoying a tasty and healthy meal.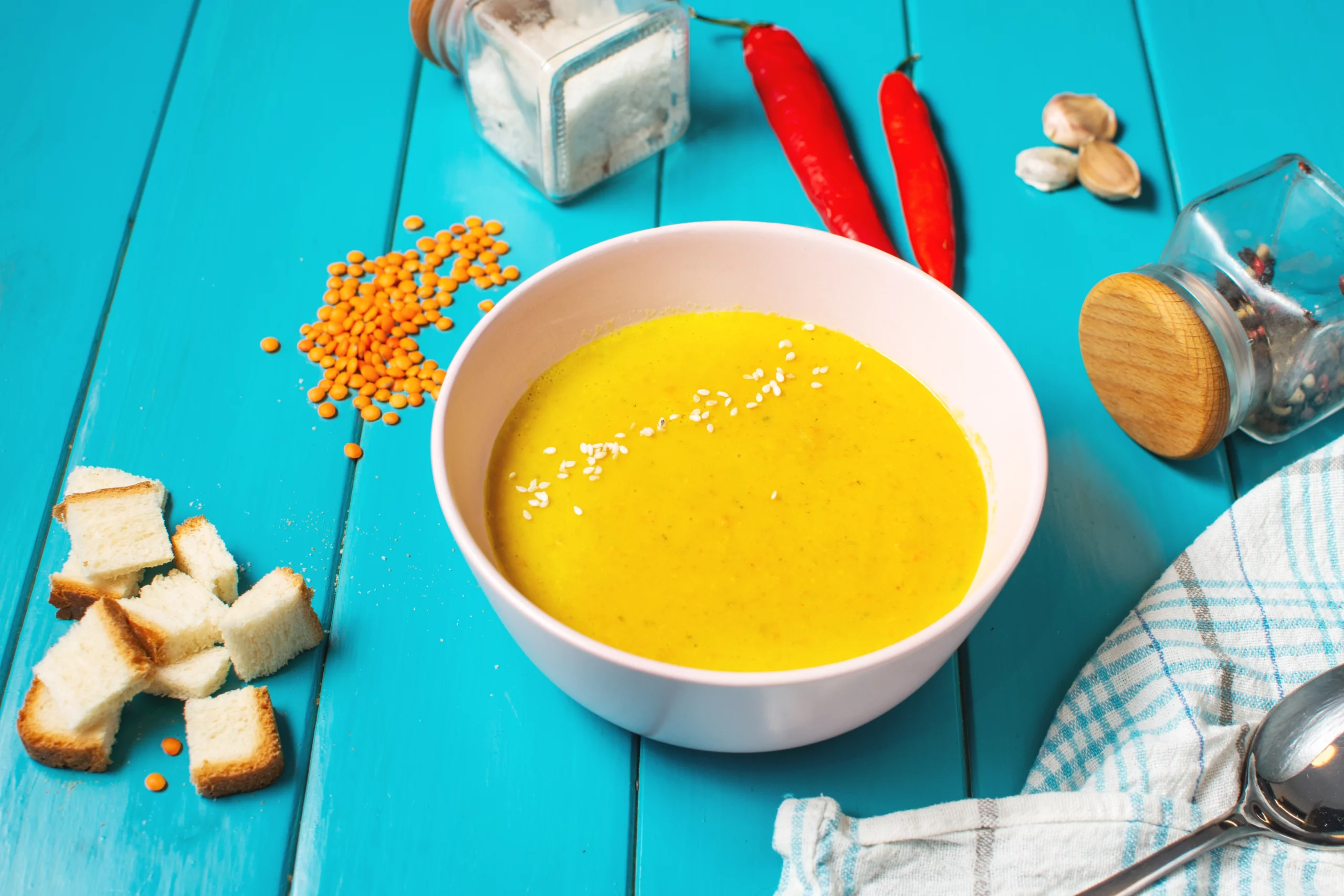 Basic ingredients that you will need to make your leftover vegetable soup:
Any aromatic vegetables such as carrots, celery, onion, and garlic. If you can substitute fresh garlic and onion for powdered versions.
A stock or broth such as vegetable, chicken or beef stock.
Dried spices, seasonings, or fresh herbs such as parsley, basil, thyme, cilantro, or rosemary.
Cooking oil such as vegetable or olive oil.
Salt and pepper (optional, but recommended).
How to make it:
Once you've gathered your base ingredients, gather your leftover vegetables together and chop them into small pieces. Then using a large stock pot or soup pan, heat the vegetable or olive oil and sauté your aromatic vegetables. Sauté for about 5 minutes or until soft. Add your left chopped leftover vegetables and brown them. Cook them for several minutes until slightly softened and browned around the edges. Then add your chosen seasonings, spices, or herbs to the vegetables before adding the broth (about 4 to 6 cups is recommended). Turning the heat down low, cover and simmer for around 30 minutes. If you like firmer vegetables, cook for no longer than 30 minutes. If you prefer soft vegetables for pureeing, cook until vegetables are falling apart. Then puree is desired.
5. Chicken and Bacon Pesto Pasta
Pasta dishes are the perfect option for quick, easy meals that can be made in bulk. This chicken and bacon pesto pasta recipe is simple and cheap to make. It's also flexible to your tastes so you can add as much or as little of each ingredient as you like.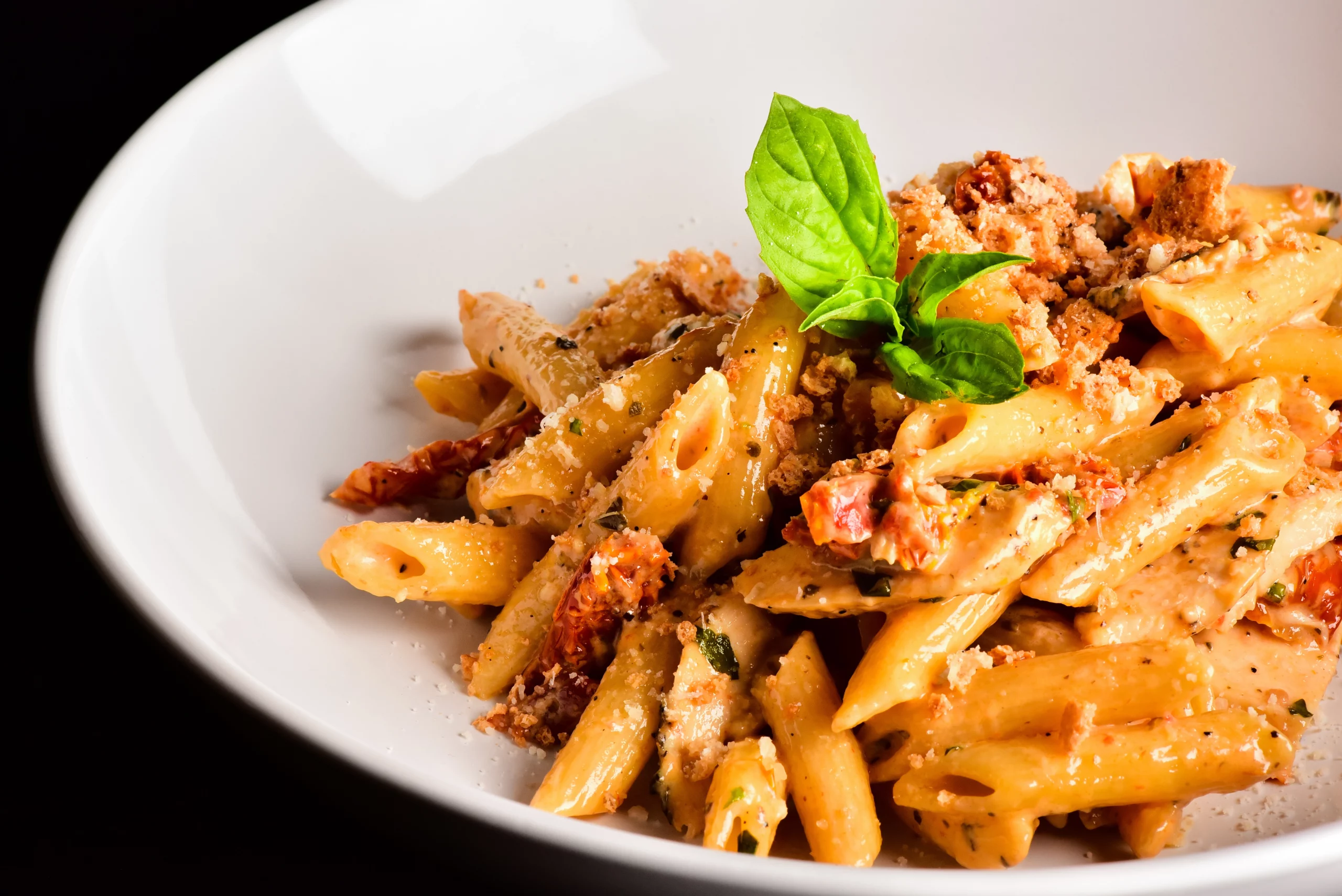 Ingredients:
Pasta of your choice
Chicken Breasts
Bacon Rashers
Onion
Sundried Tomato Pesto
Olive oil
Thickened cream
Parmesan cheese
Method:
Cut up the bacon, chicken breasts, and onions. Boil the pasta of your choosing following the instructions on the packet. While your pasta is boiling, sauté onion and bacon in a fry pan until the onion is soft and the bacon is cooked to your liking. Add the chicken and sauté until cooked through. Once the pasta is cooked and drained, pour the pasta into a large serving bowl and add the sundried tomato pesto and thickened cream. Add a little bit at a time, mixing it in gradually, until the flavour and consistency is to your taste. Finally, add the onion, chicken, and bacon to the pasta and top with parmesan cheese.
6. Nachos
Nachos are not only a classic crowd pleaser, they're also a quick, cheap and easy meal that you can throw together without any finesse.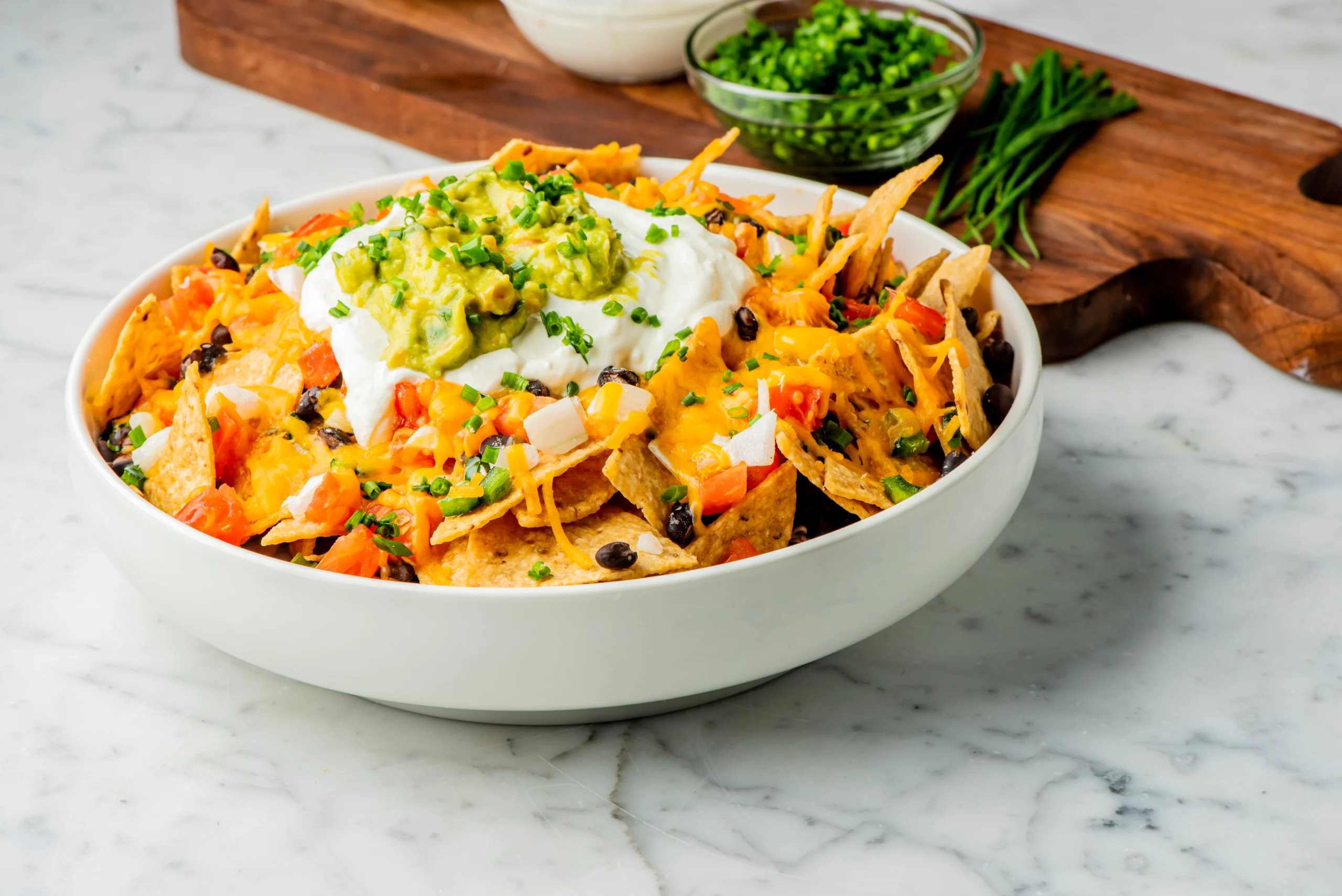 Ingredients:
500g beef mince
mexican/taco seasoning (premade mix found at your local supermarket)
1 can of red kidney beans
1 can of black beans
1 packet of corn chips
Grated cheese
2 tablespoons Olive oil
2 avocados
2 tablespoons of lime juice
Sour cream to serve
Method:
Heat olive oil in a fry pan to a medium heat. Add beef mince and cook until almost cooked through. Add taco/mexican seasoning, following the directions on the packet, and cook for about 10 minutes. Rinse the red kidney beans and black beans in the sink and drain. Then add the beans to the mince and stir through for approximately 2 minutes.
Lay out the corn chips in a deep ovenproof dish and sprinkle with grated cheese. Pour the mince and beans mixture on top of the corn chips and top the mince with a sprinkling of cheese. Bake for 10 minutes or until heated through.
In a bowl, mash the avocados. Add the lime juice, salt and pepper and mix through.
Top the nachos with the mashed avocado and sour cream to taste. And enjoy!
7. Vegan Lentil Curry
This lentil curry is a cheap, easy vegan dinner and a great way to use any wayward vegetables hanging around your kitchen. With just 7 minutes prep time and 15 minutes cook time, you won't feel chained to the kitchen while cooking this simple dish.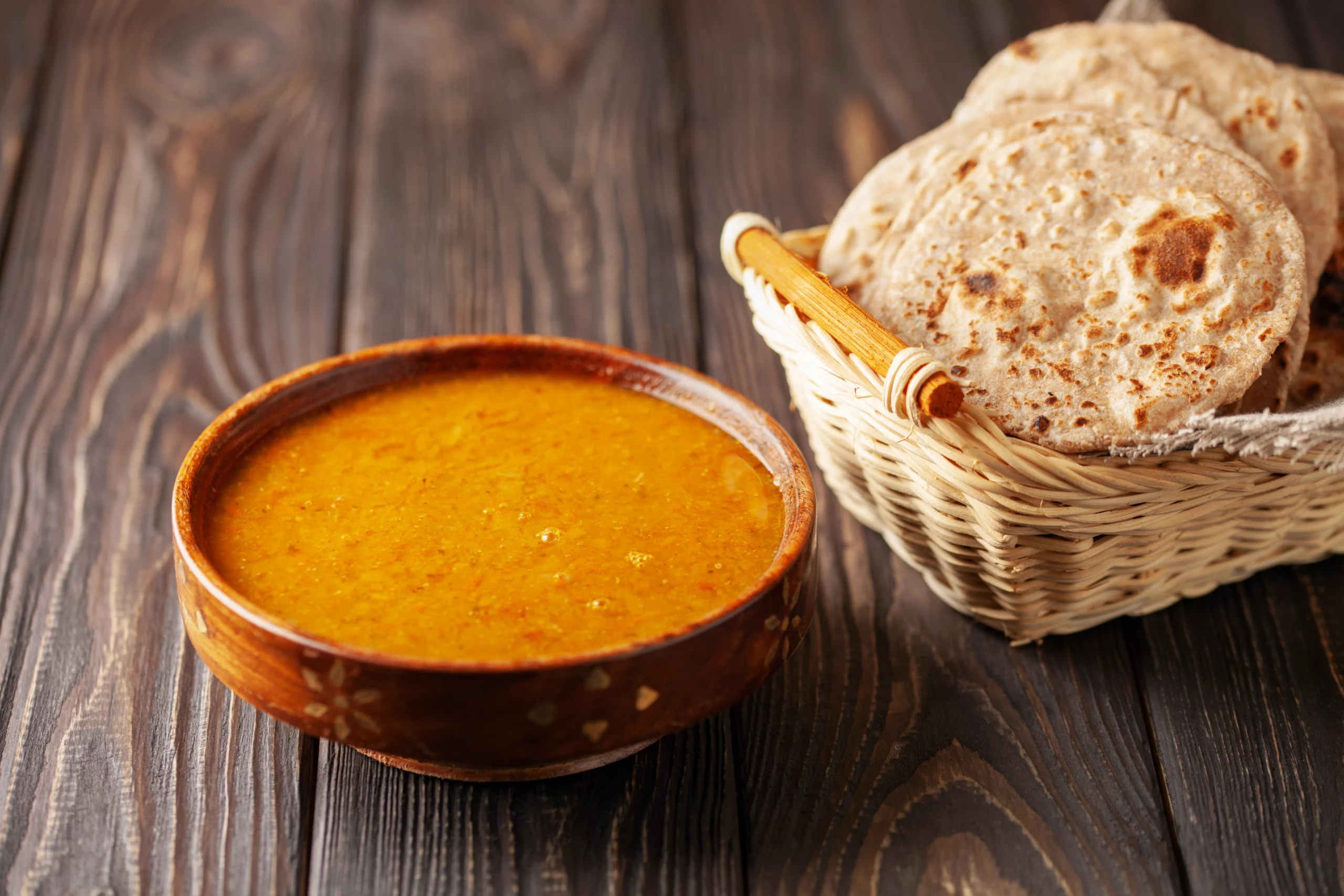 Ingredients:
⅔ cup dried brown lentils or green lentils
2 tablespoons vegetable oil
1 cup of diced white onion
4 garlic cloves minced
1 inch ginger grated
1 tablespoon curry powder
2 teaspoons garam masala
1 teaspoon ground cumin
½ teaspoon ground coriander
½ teaspoon sweet paprika
½ teaspoon turmeric
1 can of unsweetened coconut milk
1 cup vegetable stock (and more as needed)
½ cup tomato puree
1 cup of sweet potato peeled, cut into small pieces
2 cups of baby spinach packed
Fresh lime juice to taste
Salt to taste
Instructions:
Pour 2 ½ cups of water and lentils into a saucepan and bring to a simmer. Cook for about 10 minutes. Ensure lentils are continuously submerged, adding water if necessary. Once cooked, drain and set aside. In a small bowl, combine the curry powder, garam masala, cumin, coriander, paprika, and turmeric.
In a medium saucepan over medium-high heat, heat the oil. Add the onion and cook for 3 minutes or until soft. Then add the garlic, ginger, and spices, stirring continuously for 1 minute. Then add the coconut milk, vegetable stock, tomato puree, and sweet potato and cook for 10 minutes or until the sweet potatoes are tender. Continue to add more vegetable stock as necessary to ensure the sweet potatoes are submerged. Add the cooked lentils and spinach and stir until heated through. Add salt, pepper, and lime juice to taste.
8. Saucy Sausages and Mash
This yummy and creative spin on an old favourite, bangers and mash, is not only delicious but it's quick, easy, and budget friendly.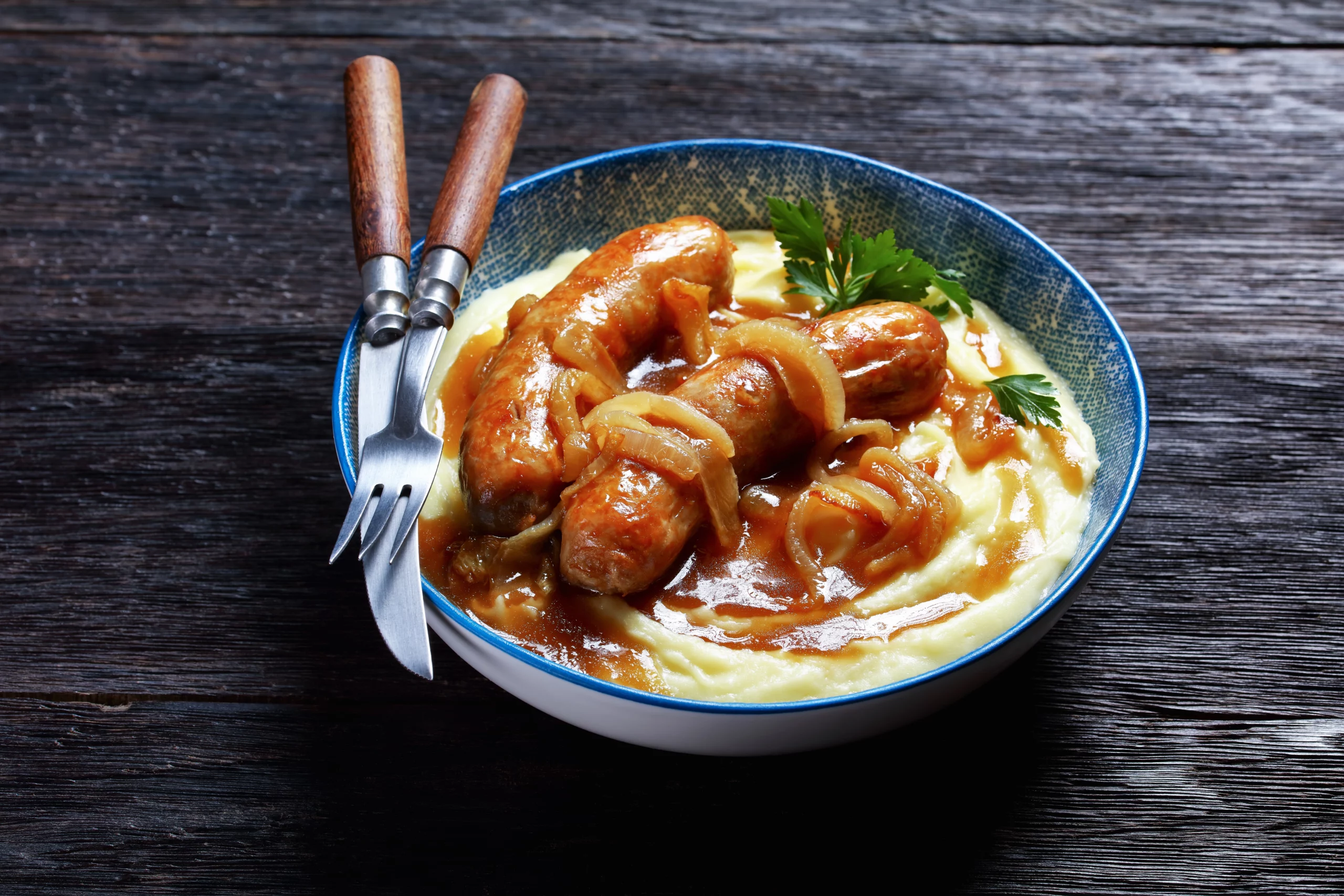 Ingredients:
8 sausages
1 onion thinly sliced
2 bacon rashers diced
1/2 red capsicum diced
4 mushrooms sliced
440 g can condensed tomato soup
Method:
In a fry pan, brown sausages. Once browned, remove sausages from the pan and cut into 1.5 cm pieces. Then, using the same fry pan, cook the onion, bacon, and capsicum for 5 minutes. Add back to the pan the sausages, mushrooms, and tomato soup. Simmer for 20 minutes until the vegetables and sausages are cooked.
Service with mash potatoes or your favourite vegetables
9. Breakfast for Dinner (5 cheap and easy options)
Sometimes when it's time for dinner but you're short on time and money…breakfast is the answer. It's often easy, cheap, and the ingredients are usually common staples found around the kitchen. Here are some of the best breakfast for dinner ideas.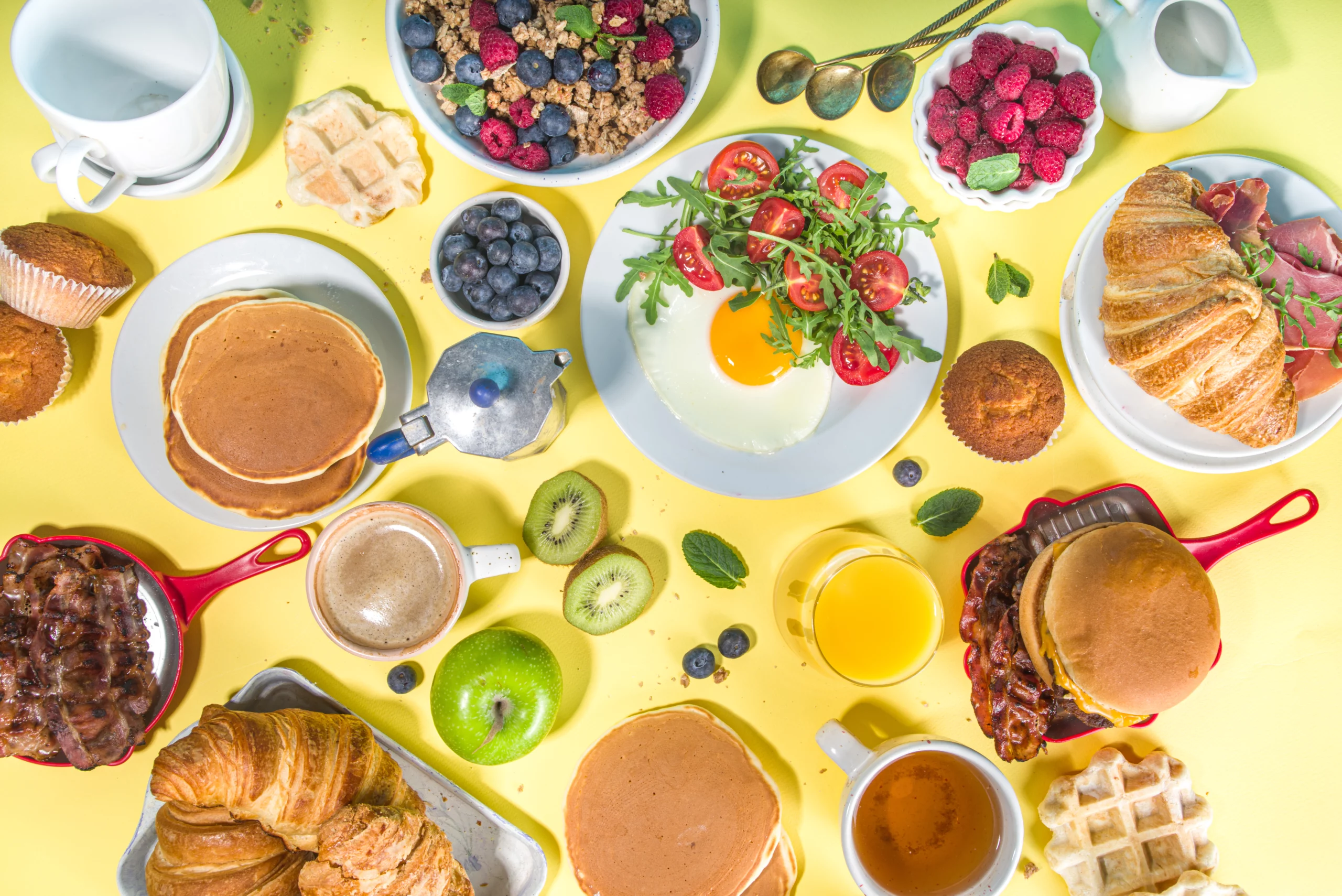 Cereal
It may seem odd to have this quintessential breakfast food for dinner, but cereal could be the silent hero of your dinner woes. It's quick, cheap, and offers minimal clean up. You can also dress it up with popular additions such as yoghurt, fruit, nuts, and honey. If you're feeling calorie conscious, try opting for cereals that are packed with fibre, proteins and whole grains.
Bacon and eggs
Let's face it, it may be considered a breakfast classic but it's always a good time for bacon and eggs. Bacon and eggs is a delicious, hearty, and easy meal that can be cooked in 10 minutes or less. If you're feeling really lazy, cook the bacon and eggs together in the same pan to save time and clean up.
Fruit salad
Fruit salad can be filling, delicious, and easy to throw together. It's also healthy and provides a much needed vitamin boost to your diet. If you're conscious of the number in your bank account, try looking out for specials in your local supermarket and fruit shops. Farmers markets can also offer great, fresh quality produce for cheap prices.
Pan pancakes
Pancakes are not only delicious but they're also a great comfort food that you can dress up with a variety of different ingredients and toppings. As cheap and yummy as they are, they can be a bit of a pain to cook as you stand at the stove trying to make your way through the batter, pancake after pancake. But with the invention of pan pancakes, you can enjoy delicious pancakes without being chained to the fry pan. Simply make your pancake batter, pour onto a tray lined with baking paper and bake at around 180c for 20 minutes. Pan pancakes make the perfect simple and easy dinner option.
French toast
So you're tired, you're low on cash, and you just can't face slaving away in the kitchen to make dinner. French toast may be the answer you're looking for. It's quick, cheap, and requires minimal ingredients. All you need is milk, eggs, cinnamon, vanilla essence, and bread. If you're feeling fancy, why not dress it up with maple syrup, fresh fruit and yoghurt.
10. Simmer Sauces
There are bound to be nights when you're out of dinner ideas and your funds are getting low. That's why pre packaged simmer sauces, found at all local supermarkets, can be a great option for those times when you just need something convenient and cheap. There's a wide variety of flavours, cuisines, and dishes to choose from and often there are very little additional ingredients needed. Pre packaged simmer sauces are also often on special with 2-for-1 or 3-for-1 deals. So a great way to save both time and money is to buy prepackaged simmer sauces in bulk when they're on special and keep them in your pantry for those nights when you're struggling to think of dinner options.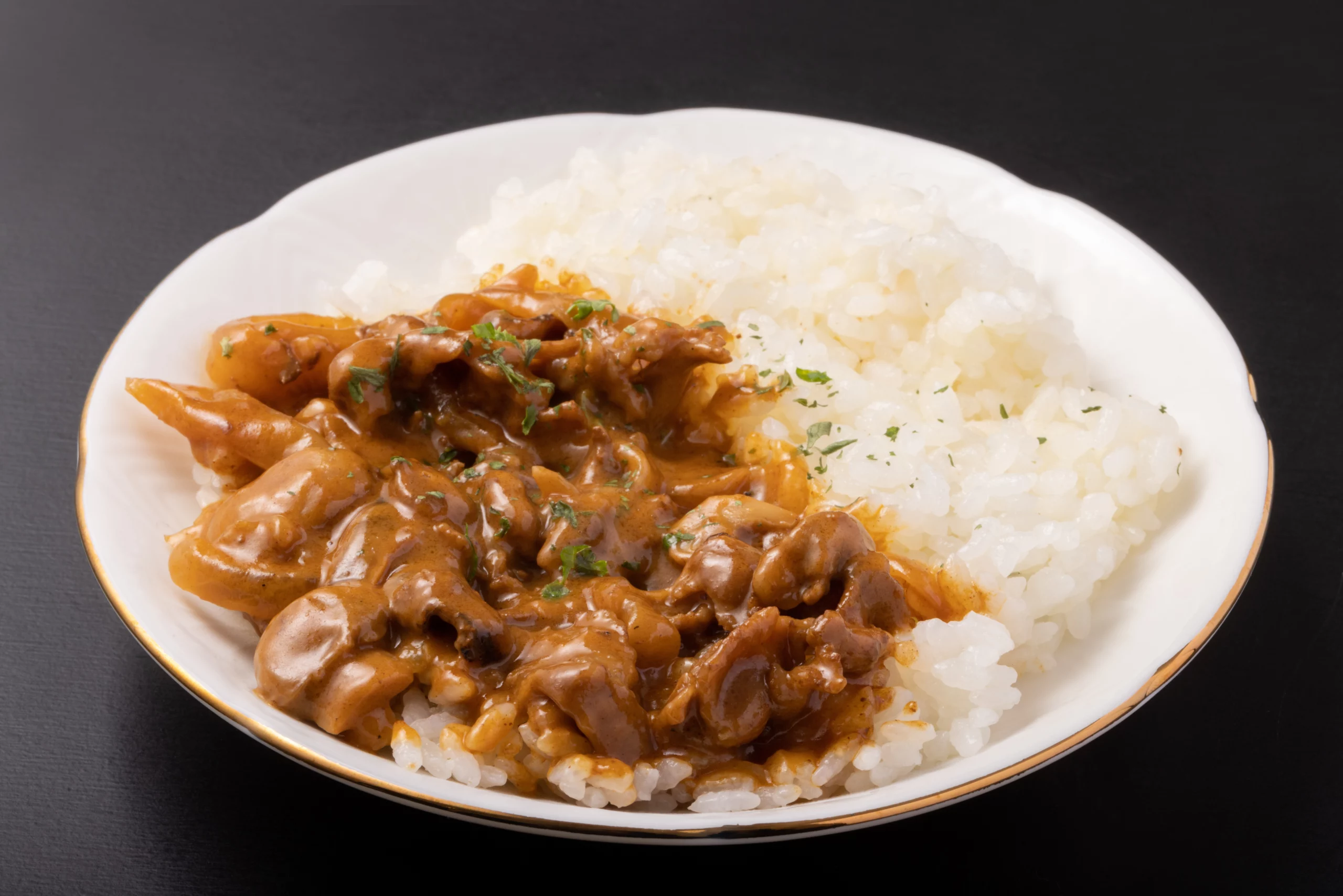 Some popular brands with pre packaged simmer sauces include:
Passage to India
MasterFoods
Continental
Chicken Tonight
Patak's Foods
11. Stir-fry Shortcuts – great idea for bulk cheap easy dinners
Stir-fries are cheap, easy meals that can be made in bulk so you can feed the whole family with little effort. They're also a great way to add vegetables to your diet.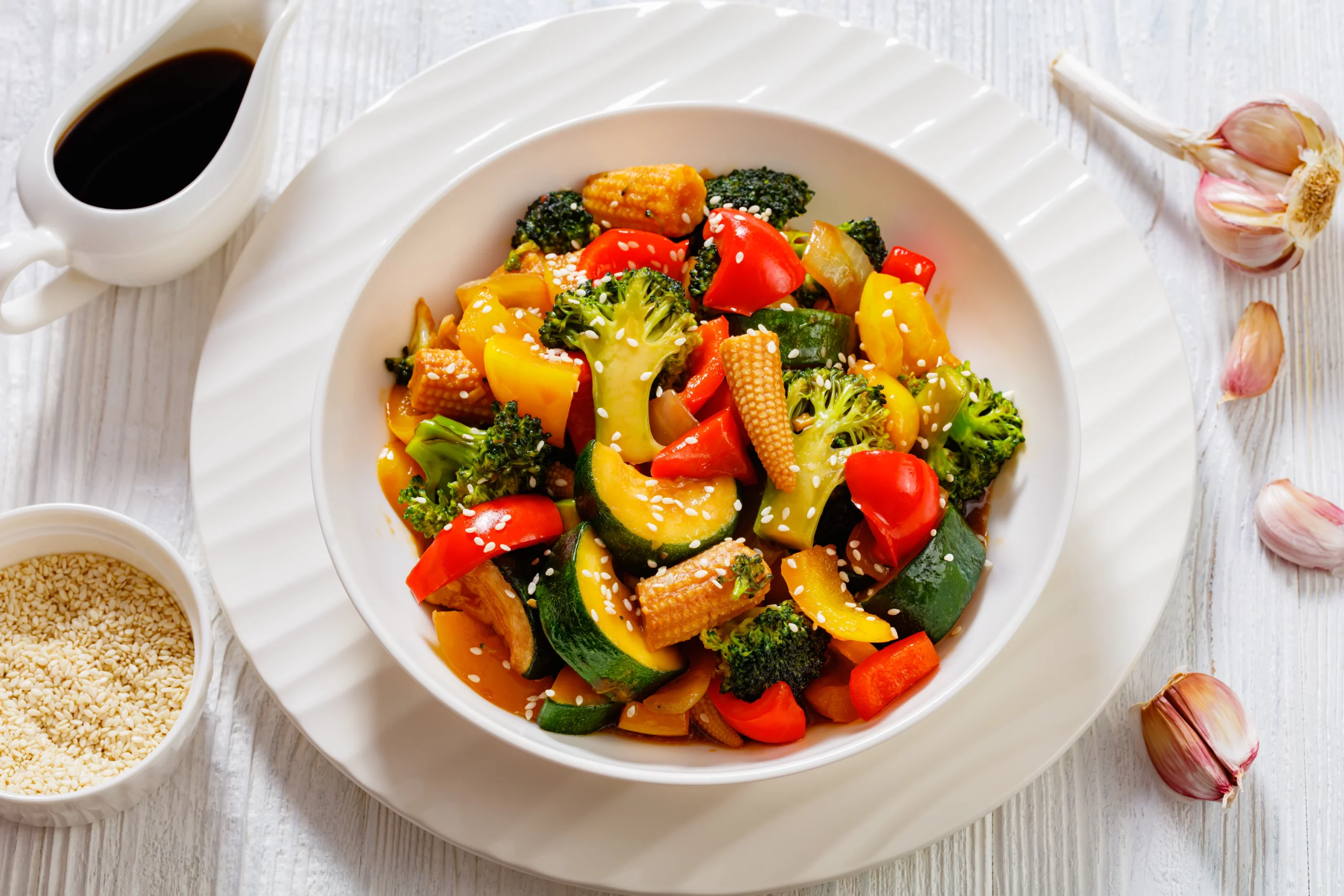 You can make stir-fries from scratch but there's also pre-packaged options at your local supermarkets that make a fast and convenient meal. Most supermarkets offer a wide variety of pre packaged stir-fry sauces as well as both fresh and frozen stir-fry vegetable packaged mixes. To save money, you can buy these items in bulk when they're on special and store them in the freezer to pull out when you are looking for a quick but nutritious meal.
12. Freezer Friends – save money by not eating out
A great way to save time and money is to cook freezer-friendly meals in bulk and stock up the freezer for those nights when the siren song of takeaway is loudest. It may seem like a lot of effort at first but the benefits far outweigh the negatives.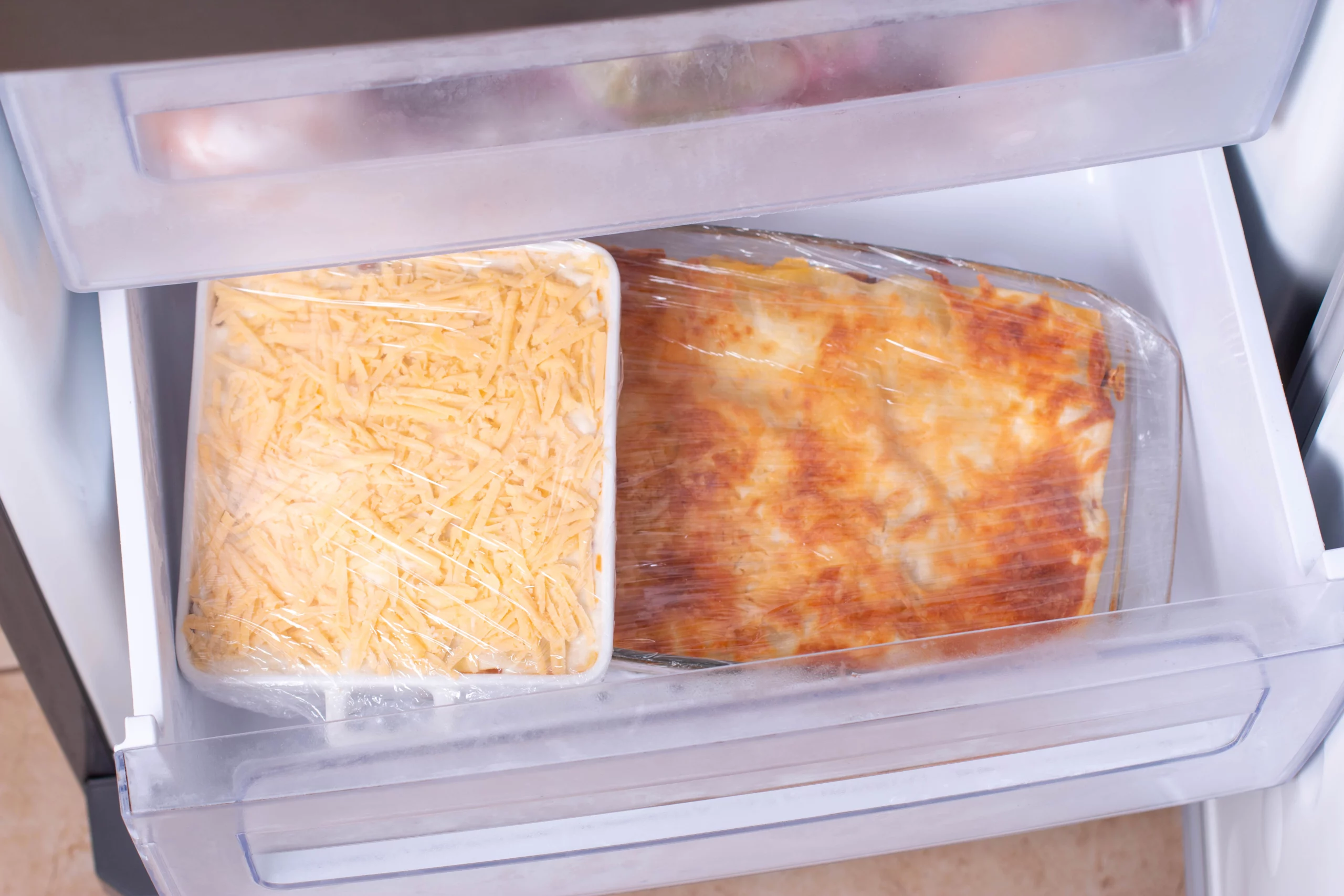 Prevent impulse buying
Trying to decide what you're going to have for dinner while your grocery shopping is the gateway to some serious impulse buying. Especially if you're shopping when hungry! But by planning ahead, cooking in bulk, and freezing your meals, you'll be able to cut down on time spent in the shops and, in turn, cutdown impulse buying. You'll be surprised how much you save by minimising your trips to the grocery store.
Buy more to spend less
It may seem counterintuitive to spend a lot of money on bulk items all at once but the trick is to bulk-buy items when they're on special to save you money in the future. For example, you may find beef mince on special at your local supermarket. So why not buy 2 or 3 serves and make a few lasagnes at once to store in the freezer. Lasagne is a famously freezer-friendly meal that will last weeks, if not months, and when made from ingredients that were on special, each meal will be cheap and easy.
Avoid expensive takeout
The cost of living is rising and so is the cost of takeout! Whether you're trying to feed a family of 6 or it's a just meal for 1, buying takeout can really hurt the wallet. Having a stocked freezer of ready-to-go meals helps to combat the temptation of convenient takeout. Afterall, heating a frozen meal is more convenient than ordering takeout.
13. Wraps
Wraps are a healthy, cheap meal that can be thrown together using whatever you have in your kitchen. Frequently on special at the supermarket, they're a great way to feed a lot of people for minimal cash. They're also versatile. Stick them in the toastie machine, the fry pan or use them as pizza bases for something different.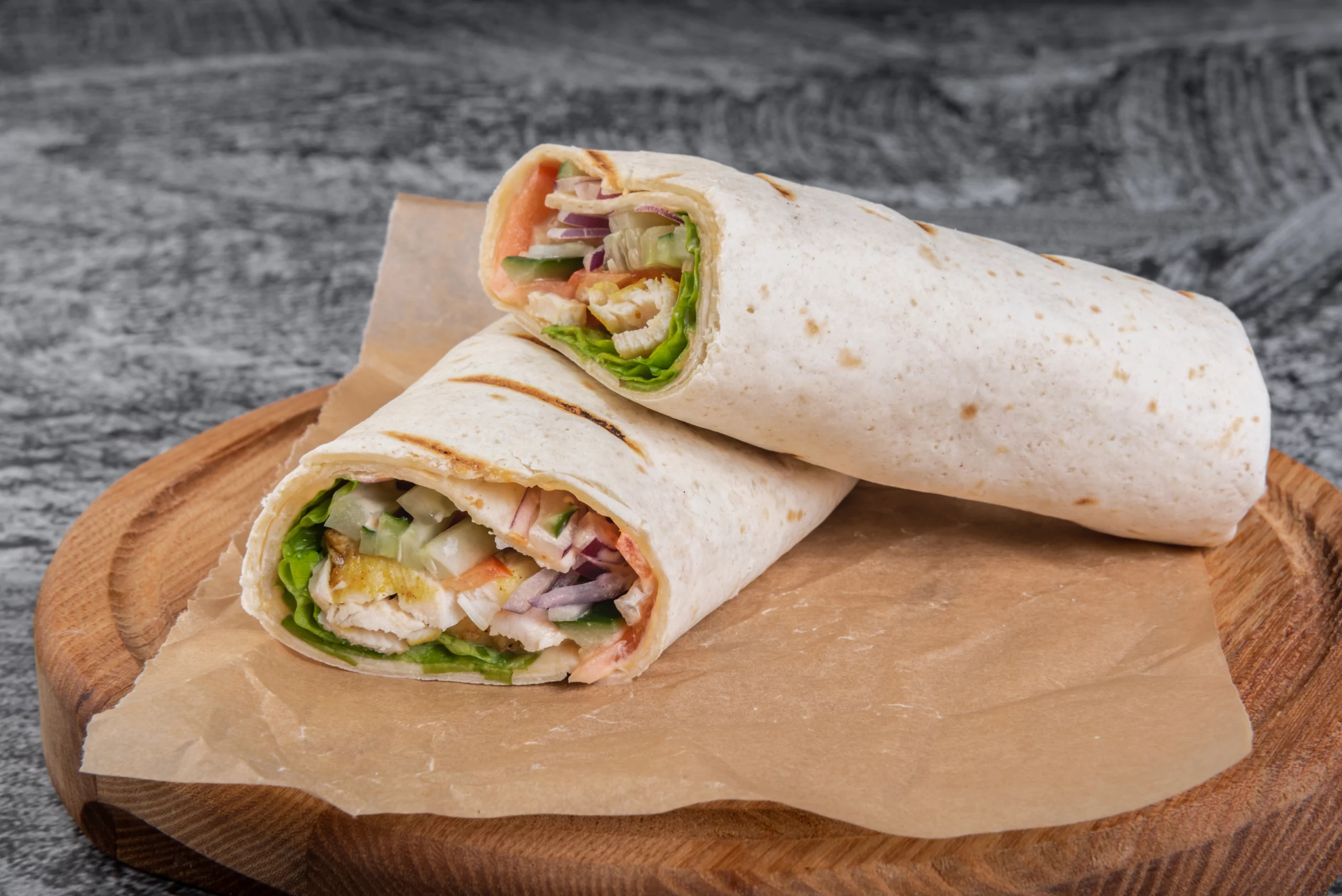 14. Tacos
Tacos are a crowd pleaser and a great meal to share with friends or family. They're cheap and easy to make for dinner.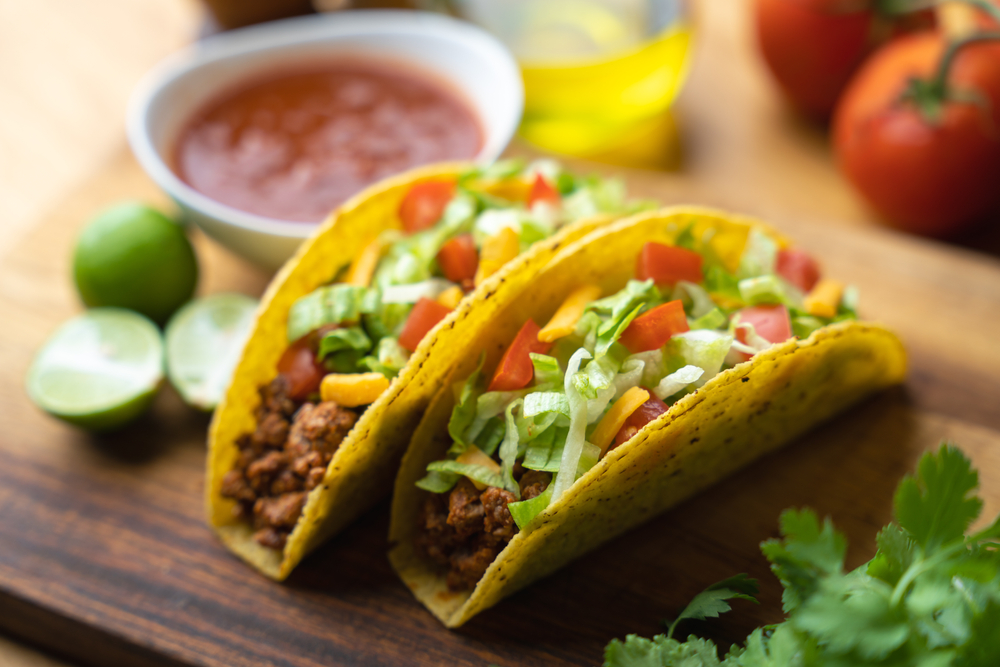 Ingredients:
8 Hard Taco Shells
500g Beef Mince
1 Packet of Chile Con Carne Seasoning or Mexican Seasoning
2 cups Iceberg Lettuce
1 small red capsicum, seeded and finely chopped
Grated cheese (recommended)
Method:
Preheat the oven to 180°C. Place the taco shells on a large baking tray. Bake for 5 mins or until heated through. While taco shells are baking, in a non-stick frying pan over high heat, add the mince. Cook for 5 minutes, stirring frequently. Then add your preferred Mexican seasoning and about ¾ cups of water. Stir regularly until the mixture thickems, usually about 5 minutes.
Fill the taco shells with the mince, lettuce and capiscum and, for best results, top with grated cheese.
15. Creamy French onion chicken pasta bake
If you're in need of a quick and easy dinner option, this recipe is the one for you. It's simple to put together and is sure to stretch over a couple of days.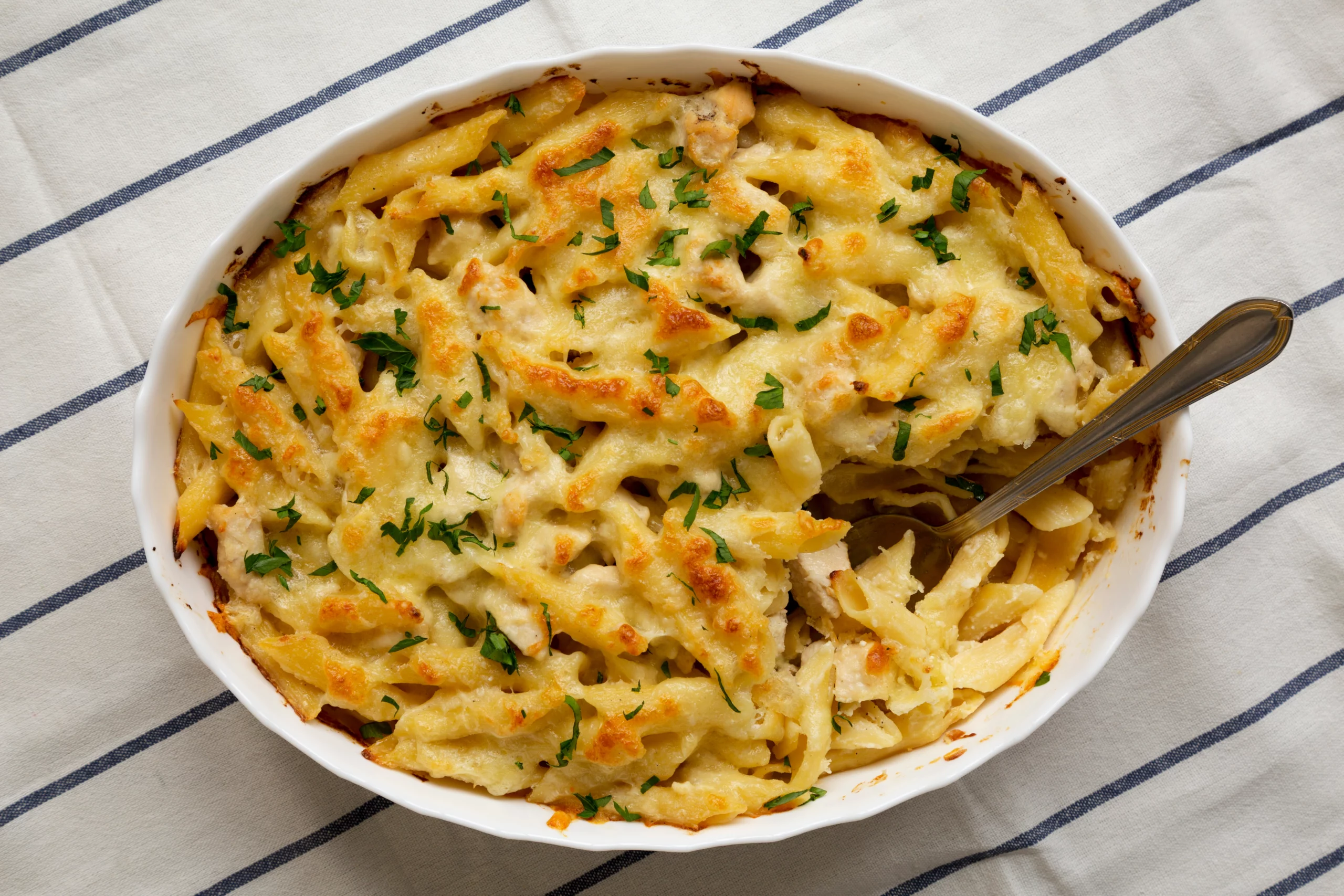 Ingredients:
250g penne pasta
1 tbsp olive oil
200g thickly sliced button mushrooms
6 fresh thyme sprigs, leaves removed
1 barbecue chicken, bones removed, meat and skin shredded
60g baby spinach
40g packet French onion soup mix
375ml (11/2 cups) milk
125ml (1/2 cup) thickened cream
155g (11/2 cups) grated pizza cheese
Chopped fresh continental parsley, to serve
Method:
Grease a large baking dish. Cook pasta following packet directions. Drain. Meanwhile, heat oil in a large, deep frying pan over high heat. Add mushrooms and thyme. Cook, stirring occasionally, for 3 minutes or until softened.
Preheat the oven grill on high. Add the chicken, French onion mix, spinach, milk, cream and half the cheese to the mushroom mixture. Bring to a simmer. Stir in the pasta. Season
Transfer the pasta mixture to prepared dish. Sprinkle with remaining cheese. Bake for 2-3 minutes or until golden. Top with parsley.
16. Egg on Toast
Egg on toast is an oldie but a goodie. This quick and easy meal is cheap but delicious, and easy to dress up if you're looking for something a little more exciting.
You could stick with the traditional fried egg on buttered toast, or you might like to try one of these exciting twists:
Egg on toast with smashed avo, feta and spinach
Curried egg on toast
Scrambled eggs with cheese on toast
'Toad in the Hole' egg on toast (a fun twist for the kids)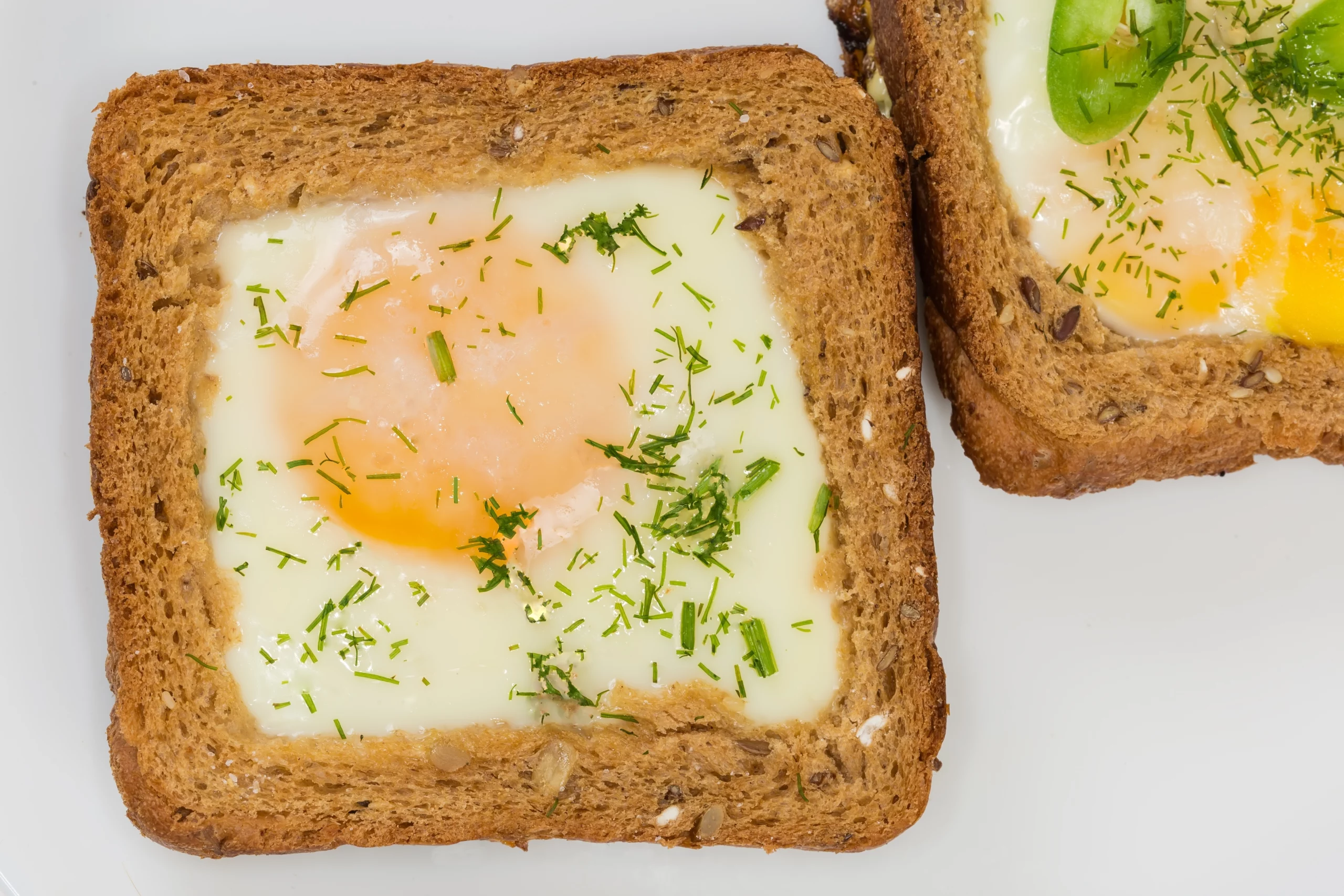 17. Omelettes
Omelettes are an effortless, healthy meal with minimal cleanup that can be cooked in under 10 minutes. They're perfect for those nights when you want something tasty, fast, inexpensive and healthy. Try this basic omelette recipe and dress it up with whatever strikes your fancy!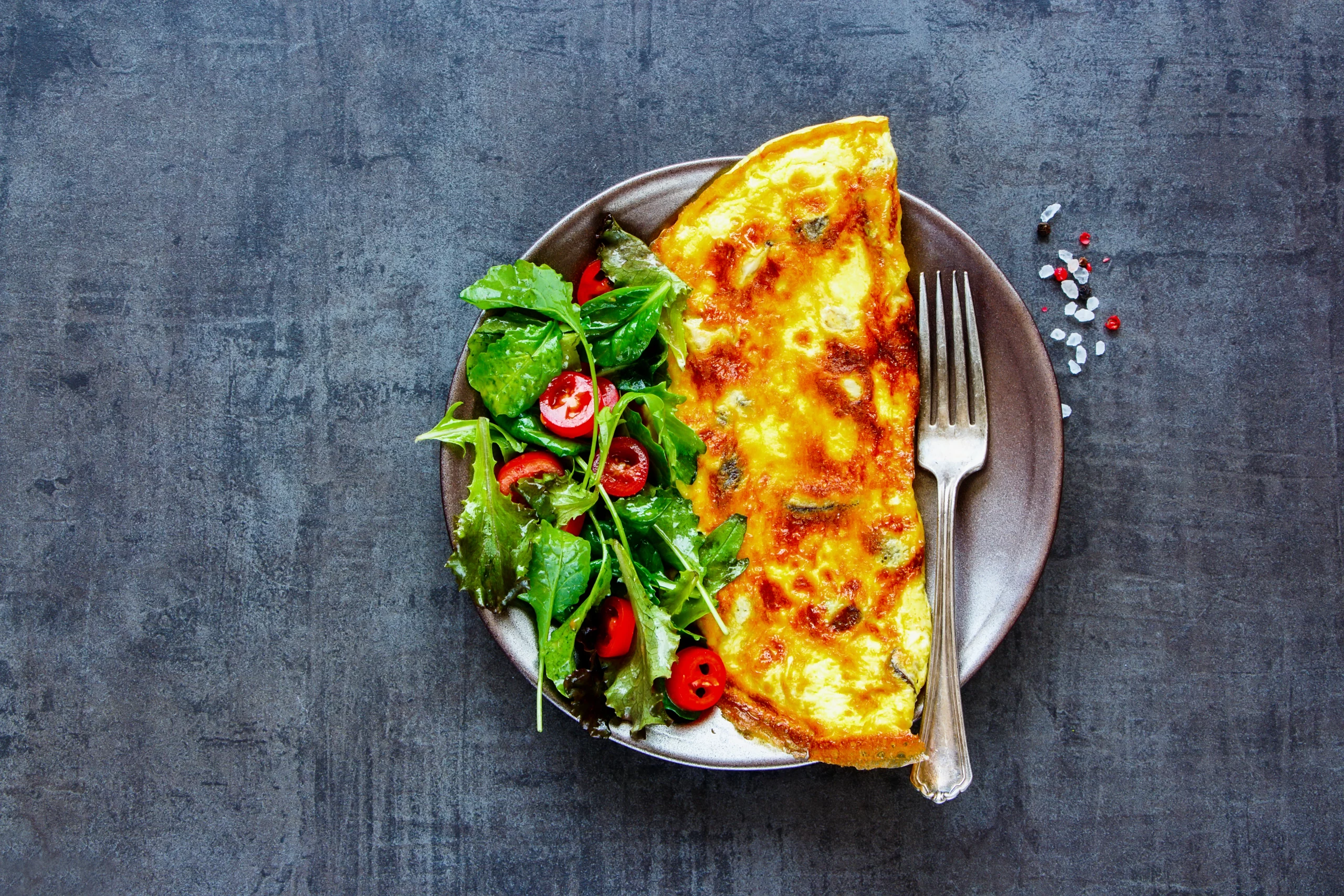 Ingredients:
3 eggs, beaten, seasoned with salt and pepper
1 tsp sunflower oil
1 tsp butter
Method:
In a non-stick fry pan over medium to low heat, heat the oil and butter until the butter is completely melted. Pour the beaten and seasoned eggs into the pan. Tilt the pan slightly from one side to the other to gently swirl the eggs around the pan until the surface of the pan is completely covered. Cook for about 20 seconds. Then, using a spatula, scrap a line through the middle. Tilt the pan again to allow it to fill up with any remaining runny mixture. Cook until the egg is just set. Then add any desired filling such as cheese, red onion, or fresh herbs. Scatter this over the surface of the egg and fold in half gently using the spatula.
18. Sticky Chicken
Sometimes you just don't have time to stand around chopping vegetables and measuring endless ingredients. That's why this sticky chicken recipe is an easy dinner for those nights when you're short of time and enthusiasm. You can prep this dinner in the morning and throw it in the oven at night.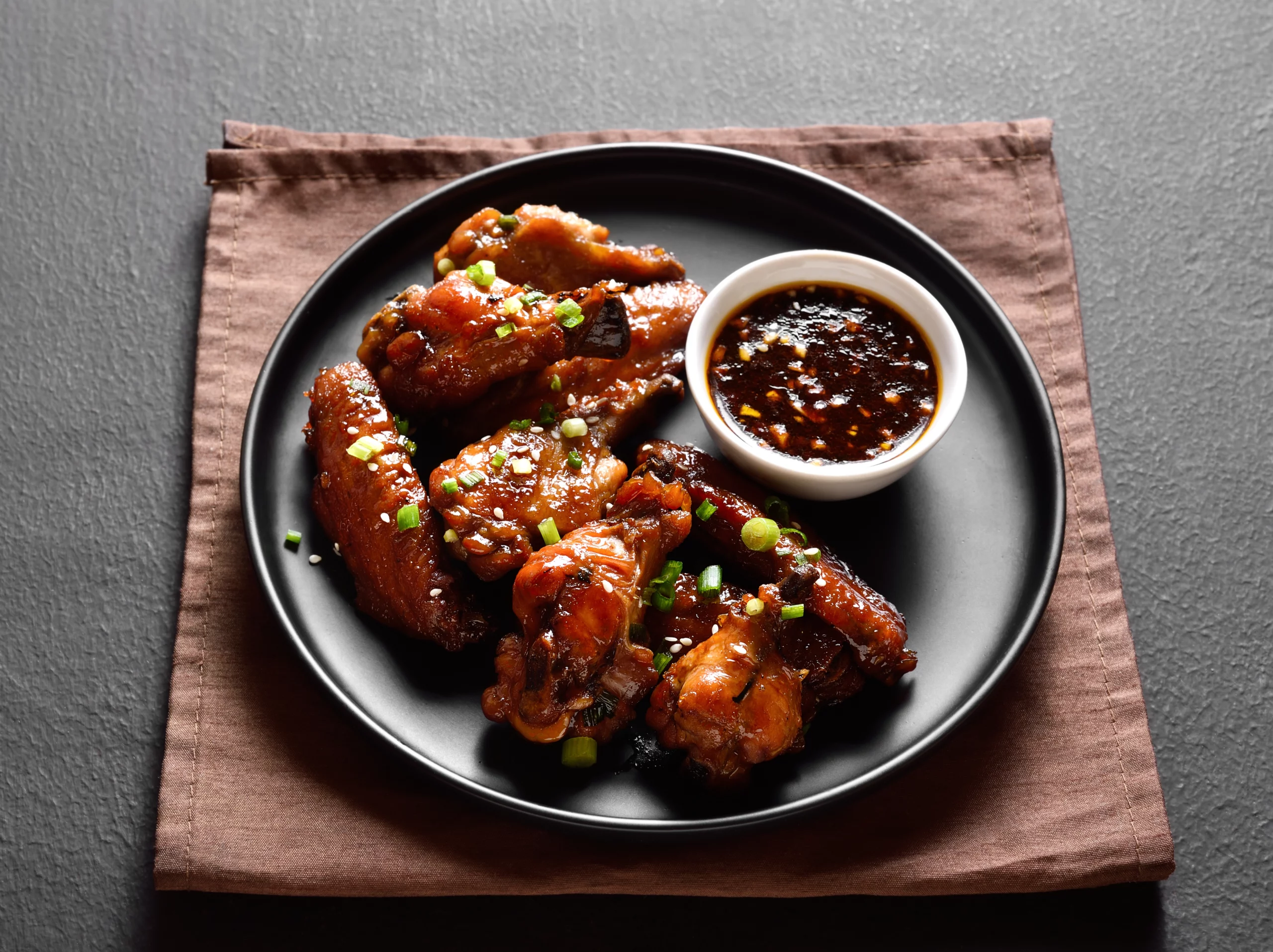 Ingredients:
500g chicken of your preference (e.g. thighs or drumsticks)
2 tbsp soy sauce
1/4 cup of honey
1/4 cup sweet chilli sauce
1/4 cup crunchy peanut butter
Method:
Mix soy sauce, sweet chilli sauce, and peanut butter in a saucepan and stir over a low heat until well combined. Allow to cool slightly before pouring over chicken pieces and allowing to marinate for a few hours. Then lay out the chicken on a baking tray lined with baking paper and bake at 180C for 30 minutes.
19. Frozen Vegetables
There's no denying that frozen vegetables are cheaper and save time. But for a long time now there has been a stigma around frozen vegetables. "Fresh is best" as the saying goes. But research now shows that frozen vegetables are just as nutritious as fresh, in some cases even more so. With this new understanding, it's now easier and cheaper than ever to consume vegetables in our weekly meals. A great way to save time and money is to stock your freezer with pre-packaged frozen vegetables when they're on special and whip them out for those nights when cooking a long laborious meal is the last thing you want to do. They're also great to add to stir-frys, no defrosting necessary!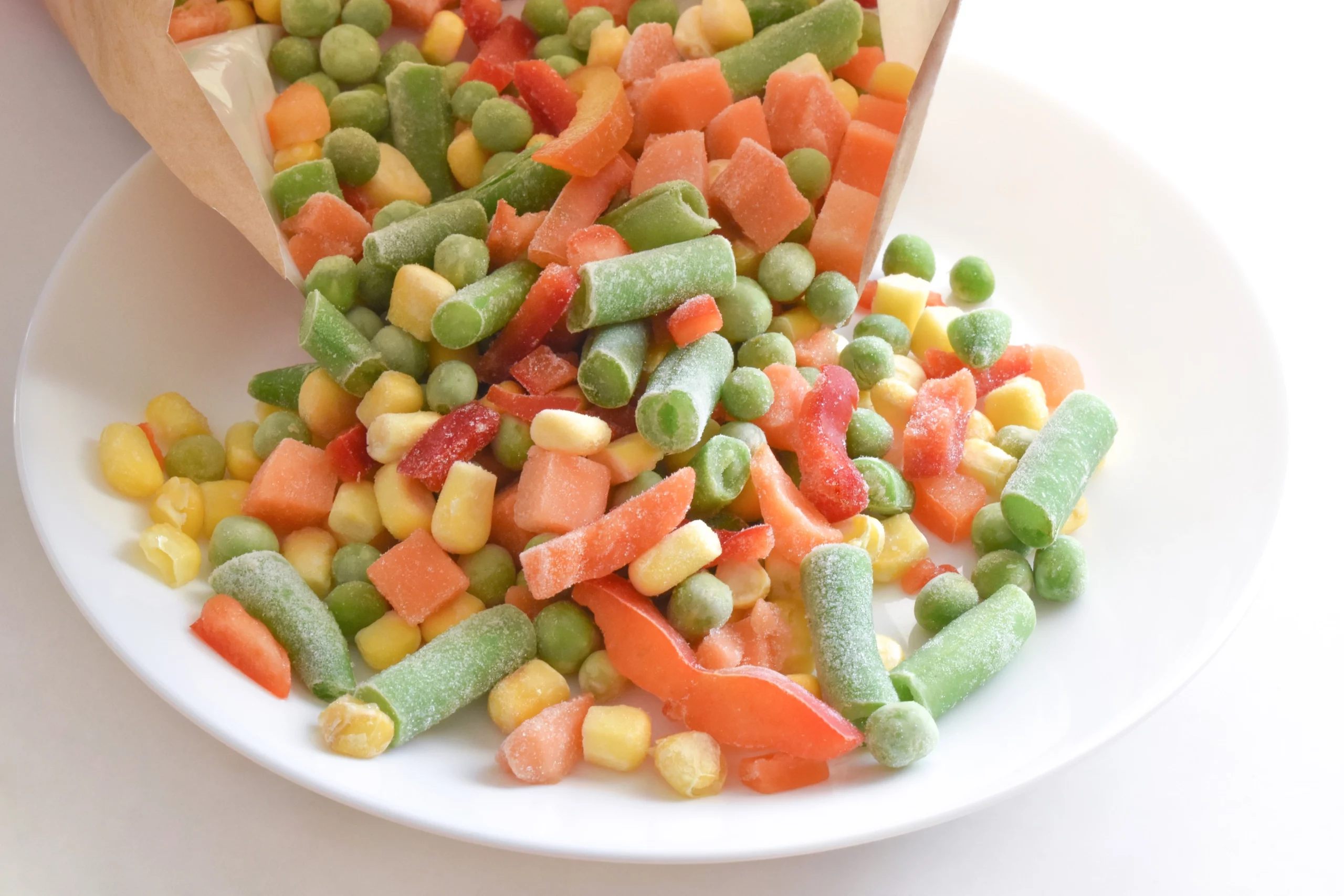 20. Homemade Burgers
Homemade burgers are often associated with mess, a lot of fuss, and being chained to the BBQ for hours. But with this tasty, simple and cheap recipe, you can enjoy homemade burgers without all the hassle. And best of all, you can double the mixture and freeze the extras for future meals.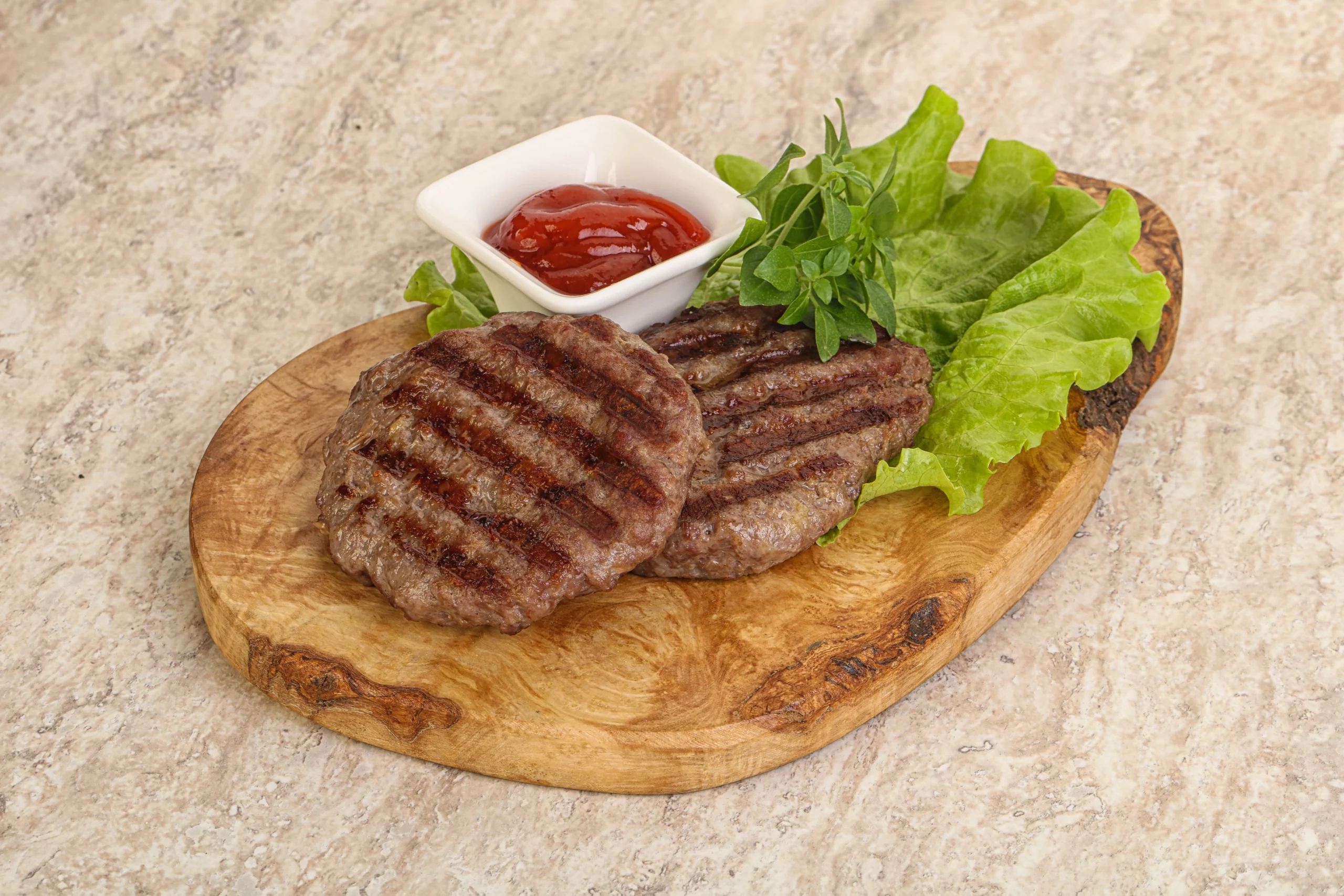 Ingredients:
1kg Beef Mince
½ Panko breadcrumbs
1 large egg
2 tablespoons Worcestershire sauce
2 tablespoons milk
1 teaspoon salt
1 teaspoon garlic powder
1 teaspoon onion powder
½ teaspoon black pepper
Method:
In a large mixing bowl, add the beef, panko crumbs, egg, worcestershire sauce, milk, garlic powder, onion powder, and pepper. Mix by hand until the mixture is smooth and ingredients are evenly combined. Using a large serving or dessert spoon, scoop out even portions of the beef mixture, placing them separately on a baking sheet. Once all your mixture has been portioned out, begin rolling the portions into balls before pressing them down into thin patties. Set the patties aside on the same baking sheet, ensuring they remain separated. Press a dent into the centre of each patty and cook in a fry pan over medium heat. Once cooked, serve and enjoy!
21. Fancy Instant Ramen Noodles
Few meals come as cheap, easy and tasty as ramen noodles. Even with this fancy twist the total cooking time is 6 minutes. It's perfect for those nights when you want to treat yourself but you're low on cash and short on time.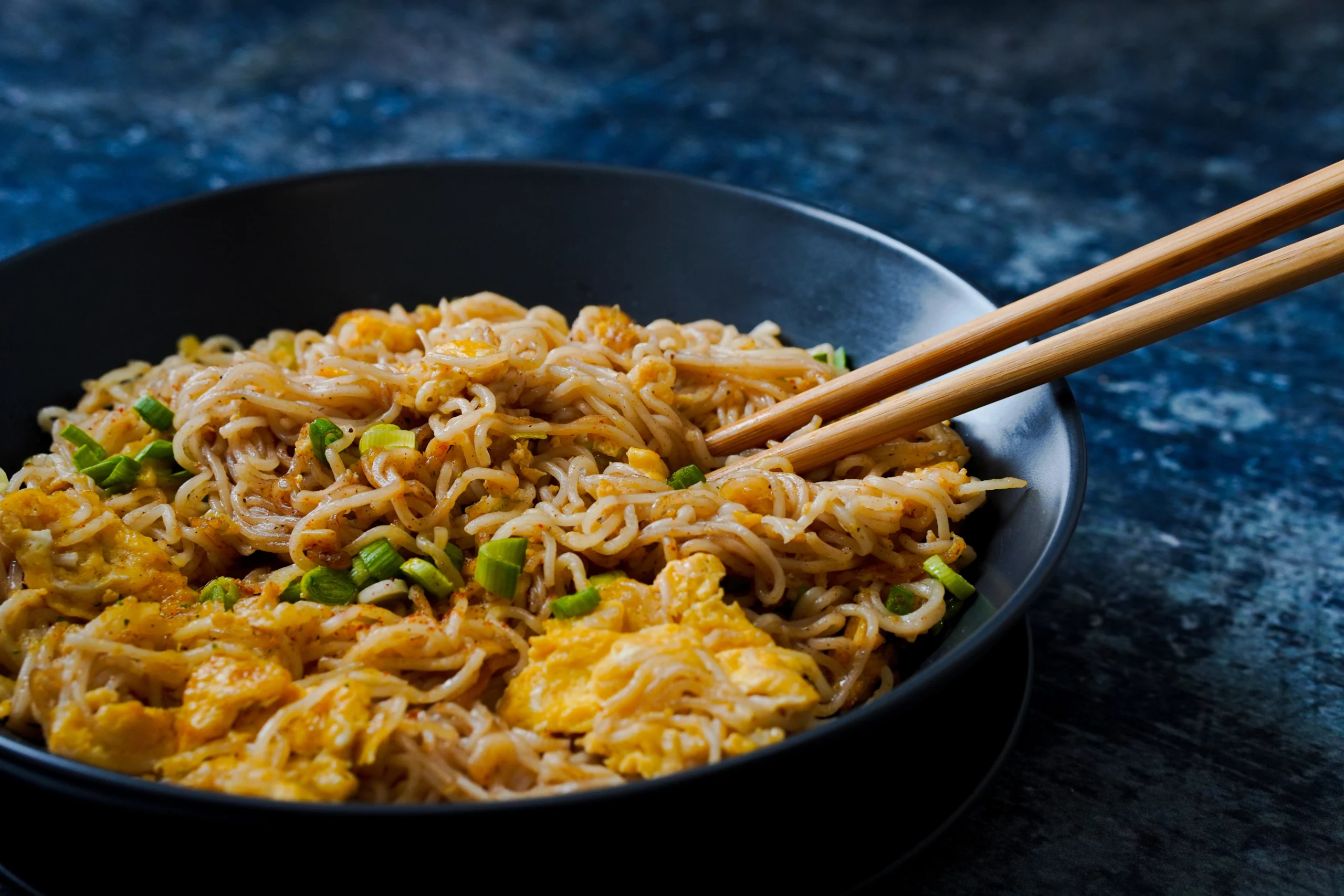 Ingredients:
1 package instant ramen
1 tbsp butter
1 tsp garlic minced
1/4 tsp red pepper flakes or to taste
1 tsp brown sugar
1 tbsp soy sauce
1 egg lightly beaten
Everything bagel seasoning to taste
Method:
Following the instructions on the packaging, cook the ramen. Over medium heat, heat butter in a fry pan. Add garlic and red pepper flakes. Once garlic has softened, add the brown sugar, soy sauce and stir well. Then add the drained noodles and stir well to coat with the sauce. Pushing the noodles to one side of the pan, turn the heat up to medium to high heat, then add the egg. Cook egg until set. Eat while hot and top with everything bagel seasoning.
22. Vegetarian Pad Thai
Research shows that it can be beneficial to limit the amount of red meat Australians consume during their week. But with the rising costs of fresh produce, it can be difficult to find dinner recipes that are cheap and quick to make. That's why you'll love this versatile vegetarian pad thai that is so easy and super nutritious!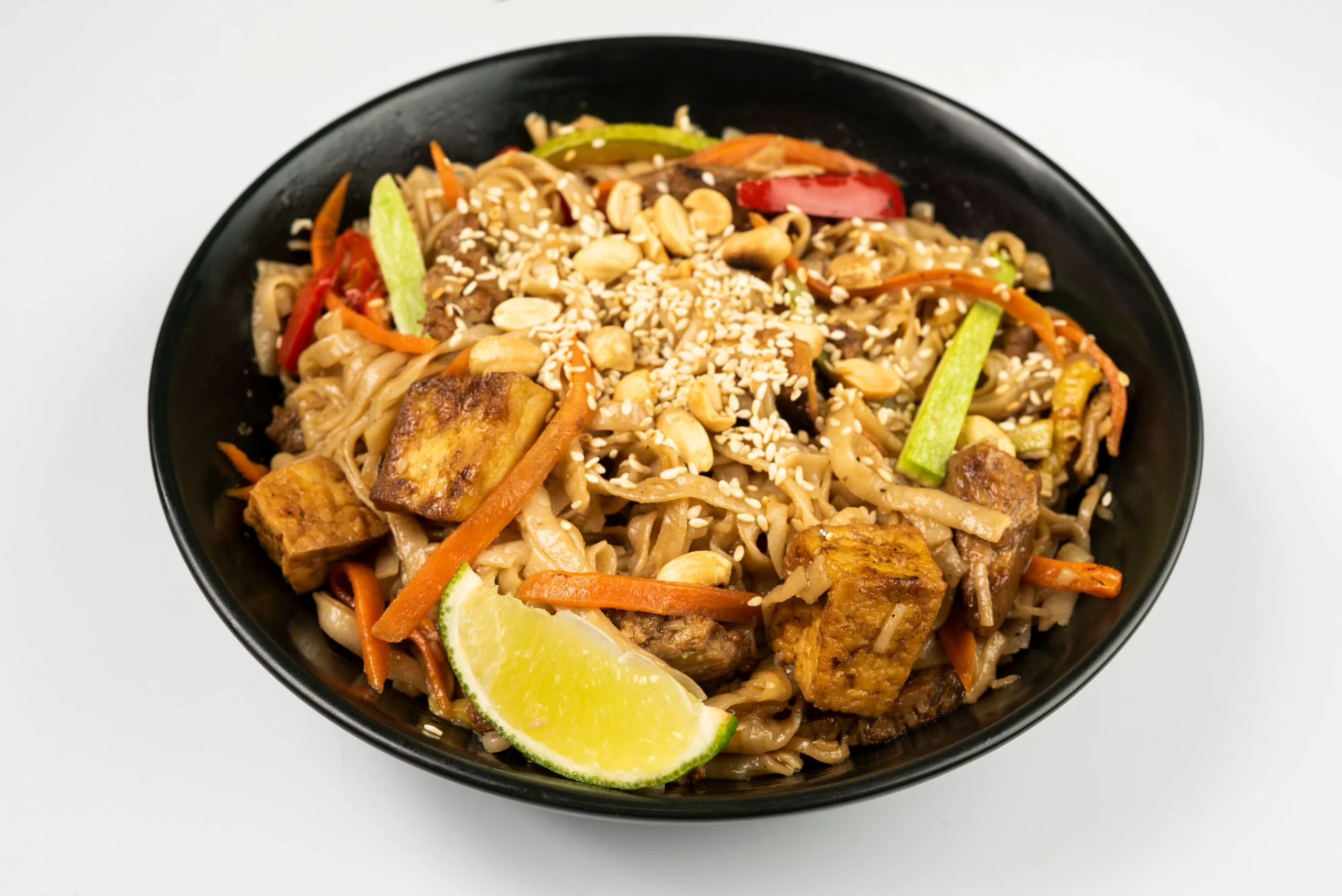 Ingredients:
150g dried pad Thai noodles
2 tbsp peanut oil
300g packet firm tofu, chopped
1/4 cup tamarind puree
1/4 cup brown sugar (lightly packet)
2 tbsp fresh lime juice, plus wedges, to serve
1 tbsp light soy sauce
2 garlic cloves, chopped
250g packet frozen stir-fry vegetable mix
2 eggs, lightly whisked
Crushed peanuts, to serve
Bean sprouts, to serve
Method:
In a heatproof bowl, soak the noodles in boiling water for 9 minutes, stirring occasionally. Place the noodles in a heatproof bowl. Combine tamarind, sugar, lime juice, and soy sauce in a jug until sugar is dissolved. Using a wok, heat oil over high heat. Add the chopped tofu and cook, stirring regularly, until golden (usually 5 minutes). Move the tofu to one side of the wok and add the garlic to the empty space, cooking for 30 seconds. Add frozen vegetable mix and toss to combine. Make a space for the eggs, cooking for 20 seconds. Then stir the mixture, frying for 1 minute or until combined. Finally, drain the noodles and add to the wok, cooking for one minute until noodles are well coated with sauce.
23. Cajun Beef Quesadillas
This recipe will set your taste buds dancing with minimal effort and minimal cost. Whether you spice it up with some of your favourite additions or try it as is, you'll be sure to add this cheap and easy dinner to the regular rotation.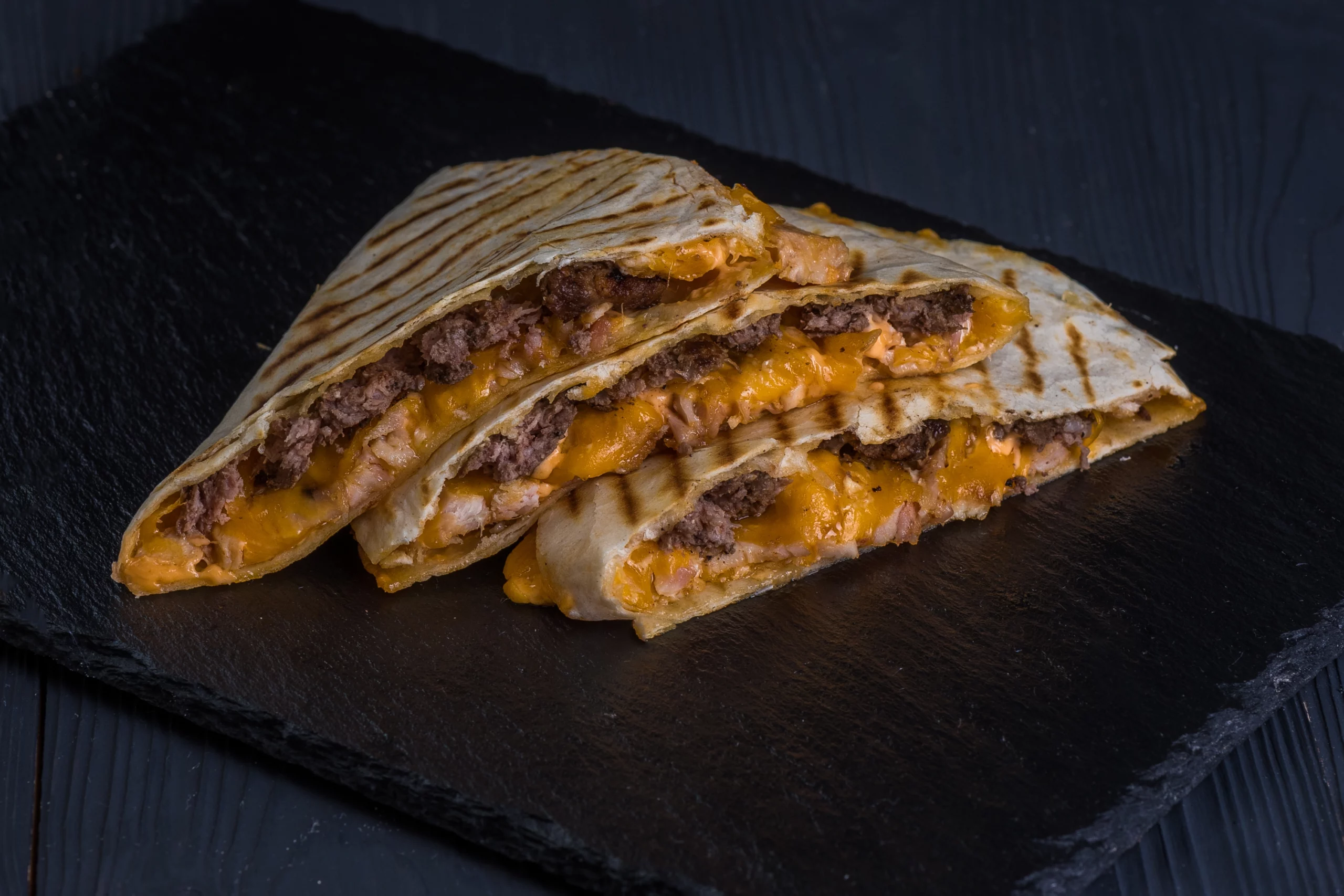 Ingredients:
2 tbsp vegetable oil
500g beef stir-fry strips
1 tbsp Cajun seasoning
8 flour tortillas 8 Woolworths flour tortillas
2 cups grated tasty cheese
Method:
Using a non-stick frying pan over medium to high heat, heat half the oil. Add the beef and cook for 2 minutes, stirring until browned. Add the cajun seasoning and cook for 1 minute, stirring constantly. Transfer the beef to a bowl and put it to the side. Clean the fry pan and return to a medium to high heat. Place one tortilla in the pan and top with a ¼ cup of cheese and a ¼ cup of beef, then sprinkle ¼ cup of cheese again. Place a second tortilla over the top and cook for 2 minutes. Flip the tortilla and cook for another minute until golden. Transfer to a cutting board and cut into quarters.
24. One-Pan Carbonara
In the mood for pasta? No need to break the bank by visiting fancy Italian restaurants or ordering expensive takeout. With this quick and easy carbonara recipe, you can indulge in classic Italian comfort food without breaking the bank or spending hours in the kitchen.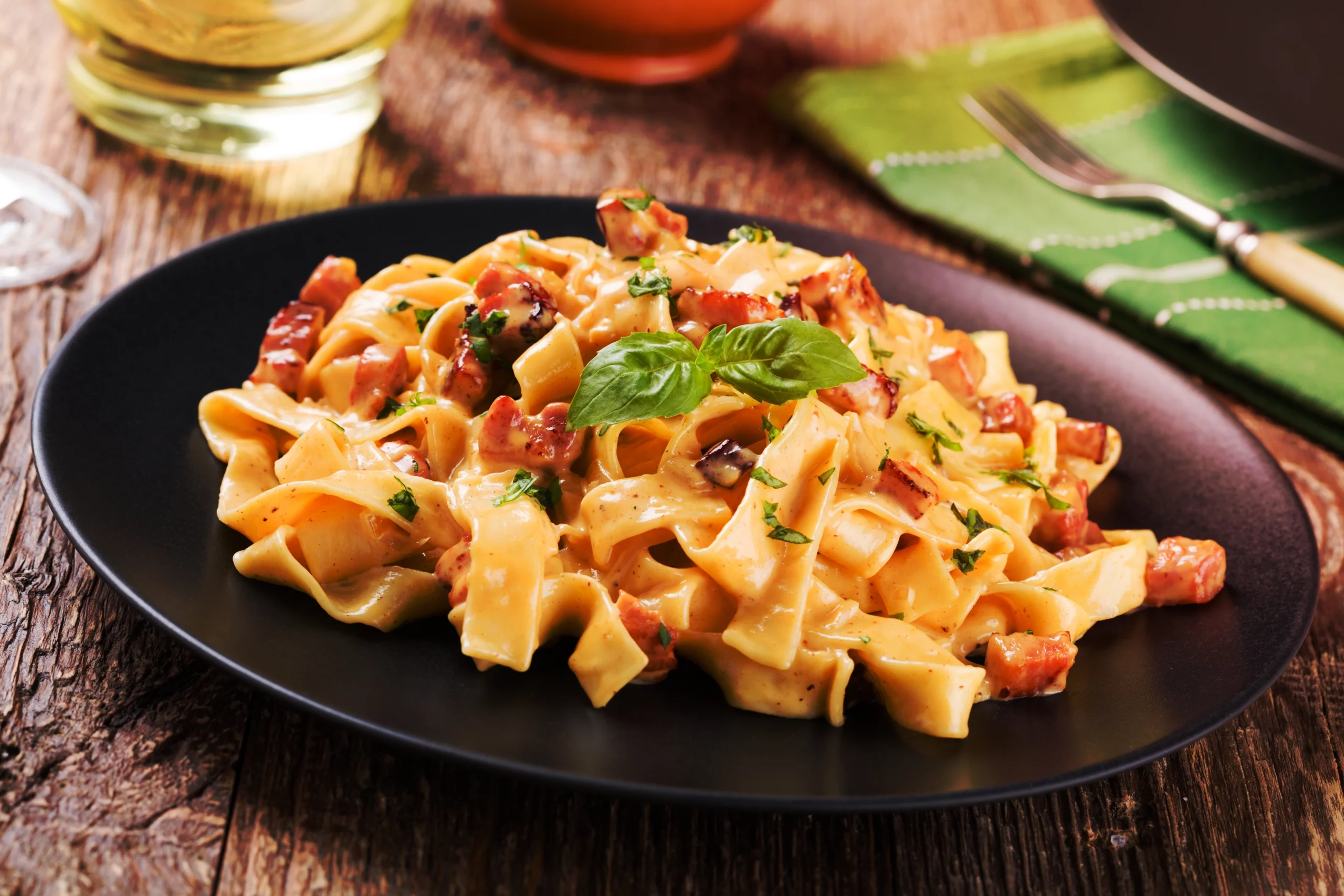 Ingredients:
250g pappardelle
3/4 cup cooking cream
100g parmesan, finely grated
3 free range egg yolks
250g middle bacon rashers, rind removed, roughly chopped
2/3 cup frozen peas
2 thyme sprigs, to serve
Method:
You'll need a large, deep fry pan filled two-thirds of the way with water. Over medium to high heat, bring to the boil and add pasta. Cook until tender, usually 7 minutes. Drain and reserve ½ a cup of the cooking water. In the same fry pan, add the oil and cook bacon until browned. Add peas and cook until tender, usually 1 minute. Remove fry pan from heat and add back pasta, cream mixture and the reserved cooking water. Stir until all ingredients are well combined. Top with remaining parmesan and season with salt and pepper.
25. Sticky Tempura Nuggets
Chicken nuggets are a staple when looking for an easy, inexpensive snack. But with this recipe, you'll be able to turn a simple snack into a fast, delicious meal.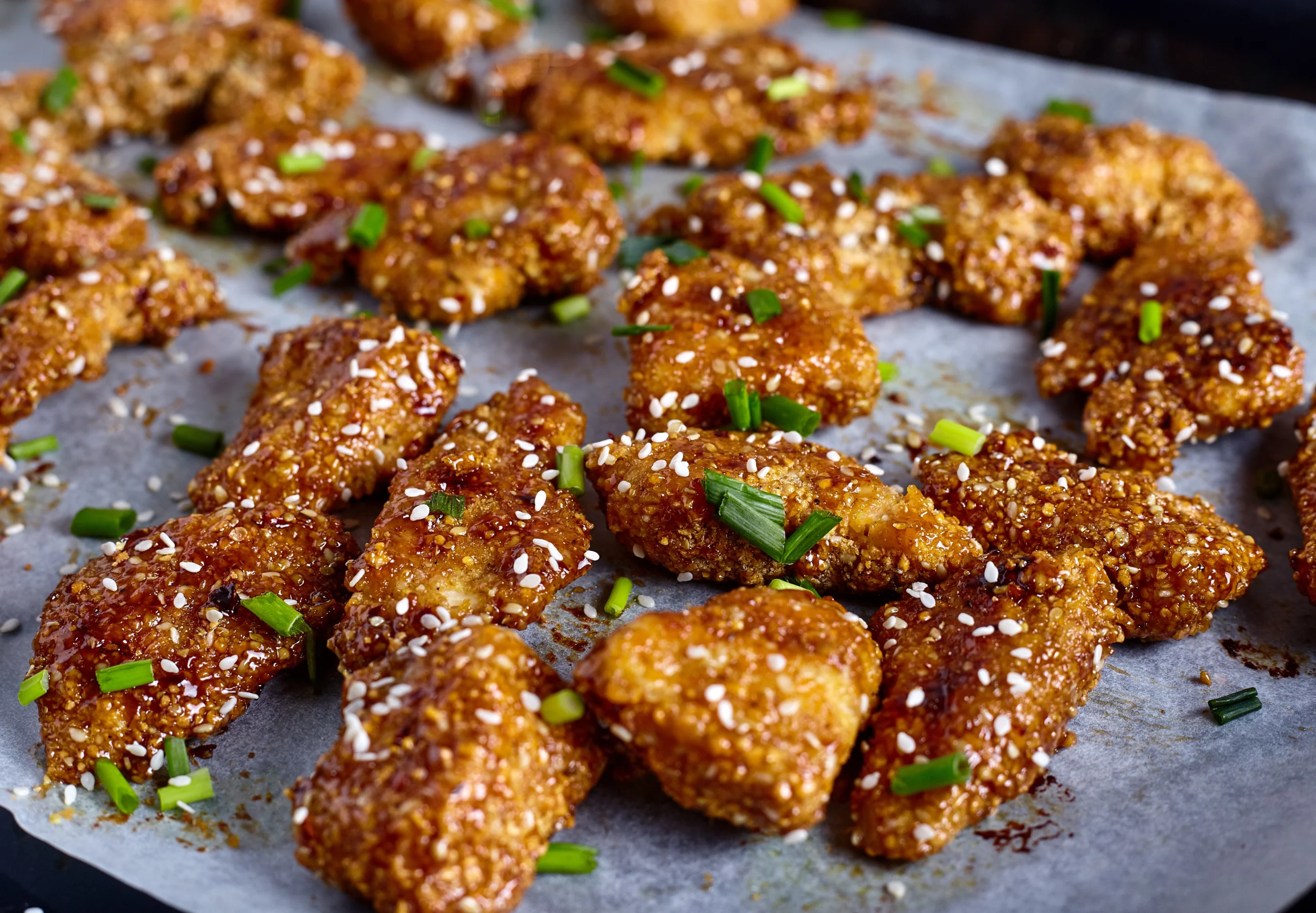 Ingredients:
400g chicken breast tempura nuggets 4
1/2 cup sweet chilli sauce
1 large red capsicum
350g broccoli, cut into small florets
2 spring onions, thinly sliced
2 tsp sesame seeds, toasted
Method:
Preheat the oven to 220°C/200°C fan-forced. Line a baking tray with baking paper and bake nuggets for 10 minutes. Drizzle nuggets with sweet chilli sauce until evenly coated on both sides. Bake in the oven for a further 10 minutes until golden brown. Add capsicum and vegetables to the tray, ensuring they are coated in the sauce. Bake for a further 5 minutes until tender. Top with onion and sesame seeds to serve.
26. Charred Lamb & Pumpkin Salad With Maple Dressing
There's nothing like a fresh healthy salad on a summer's night. But sometimes salads can mean a lot of chopping and a lot of expensive and elaborate ingredients. Luckily this recipe offers an easy, cheap, and refreshing solution for your weeknight dinner. The perfect quick but healthy option!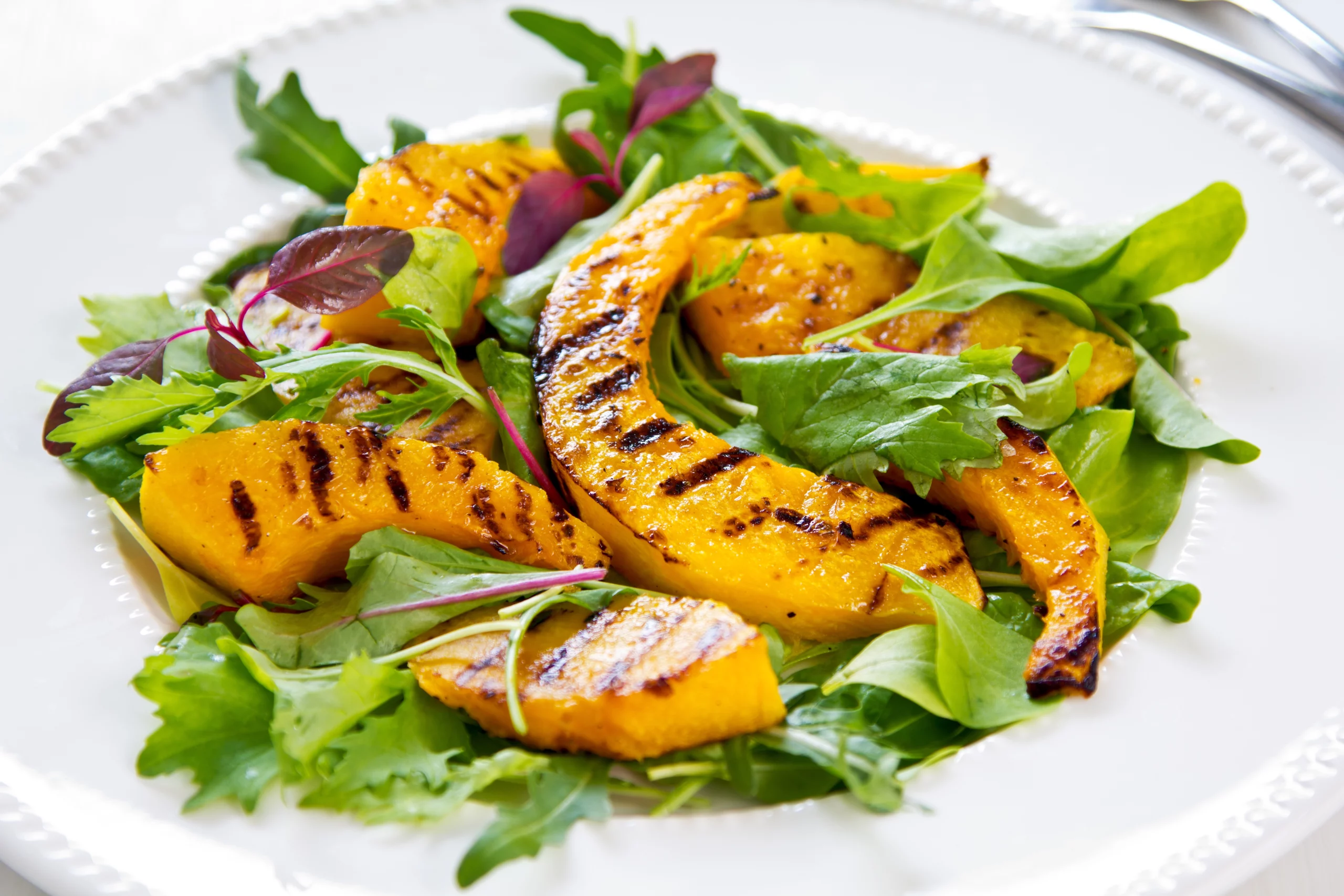 Ingredients:
400g butternut pumpkin, deseeded, cut into 1cm-thick slices
1 large red capsicum, halved, deseeded, thickly sliced
1 tsp olive oil
2 tsp paprika 2 teaspoon paprika
270g lamb leg steaks, fat trimmed
1 tbsp maple syrup
2 tsp extra virgin olive oil
1 lemon, juiced
120g baby spinach leaves
1/3 cup Woolworths smoked almonds, chopped
Method:
In a bowl, whisk syrup, oil and lemon juice until well combined. Set aside. On medium to high heat, heat a grill pan. Add pumpkin and capsicum, spraying with oil on either side. Cook for 6 minutes, turning, until tender. Lightly charred is okay. Set vegetables aside. Rub paprika into lamb until evenly coated and then cook for 2 minutes on each side. Transferring meat to a plate, cover loosely with foil and allow the meat to rest for 5 minutes. Once rested, cut into thin slices. Place pumpkin, capsicum and spinach on a platter, and drizzle with dressing. Toss to combine before topping with sliced lamb and almonds.
27. One-pan chorizo, tomato and basil pasta
One-pan dishes are the silent heroes of mid-week dinners. With easy ingredients and minimal cleanup, they take the effort out of cooking dinner without sacrificing on any deliciousness. This simple recipe is sure to be a crowd pleaser!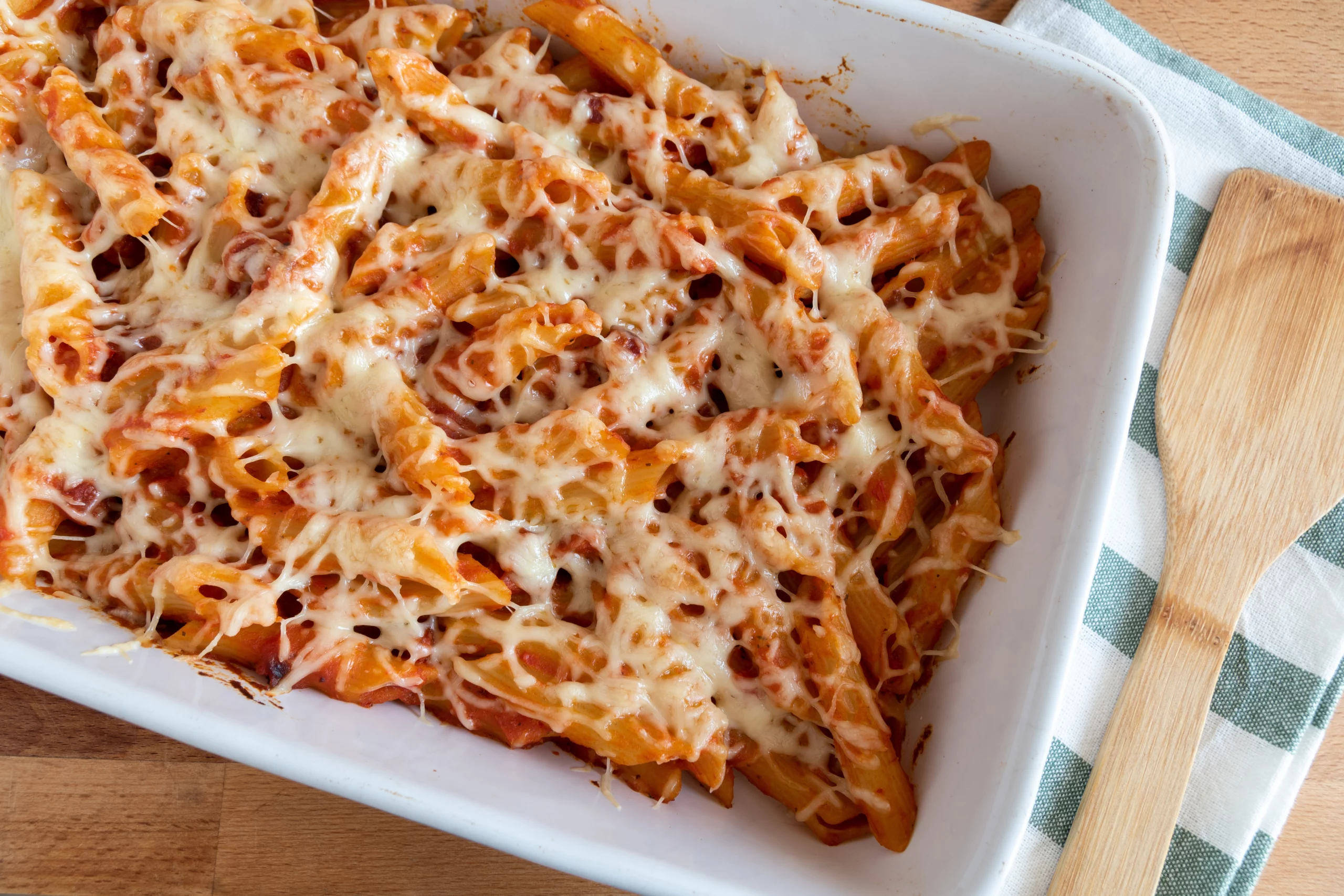 Ingredients:
1 tbsp extra virgin olive oil
1 red onion, cut into thin wedges
2 chorizo, thinly sliced
3 garlic cloves, crushed
375g penne rigate
420g jar cherry tomato and parmesan pasta sauce
2 cups Massel Chicken Style Liquid Stock
1/3 cup chopped fresh basil leaves
2/3 cup grated cheddar
1/3 cup basil pesto
Small fresh basil leaves, to serve
Method:
Preheat oven to 200C/180C fan-forced. In a deep baking dish, heat the oil over medium to high heat and add in the onion and chorizo. Stirring regularly, cook for 5 minutes until onion is softened. Add garlic and stir to combine. Turn off the heat and add pasta, pasta sauce, stock, salt, pepper (to taste) and chopped basil to the pan. Sturn to combine and top with cheese. Cover dish with foil and bake for 30 minutes. After 30 minutes, remove foil and bake for another 15 minutes until cheese is golden and the pasta is al dente. For best results, stand for 10 minutes and dollop pesto over past bake.
28. Summer Tomato, Kale & Basil Frittata
Eggs are a great source of protein and nutrients. This easy vegetarian recipe is the meal for when you're after something quick, tasty and healthy. It's also very versatile and you can dress it up with any of your favourite ingredients. After all, who could blame you if you snuck a little bacon into it?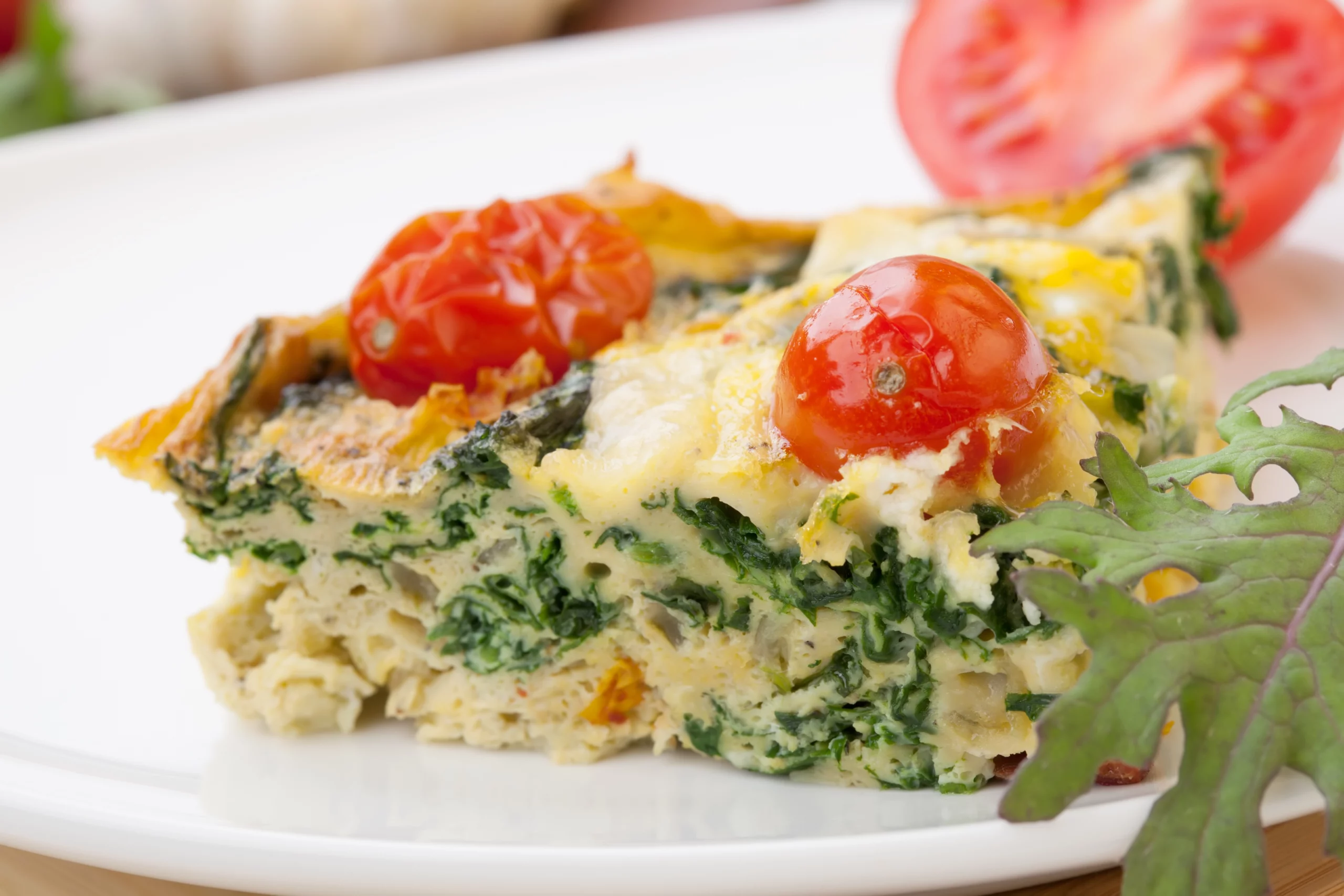 Ingredients:
2 tbsp extra virgin olive oil
1 red onion, thinly sliced
1/3 bunch kale, leaves picked and torn, stems finely chopped
200g Solanato tomatoes, halved
8 free range eggs
1/2 cup skim milk
140g sweet berry truss tomatoes
120g leafy salad mix
1 tbsp red wine vinegar
1/4 bunch basil, leaves picked
Bread of your choice to serve
Method:
Preheat oven to 220°C/200°C fan-forced. In a bowl, add eggs and milk, and whisk to combine. Season with salt and pepper (to taste). Then, using an ovenproof frying pan, heat half the oil before adding onion and kale. Cook for 3 minutes, stirring regularly until onion has softened. Add solanato tomatoes and stir, then add the eggs and cook until the egg starts to set around the edges. Add truss tomatoes on top before transferring to the oven to bake for 15 minutes.
In a bowl, add salad leaves, vinegar and remaining owl and toss to combine. Serve the frittata with salad, basil, and bread of your choice.
29. Apricot Chicken Tray Bake
Ready in under an hour, this apricot chicken tray bake is the perfect meal to feed your family when you're short on time and money. It also reheats well, meaning it's the perfect choice for meal prepping at the start of the week. Try it and see.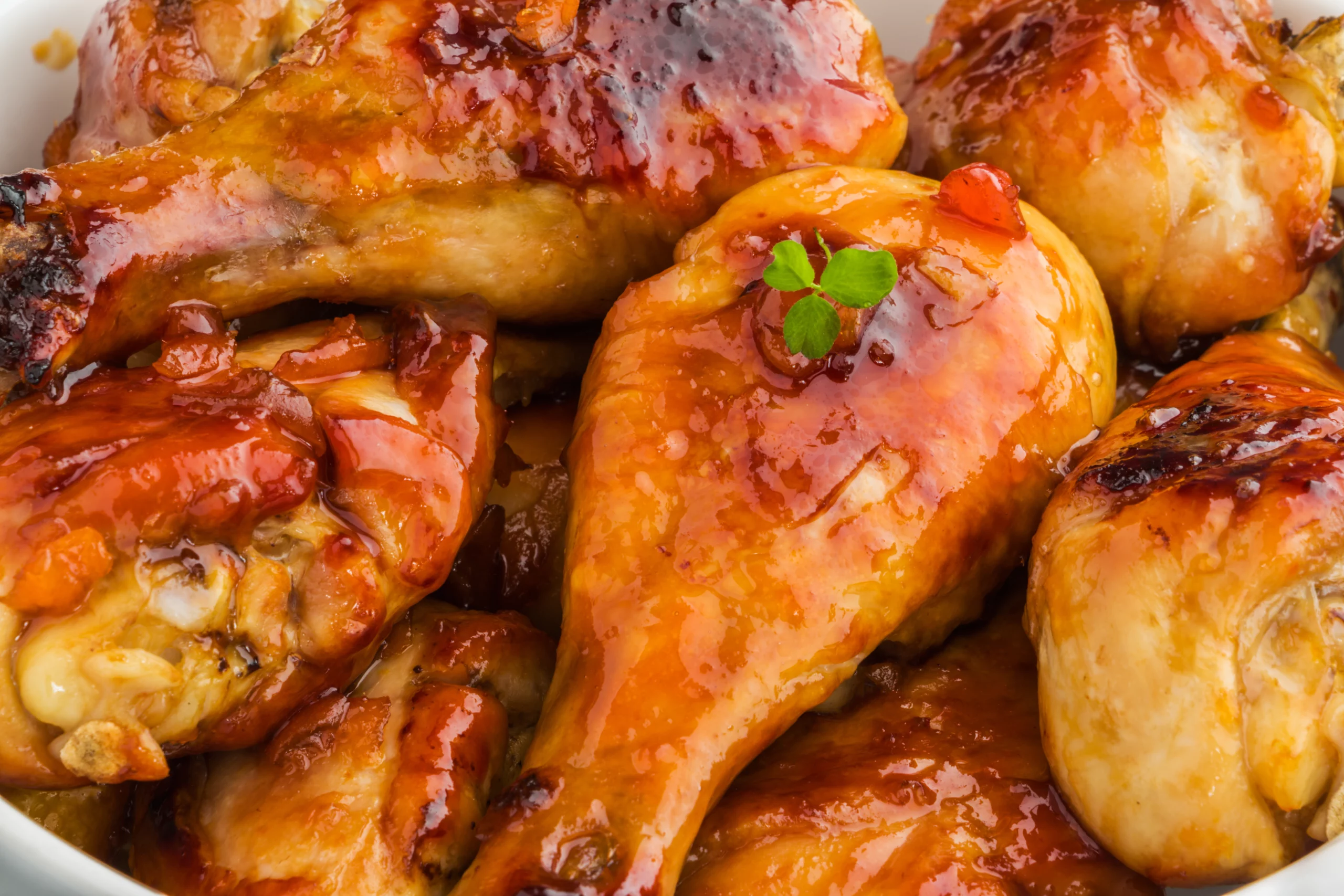 Ingredients:
95g tub apricot halves in juice
4 sprigs fresh rosemary
2 tbsp French onion soup mix
1 tbsp extra virgin olive oil
1kg Chicken Drumsticks
500g baby chat potatoes, halved
1 red onion, cut into thin wedges
Method:
Preheat the oven to 200C/180C fan-forced and line a baking tray with baking paper. Ensure you use a tray with sides. Draining the apricots, ensure you reserve ⅓ cup of the juice. Finely chop the leaves of 1 rosemary sprig (ensuring you discard the stalk). In a bowl stir soup mix, chopped rosemary, oil, and apricot juice until well combined. Over the prepared tray in a single layer, position the apricots, chicken, onion, and potato. Coat with apricot, rosemary and soup mixture, seasoning with salt and pepper to taste. Bake the chicken for 45 minutes, turning the chicken and adding the remaining rosemary sprigs halfway through. Ensure the chicken is cooked through and the potato is tender before removing from the oven.
30. Slow Cooker Mongolian Beef
Slow cooker recipes don't just create tasty meals, they also save you time and money. They're a great way to cook the cheapest cuts of meat and turn them into delectable morsels. You will also avoid hours of prep and cooking time. And this flavourful mongolian beef recipe will be worth the wait!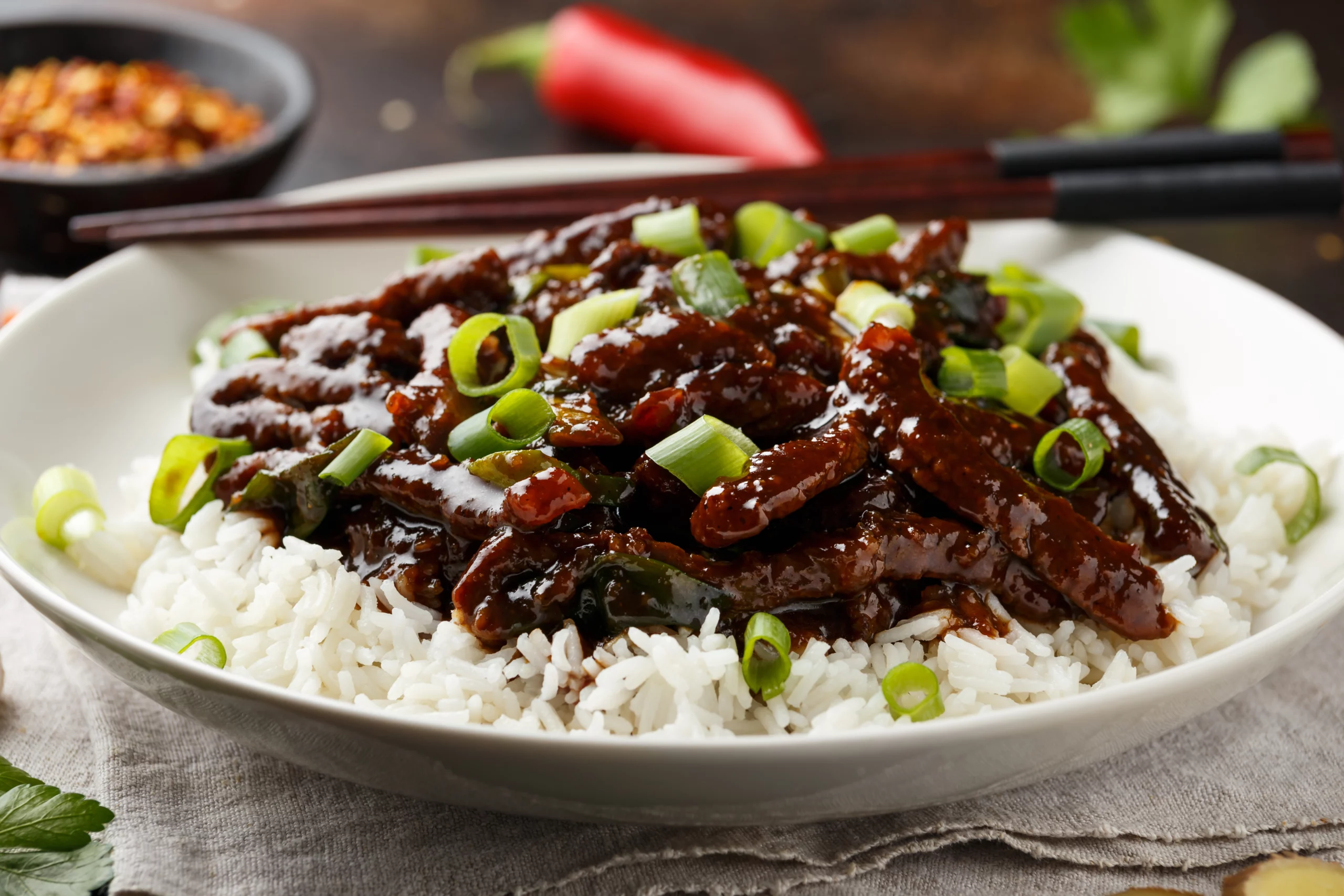 Ingredients:
1.2kg beef shoulder or beef blade steak
1/4 cup cornflour
1 tbsp ginger, grated
4 cloves garlic, crushed
1/2 cup brown sugar
3/4 cup soy sauce
1 tbsp vegetable oil
Shallots, chopped, to garnish
Method:
Cut beef into 1cm slices, trimming any fat in the process. Coat beef in cornflour and add to the slow cooker bowl. In a bowl, whisk together ginger, garlic, sugar, soy sauce, and oil. Add ½ cup of water and mix well to combine. Pour mixture over meat in the slow cooker. Cook on high for 4 hours. Stir halfway through, ensuring everything is well coated in sauce. Once cooked, top with shallots.
31. Mac 'n' Cheese in the Slow Cooker
Mac 'n' cheese is the ultimate comfort food, perfect for those nights when you're exhausted and in need of some couch time. This slow cooker mac 'n' cheese is so cheap and simple to make, you'll be adding it to your favourites list!
Ingredients:
200g macaroni
200g cheddar cheese, finely grated
1/4 cup plain flour
3 cups liquid chicken stock
25g butter chopped
2 tbsp chives, chopped, to garnish
Method:
Add cheddar, flour, and macaroni to the slow cooker. Mix well, using your hands, until combined.
In a saucepan over high heat, bring the stock to a boil, then add to pasta. Add butter and stir until well combined. Cover and cook on high for 1 ½ hours. Stir every 45 minutes, breaking up any pasta clumps. Season with salt and pepper, and garnish with chives.
Saving time and money in today's economic climate is no small challenge. Meal prepping and planning is just one of the many ways to save a little extra cash. While it might not see you sipping champagne in a Parisian chalet, it will help you to reach your financial goals. And you know what they say, every little bit helps!
Need some extra cash to upgrade your kitchen appliances?
Now you have 31 cheap easy dinners to try out, you might be thinking of giving your kitchen an overhaul. If you're looking to upgrade your kitchen appliances so you can save on the cost of takeaway and make fast, quality meals at home, apply online today with Swoosh for a small personal loan of up to $5,000.
People also read: