Private School vs Public School: Which is Better?
Private school vs public school, which is better? As a parent, you always want what's best for your children, which sometimes means making hard decisions that could have a lasting impact on their future.
There is endless debate about how to best set your child up for a happy and fulfilled life. And one of the centre points of this debate rests with education. So let's dive into our updated 2023 guide on what to consider when choosing the right school for your kids.
Overview:
Difference between private and public schools
The primary difference is that private schools are independently run and mostly funded through tuition fees. Whereas, public schools are run and funded entirely by the Australian government. Private schools could also be religious or non-religious while government schools are secular (though they may offer some optional religious education).
Private School vs Public School: what to consider
There are several factors you need to consider when choosing where to send your child for their education. Some public schools are so well regarded that they drive up the housing price in the catchment areas. Yikes! But on the other hand, some private schools have a bad reputation when it comes to transparency. Here's what you should think about before you decide on the best option for your child.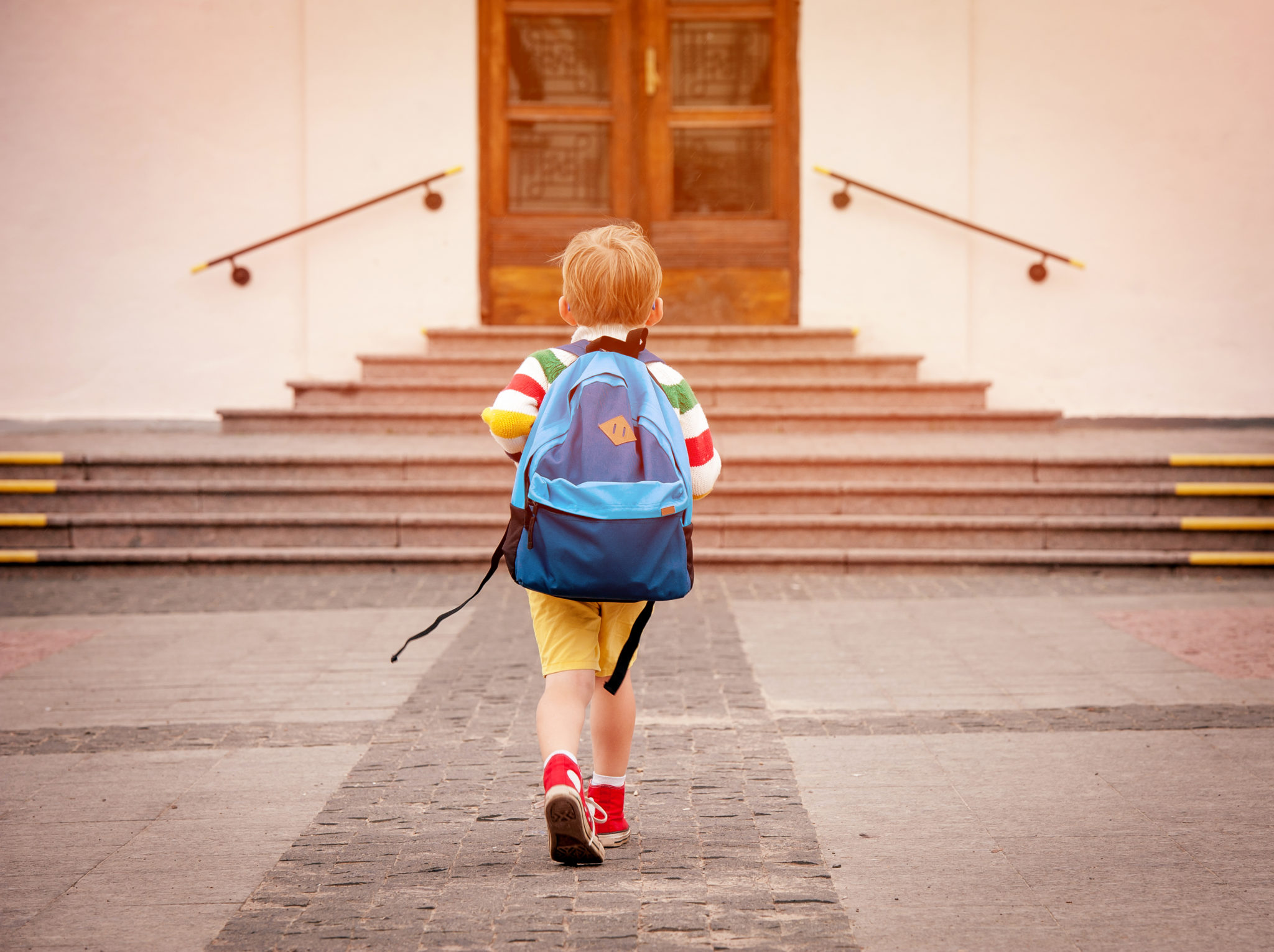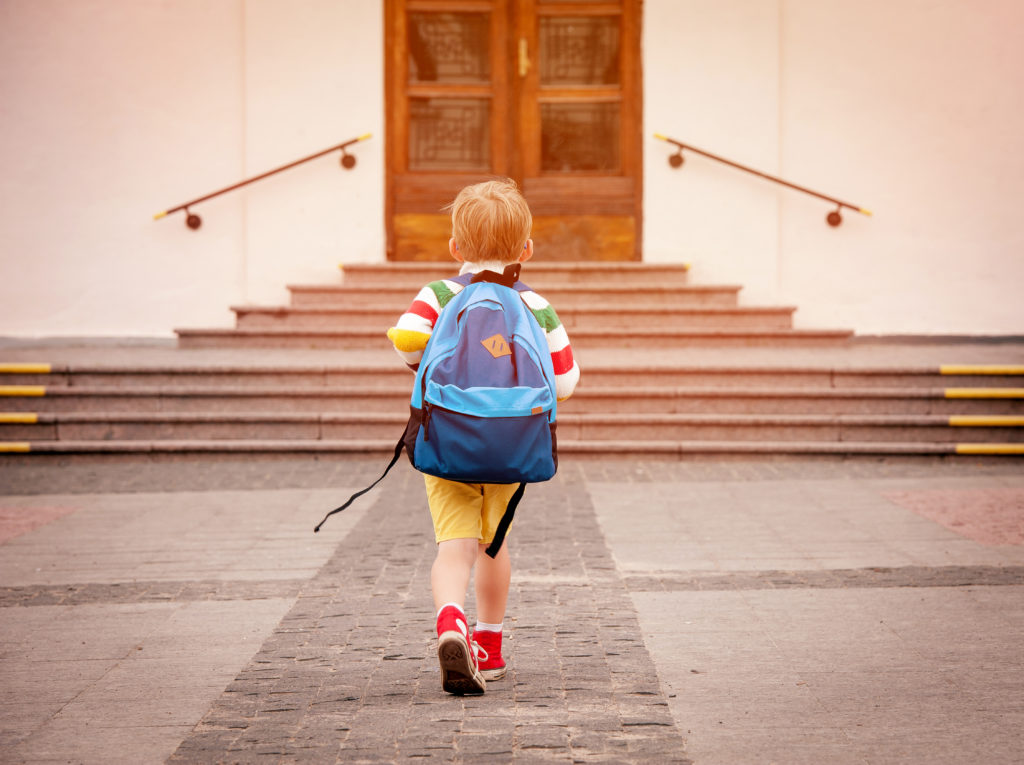 What to consider when choosing between private and public school:
School size
Private schools tend to be smaller and thus have smaller classes than public schools. This allows greater opportunity for children at private schools to get more one-on-one attention with their teachers.
However, with the larger numbers at a public school, there are more chances for children to make friends.
School cost
Of course, there are a lot more costs involved with going to a private school vs a public school. Private school costs not only include the school fee (and some need to be paid upfront!) but also uniforms, which are not so readily available outside of the uniform shop at the school. An analysis by Edstart shows that only 49% of private school fees are paid with disposable income. The rest is raised by credit cards, mortgage redraw, loans, savings and family contributions. Is it worth going into debt for a private school education?
School uniform
Okay, so this probably won't factor too much into your decision. Though it might factor into your child's. We all remember having to wear those hideous colours, patterns, and styles during our schooling years. You may be in the 'I had to suffer so, so do you' camp or maybe you have some sympathy for those who still endure the ugly uniforms.
Private schools tend to go for the more formal, 'old school' look compared to public schools. And sure, a blazer looks and feels good in winter, but what about that summertime heat?
Check out this photo of some Queensland schoolboys from sometime in the 40s or 50s. Take away the hats and add a bit of colour; they could be attending a private school in the 2000s.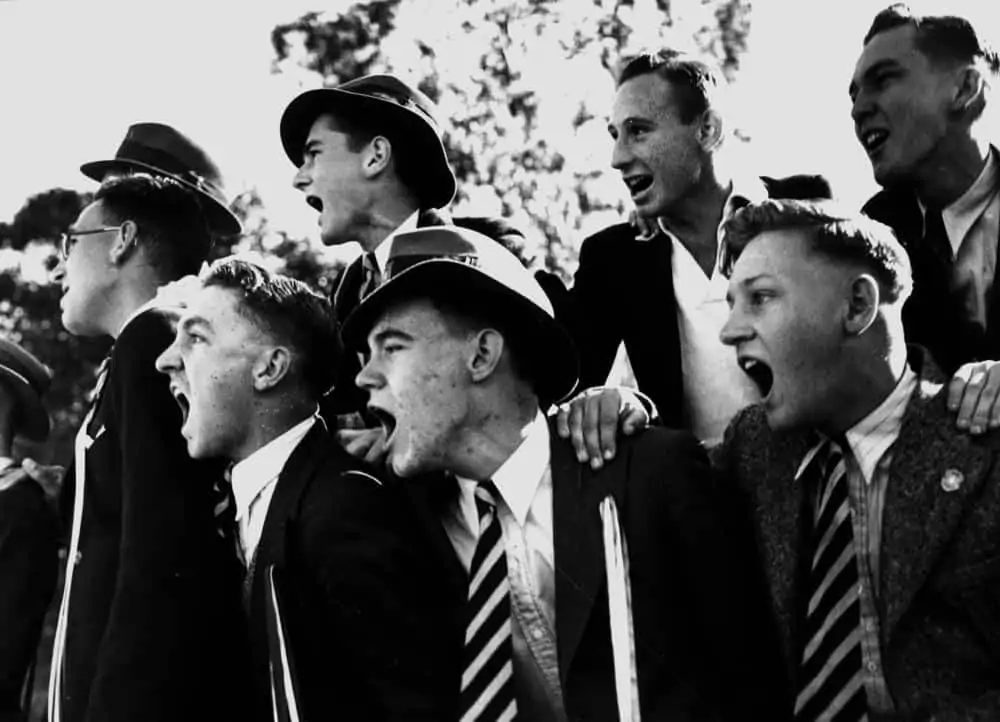 Source: State Library of Queensland
Did you know: some Australian schools don't even have a uniform? See for yourself with this list of Brisbane schools with no uniform.
Religion in private vs public school
Another thing to consider with private schools is that in most cases, the schools are religious. Australian Bureau of Statistics (ABS) data showed that Catholic schools made up 19.7% of enrolments in 2022 and independent schools made up 15.9%. And in many of these private religious schools, opting out of religious education is not an option.
Resources
When choosing between private vs public schools you might need to consider the funding available to the school. Public schools rely on government funding and grassroots fundraising efforts. The extra fees that a private school charges normally mean they have better facilities. However, the money you save on fees with public schools could be spent on kitting your kid out with better resources of their own. This could include a laptop or tablet, or extracurricular activities such as sports or music.
Private vs public school academic results
Analysis continues to show that private schools do not outperform public schools when socio-economic advantage is taken into account. What really counts is the effort that your child puts into their work. This is great news for those who feel like they can't afford private school fees.
Transparency
Government schools have a lot more regulation around transparency. Although legislation has pushed for more transparency from private schools, they still have a lot more autonomy than public schools.
Private vs public school teachers
Private schools have a vested interest in getting the best teachers. But their criteria for what 'best' is depends on the school itself. Generally, private schools have a larger proportion of teachers with higher qualifications compared to public schools. Keep in mind that a higher level of qualifications from a top university doesn't necessarily translate to being a good teacher.
Do you know someone whose child already attends the school?
A valuable point of reference is someone who already attends the school. They can give you insider information on what the students and teachers are like, as well as how the school operates and handles conflicts.
Your child's individual needs
Some children will thrive in the academic pressure generally associated with private school and some will find the pressure cripples their academic and emotional growth. Everyone has different learning styles, needs, and gifts. So, find a school that aligns with your child's unique learning styles and abilities. Likewise, if they have a particular special need you might be surprised to find that some public schools have better, more involved programs to help them reach their full potential and remain socialised with their peers.
How your child feels
Not a lot of discussions mention this when weighing up the pros and cons of private vs public school. But asking what your child thinks about it should be a part of the decision process as well. Even if you decide something different, it can make a big difference knowing you at least took their views into consideration and had a discussion with them.
The social aspect
Having a social community is necessary for all of us, but particularly during those early years. You might find a school with a great program, teachers, and reputation but don't forget that social connection is crucial for learning. Some kids have a great social life outside of school and might not mind having close school friends as much. But if your child is struggling to make friends or facing social isolation, it could impact their learning.
If you notice your child struggling to make friends you can check out the Australian parenting website for help to support your child.
Bullying
There is not much research about bullying in private vs public schools in Australia yet. But some factors to consider to are the following:
What actual processes does the school have in place when bullying is reported?
Does your child have any existing friends who will be attending the school?
Does the school offer programs that your child is interested in?
What reputation does the school have?
Quick comparison of public vs private schools pros and cons (Australia)
Private School
Public School
Pros

Smaller classes
Better access to facilities
More opportunities

Accountability
Diversity
Price

Cons

Price
Pressure to achieve
Less transparent

Student behaviour
Funding
Less attentive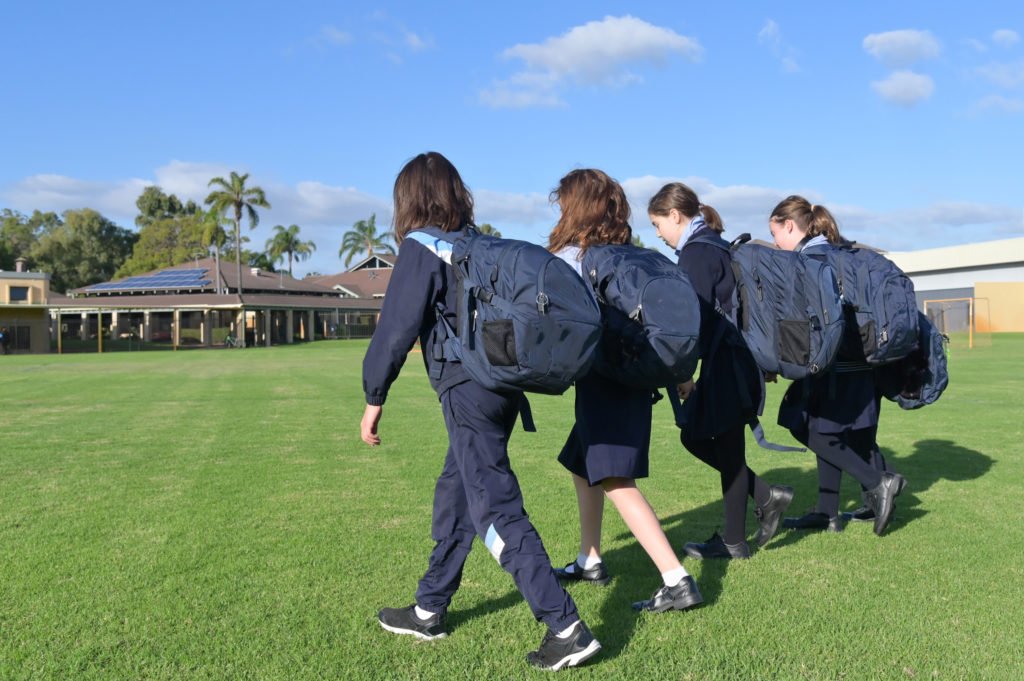 Now you have a high-level idea of what to expect from both private and public schools, let's dive into some more detailed advantages and disadvantages to consider.
Advantages of private school
Smaller classes—your child can get more personal attention and individual support for their education.
More well-behaved students—private school kids, usually, cause less damage (at least while they're on campus). Not all public schools face this problem but it does tend to be more common.
Access to facilities—all that money goes, in part, into great facilities and new technologies to enhance your child's education.
More education options—a wider variety of courses available means education can be more tailored to your child's particular interests and skills.
Independent schools have a higher rate of satisfaction from parents for the education their child receives.
Personal presentation—learning how to present yourself well helps in both social settings and business to make a good impression.
Disadvantages of private school
Here are some common cons of private school compared with public school:
Price—it's not surprising but private schools can pack a punch in the school fee area. But additional costs like uniforms, extracurricular activities, and excursions can also drive up the price of sending your kid to private school. And if you have more than one child the cost only increases.
High pressure to achieve—whether your child is passionate about academic achievement, the arts, or sports, private schools tend to pack on the pressure to achieve. While they can offer a more diverse range of opportunities they can also fall short in the emotion support department.
Less transparency—private and independent schools don't have the same rules about transparency that public schools have.
Advantages of public school
Some advantages of public schools over private schools include:
Diversity—you'll meet every type of kid in a public school, which can be good for preparing for the 'real' world and developing empathy for others.
Image—generally there's less pressure to fit the 'right' image. So there's more freedom to make mistakes and grow.
Less competitive—if you want your child to stand out, it's easier to do in a public school. Or maybe you just want them to not have to worry about competition all the time.
Price—you have more funds free to spend on other things, whether it be a tutor for your child or a well-earned family holiday.
Accountability—public schools have to be more transparent about how they operate. And if you have an issue you feel wasn't handled correctly, you can keep going up the chain of command until you are satisfied.
Sometimes less is more—not having flashy technology and facilities means you have to be more creative and think outside the box to get what you want. This is an invaluable skill to foster for later in life.
Disadvantages of public school
Behaviour—public schools have a reputation for having more ill behaviour. This depends a lot on the school itself. Not only the kids that go there but the Principal, teachers, and culture of the school.
Funding—some public schools struggle to afford the bare necessities. Again, this depends on the specific school. But you can expect some degree of economising to be involved.
Less attention—the diversity of needs and extra time spent on controlling the students means your child could receive less personal attention for their education needs. Some students thrive as independent learners but some really rely on that extra attention.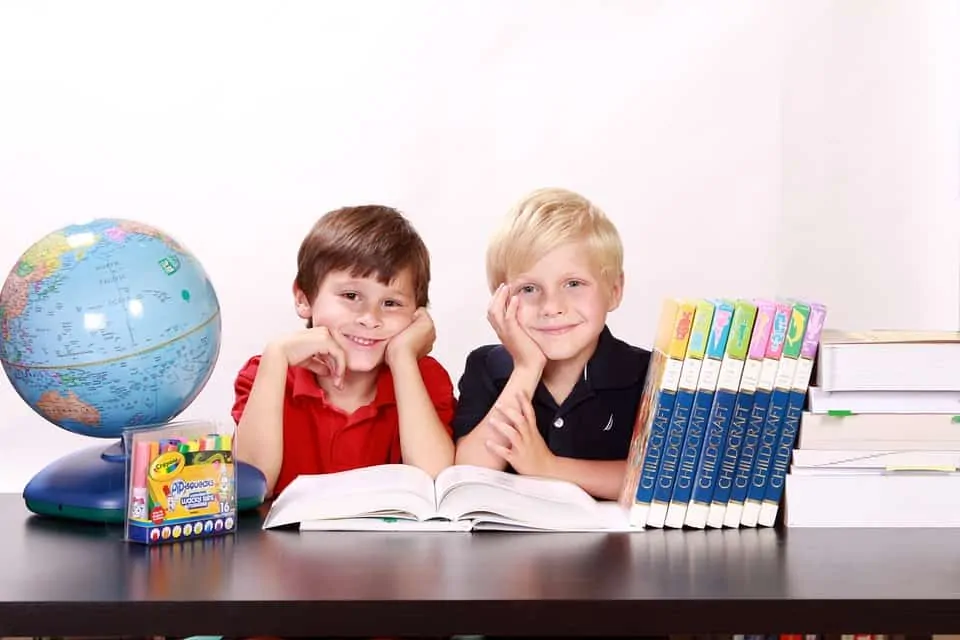 Is private school worth it?
Studies show that in the private school vs public school debate, there is no real difference between grades. So, if you were leaning towards private school because you want to make sure your child gets good grades, then it's probably not worth it. But if you want a more bespoke education with a more diverse range of subjects and extracurricular activities (and you don't mind paying all the added costs) then it could be worth it for you.
Private schools often offer a wider selection of classes than those available in public schools. If your child has a particularly strong talent in an unusual subject, it can totally be worth it to nurture that in school. That being said, there are other ways to nurture their talent if private school proves an obstacle. You could invest in a personal tutor or other external learning opportunities available.
Public vs private school statistics Australia
Check out these 2022 private vs public school stats from the Australian Bureau of Statistics (ABS):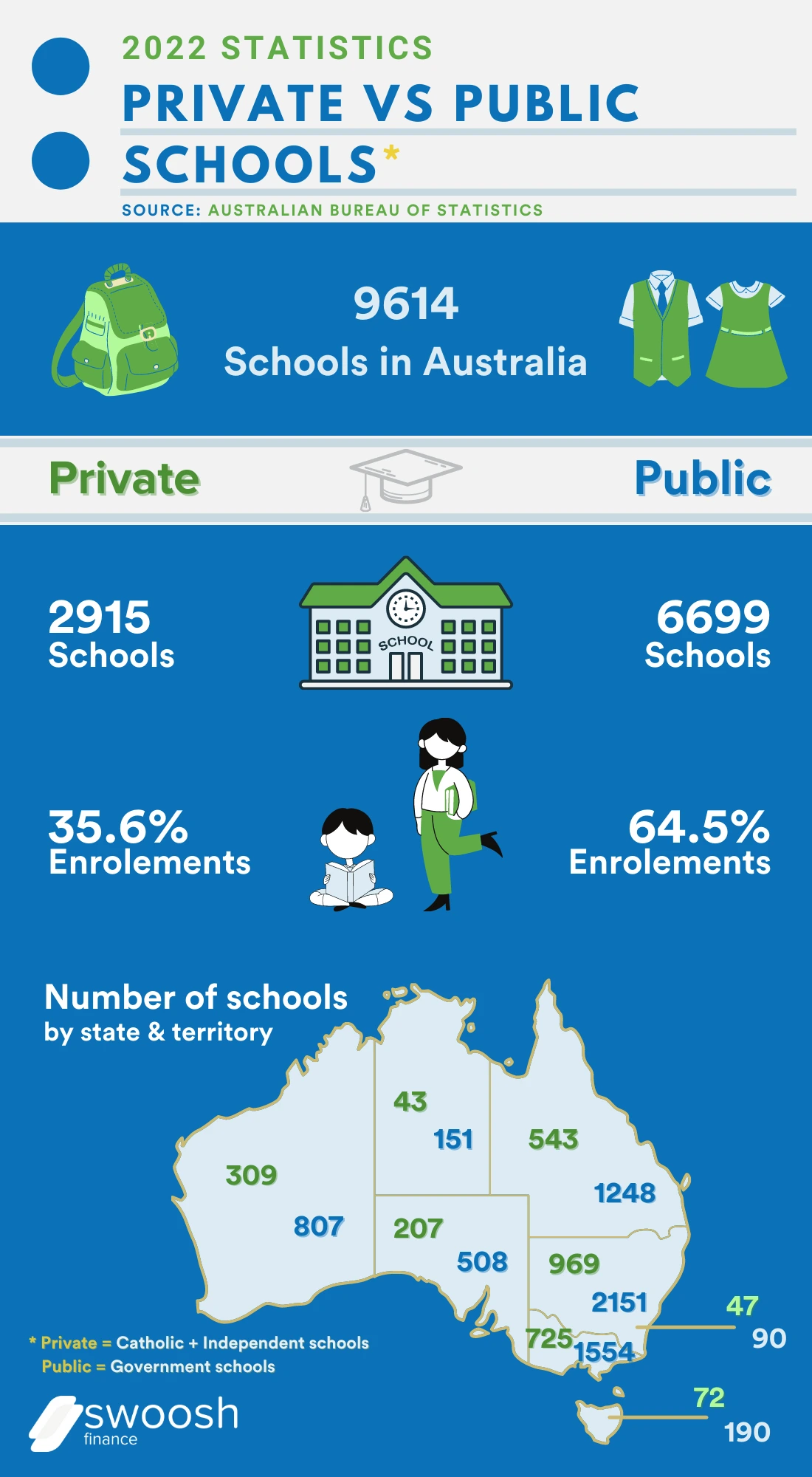 Source: ABS
As of 2022:
There are 9614 schools in Australia
2915 schools are private and 6699 schools are public
35.6% of enrolments are for private schools and 64.5% are for public schools
Number of schools by state/territory
| State/Territory | Number of Private Schools | Number of Public Schools |
| --- | --- | --- |
| New South Wales | 969 | 2151 |
| Victoria | 725 | 1554 |
| Queensland | 543 | 1248 |
| Western Australia | 309 | 807 |
| South Australia | 207 | 508 |
| Northern Territory | 43 | 151 |
| Tasmania | 72 | 190 |
| Australian Capital Territory | 47 | 90 |
Are private schools better than public schools?
So, which one is actually better? One is not inherently better than the other, so you can rest easy if you were worried that public school was automatically the worse option! The right answer depends on the school, who your kid is, their needs, and, realistically, what you can afford.
Weigh up the considerations we outline above and you'll have the right answer for your kid. We find this site very useful when comparing schools. And if it's the funds that you need to get the enrolment process started, apply now for a small loan.
People also read: