10 Quick and Easy Breakfast Ideas: Breakfast on a Budget
Breakfast is an easy meal to skip or skimp on—throw some cereal in a bowl, splash some milk on it and then you're out the door. You may even just grab a coffee to go or buy a snack at your local cafe on the way to work (which can be very costly and make you feel like you need to take out a cash loan later on). Not to worry, we've compiled a list of quick and easy breakfast ideas to help you start the day right.
It's easier than you think to include a healthy, filling breakfast each morning without a lot of work or money. And your kids and your own stomach will thank you when you're not starving at 10:30 am.
Check out 10 of our favourite quick and easy breakfast ideas that will feed your family—even when they're on the run!
Overview:
1. Freezer-to-microwave breakfast burritos
This is a super cheap way to feed the whole family in bulk, and they freeze great. Make a batch up over the weekend, and send everyone off to school and work on Monday with a full belly! This quick and easy breakfast idea is healthy and tasty!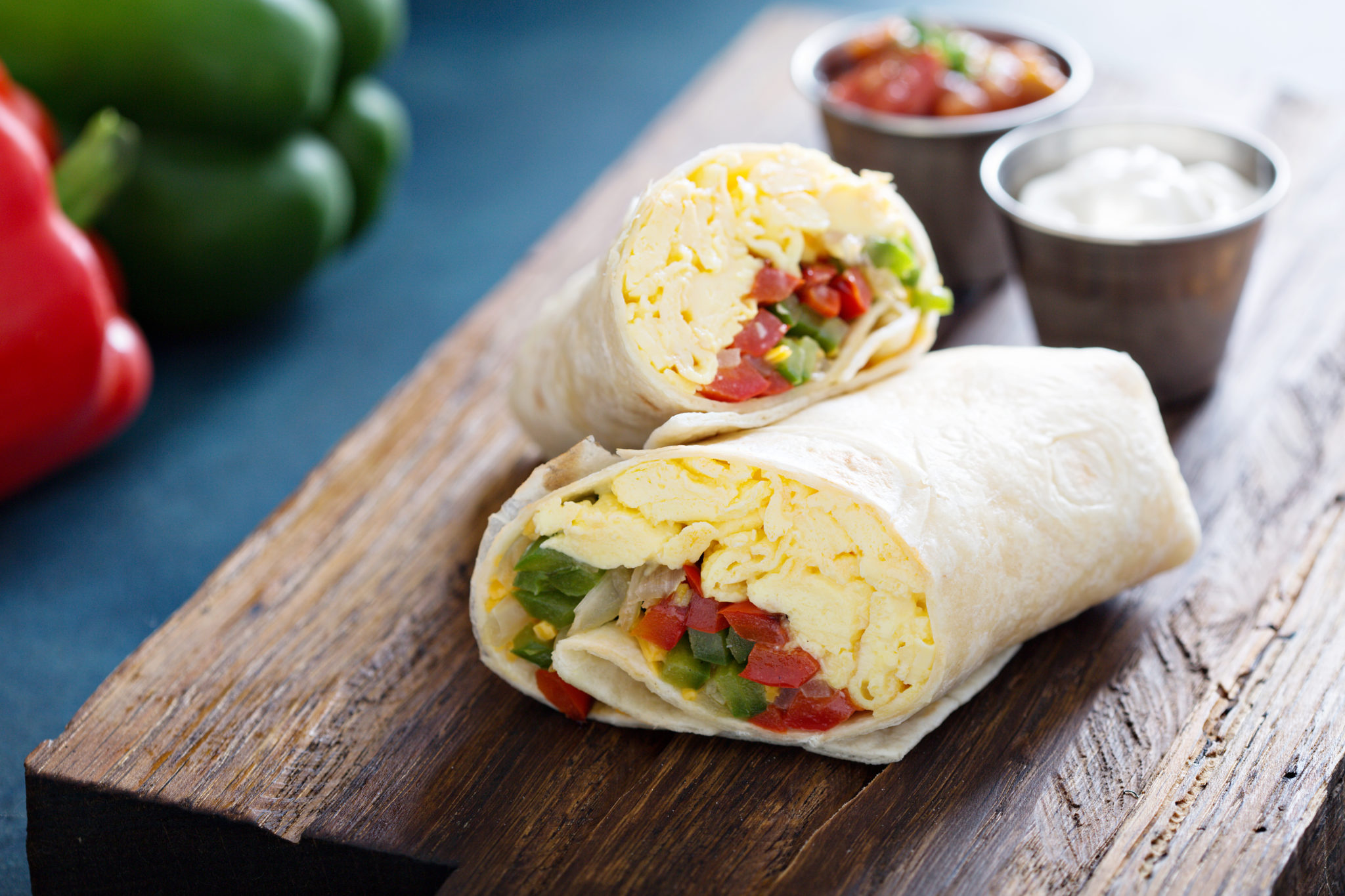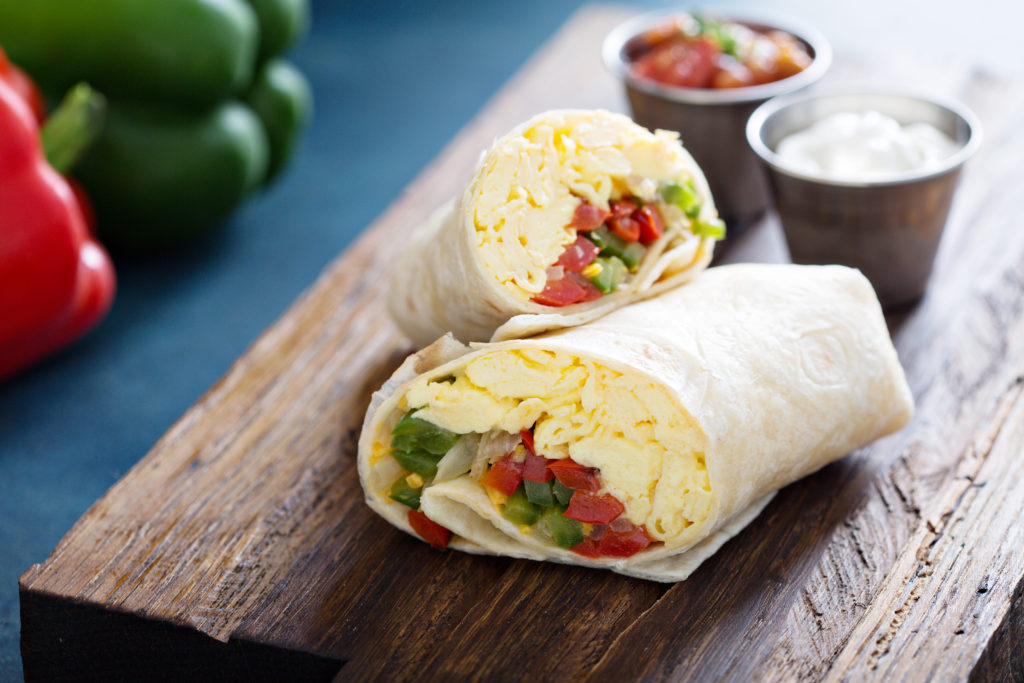 Ingredients
500g ground spicy Italian sausage (if you don't have this, any kind of sausage is fine)
2 handfuls of fresh baby spinach leaves
16 eggs, beaten
salt and pepper to taste
225g/2 cups mild cheddar cheese, shredded
16 "burrito size" flour tortillas
To see how to make these burritos, check out the method here: New Leaf Wellness.
To eat
Heat one burrito at a time in the microwave. Simply unwrap the foil and waxed paper, wrap in a paper towel, and microwave on high for 90 seconds–2 minutes (depending on the strength of your microwave).
2. Whole wheat pumpkin muffins
This is a quick and easy breakfast idea that almost anyone will like—because who doesn't like pumpkin? These muffins are an easy grab 'n' go item that kids can eat on the way to school and the adults can enjoy once they get to work.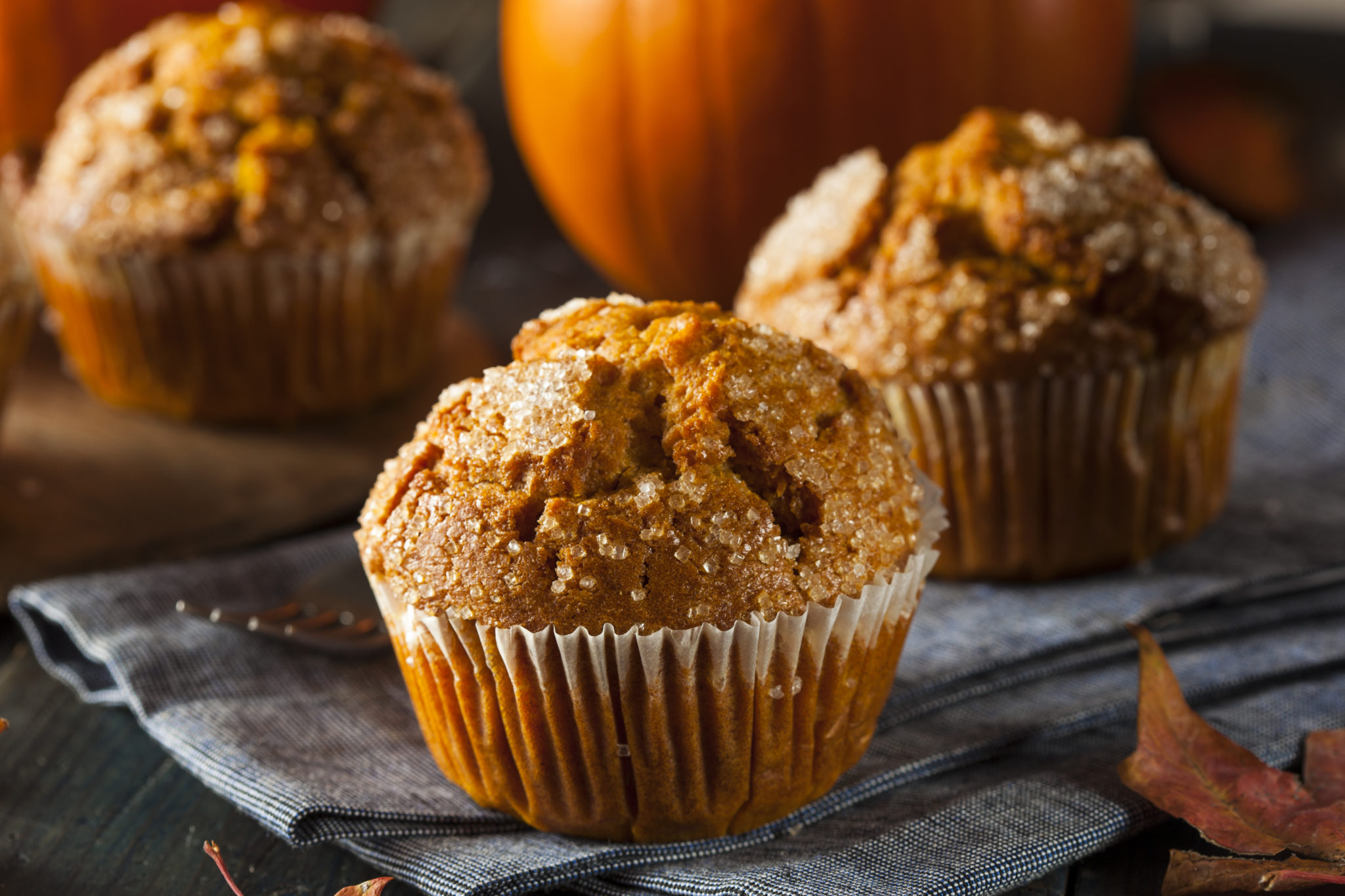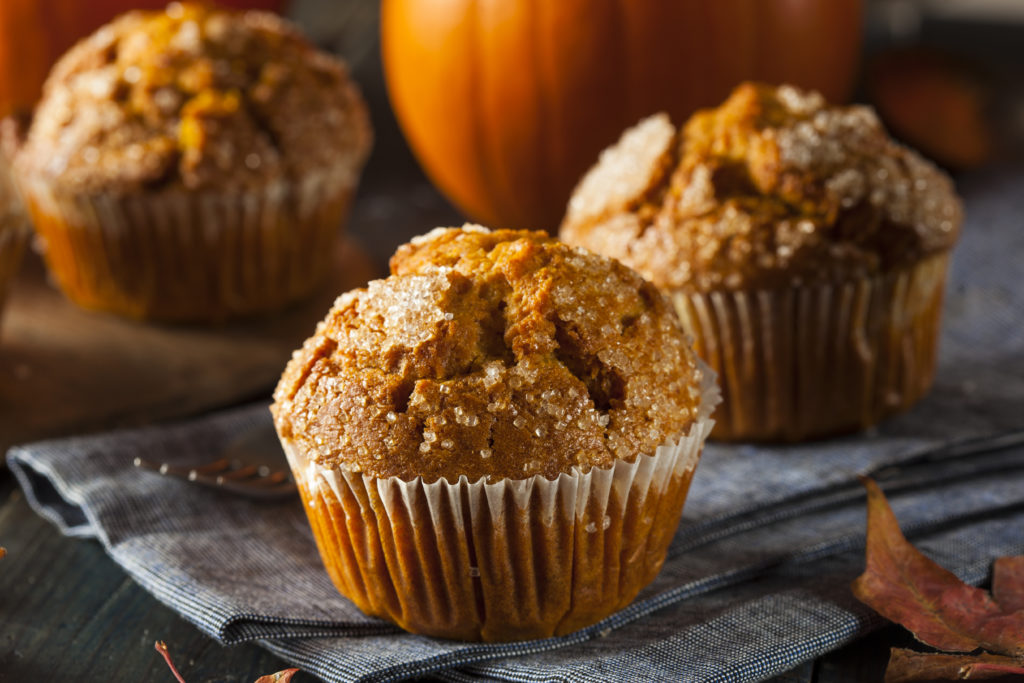 Ingredients
2 cups pureed or canned pumpkin
1/2 cup brown sugar
1/3 cup oil (canola or vegetable)
1/3 cup unsweetened applesauce
1 1/2 cups whole wheat flour
4 large eggs
1 1/2 cups all-purpose flour
1 tsp cinnamon
2 tsp baking soda
1 tsp salt
2 tsp vanilla
1 tsp cloves
1/2 tsp baking powder
1 cup chocolate chips (optional)
To see how to make these muffins, check out the method here: Super Healthy Kids
3. Apple cinnamon baked oatmeal
A dish of this will probably last a family of four about three mornings if everyone eats it. Plus, oats are super budget-friendly and will fill you up 'til lunch!
Tip: make this on the weekend and then let it cool before placing it in the fridge. To eat, take out a serving and heat up a bit in the microwave and serve with a splash of milk.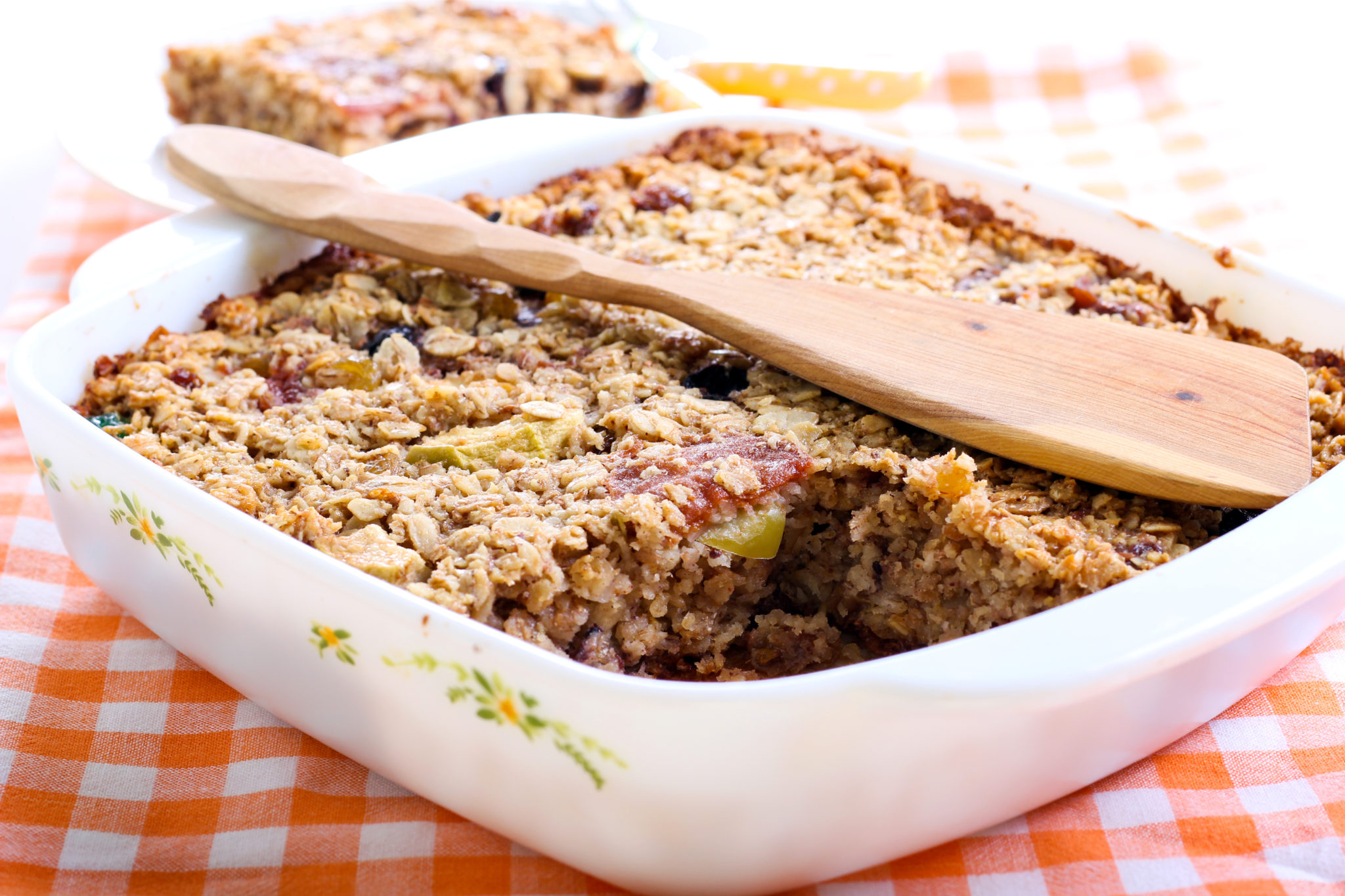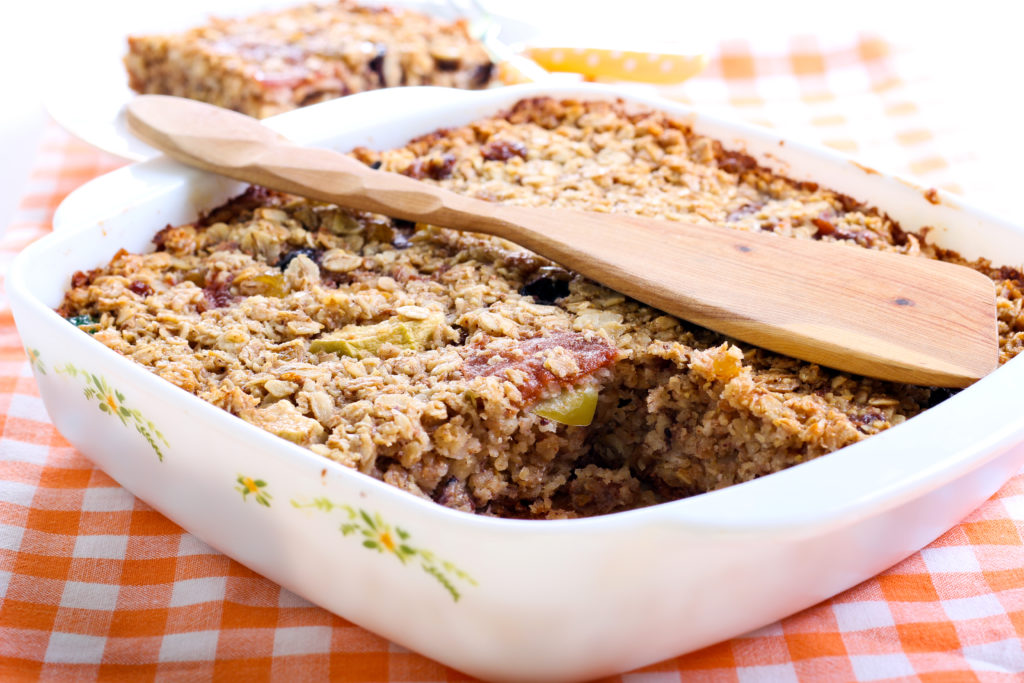 Ingredients
2 cups old-fashioned oats, uncooked
½ cup packed brown sugar
1 tsp baking powder
⅛ tsp nutmeg
1 ½ cups milk
½ cup homemade applesauce, or store-bought
1 tsp cinnamon
1 tsp vanilla
2 tbsp butter, melted
1 large egg
2 apples, peeled and chopped fine
½ cup chopped walnuts (optional)
Check out how to make it here: Family Balance Sheet
4. Toast with cottage cheese and fruit (the easiest quick breakfast idea)
Here's a quick and easy breakfast idea that only requires a toaster, some cottage cheese and fruit in the house. Easy? Check. Cheap? Check. Yummo? Check.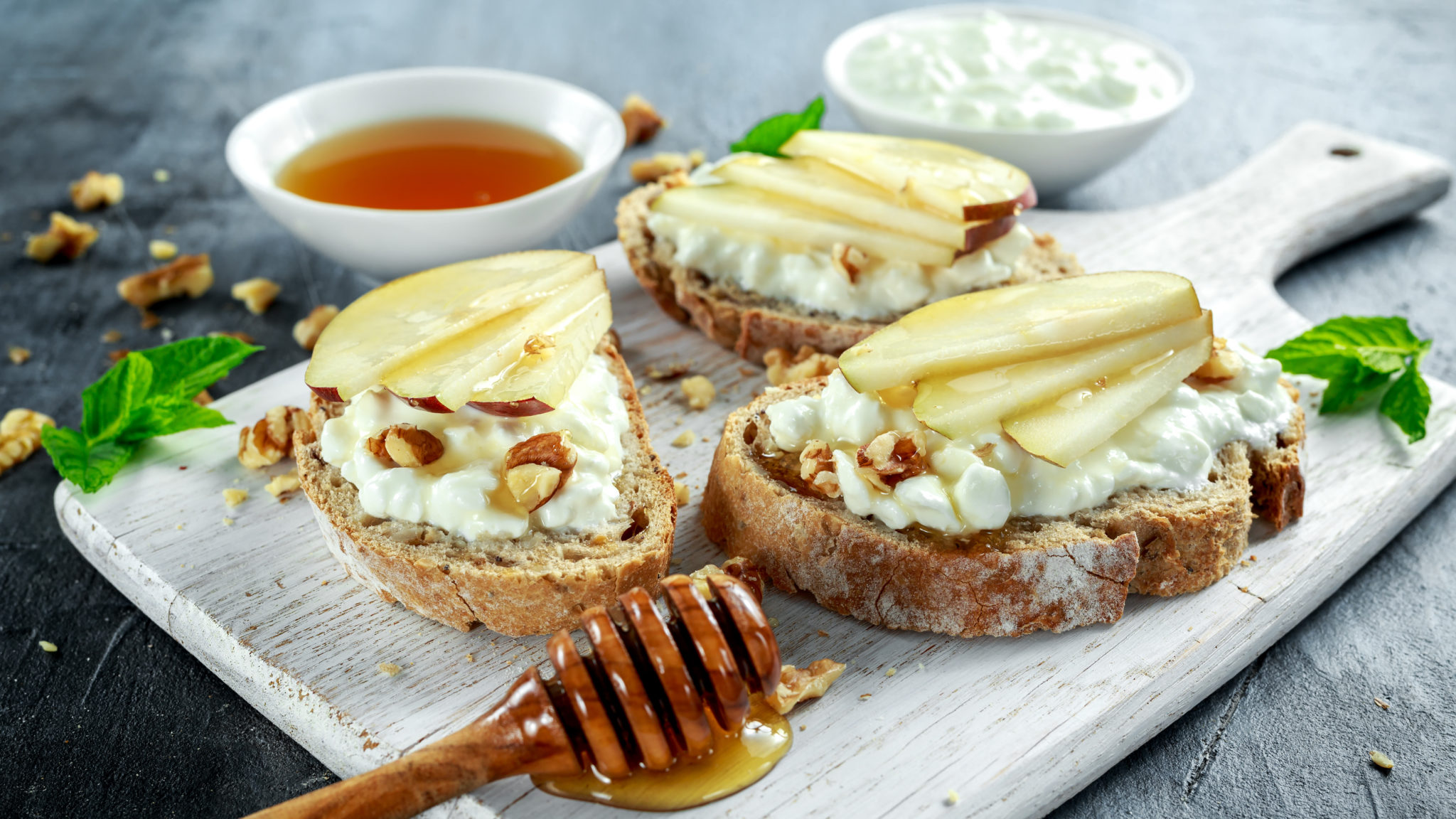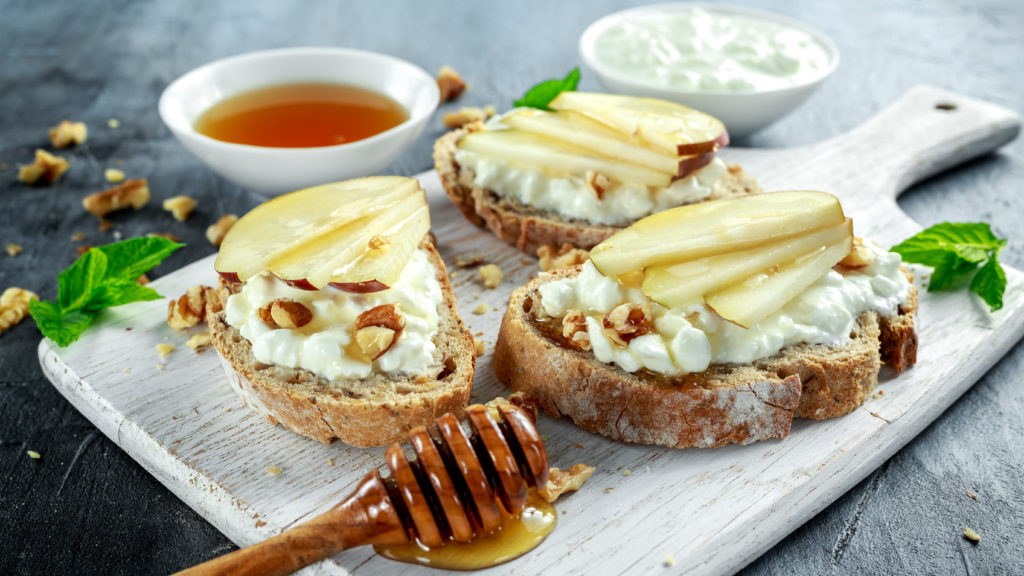 While ricotta cheese on toast is delicious, cottage cheese is much cheaper and just as delicious. Try it for yourself, you might be surprised at how much you like it (and your wallet will be thankful too).
5. Overnight oats
Again, you'll find oats are a reliable, easy and cheap way to make a healthy breakfast. Overnight oats are simple and something you can make ahead of time for your family. Just line up the containers, fill them up assembly-line style and pop them in the fridge for everyone to grab in the morning.
Plus, what you fill it up with can change. Don't like blueberries? Use strawberries. Like bananas? Add in some peanut butter or nut butter for each protein and fat. You can also use any type of milk—oat, full cream, almond, soy, you name it. And don't forget to try adding a dollop of Greek yogurt for some extra protein.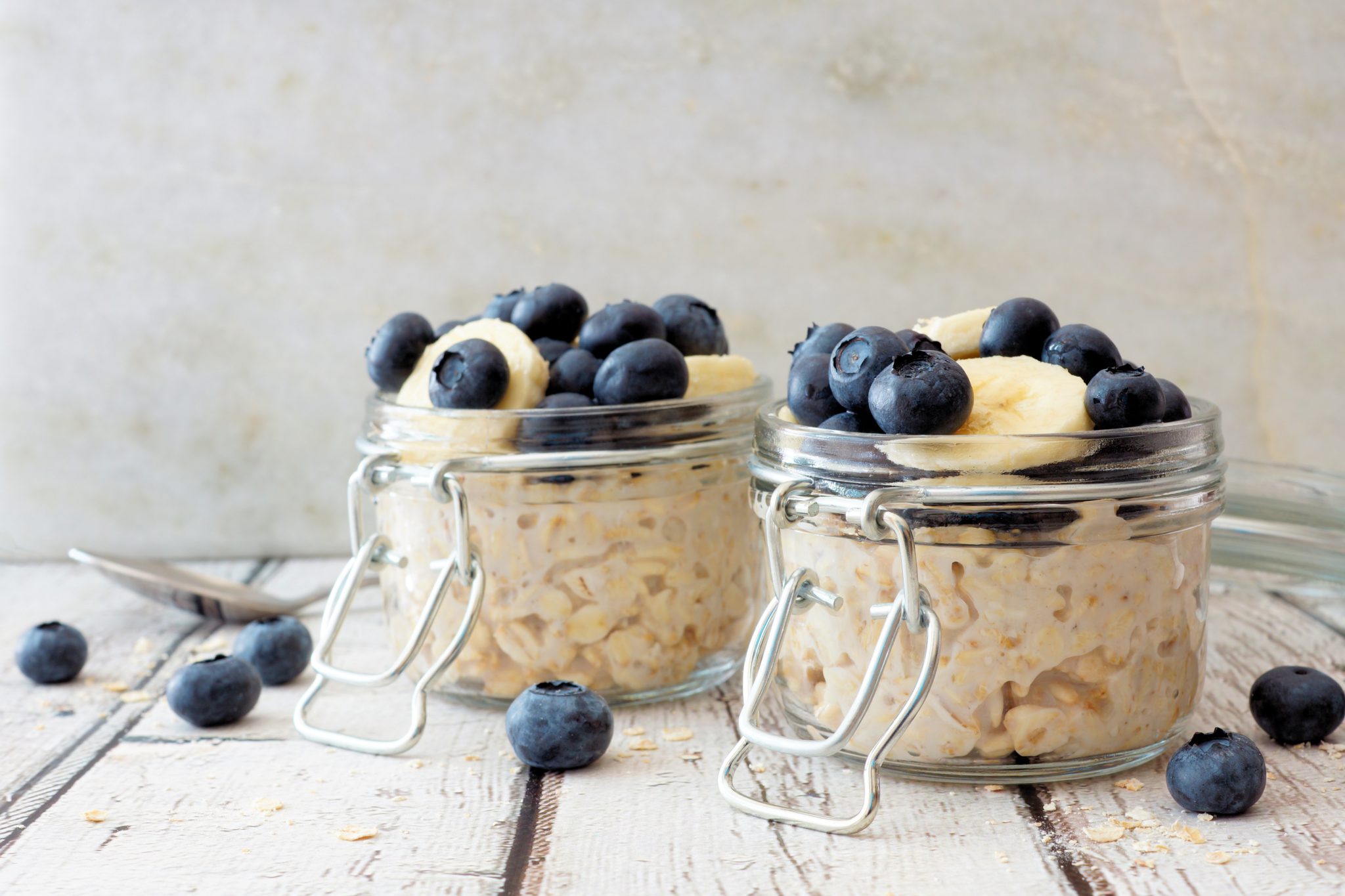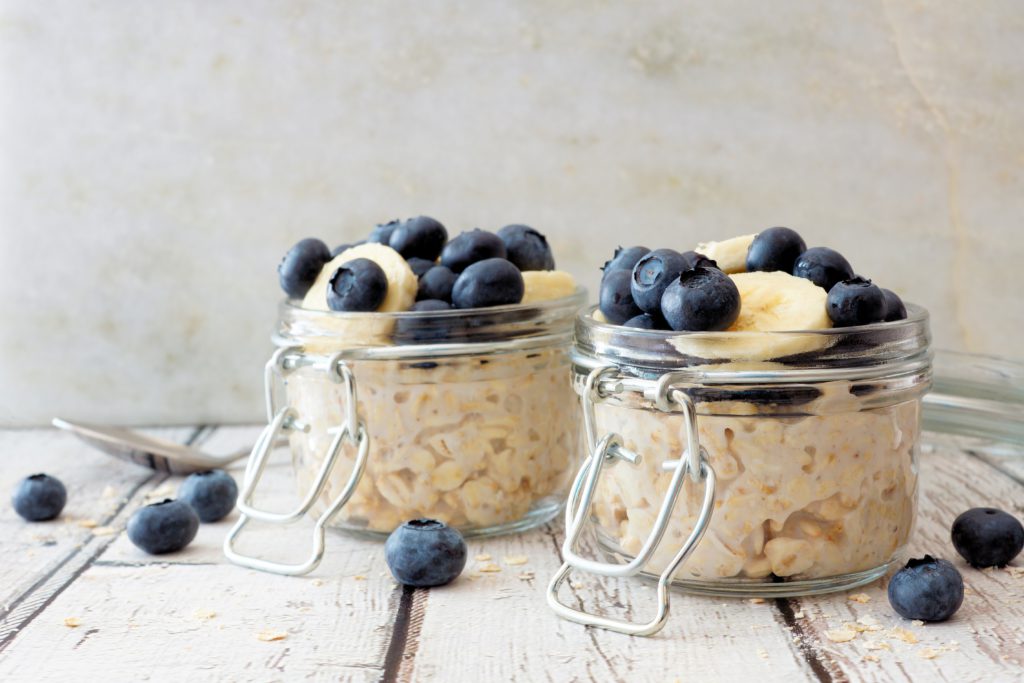 Ingredients
1 cup traditional oats
¼ tsp cinnamon
1 tbsp chia seeds
1/2 cup (125ml) no fat milk
2/3 cup (160ml) water
1 tbsp honey
2/3 cup (90g) fresh blueberries
2 tsp (10g) toasted almonds
Recipe source: Kidspot Kitchen
6. Cheese and bacon rolls (our favorite idea for a quick and easy breakfast)
There are so many ideas to explore for a quick and easy breakfast using the four ingredients in this recipe. But cheese and bacon rolls have got to be one of the yummiest! This cheap breakfast recipe will easily feed your whole family.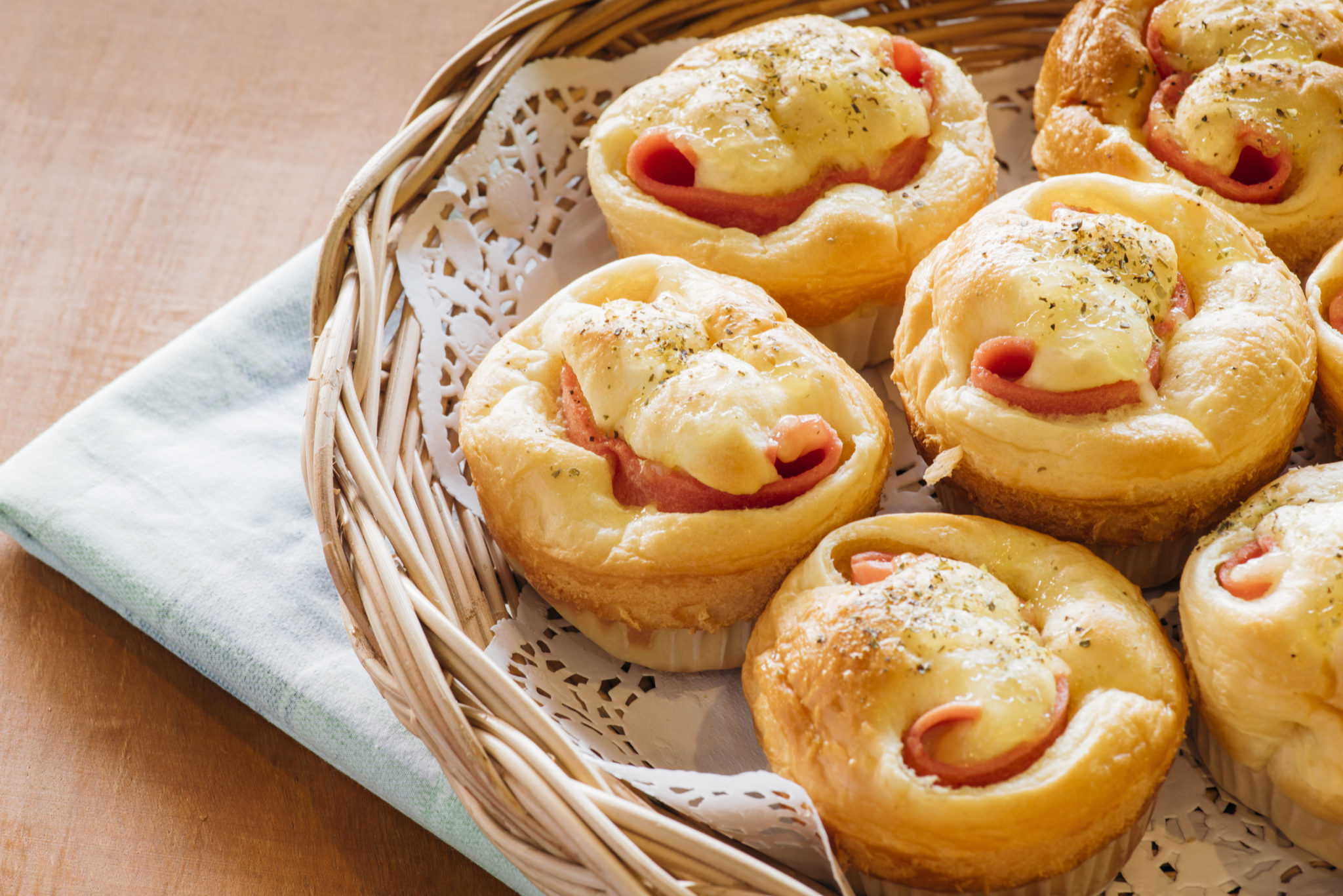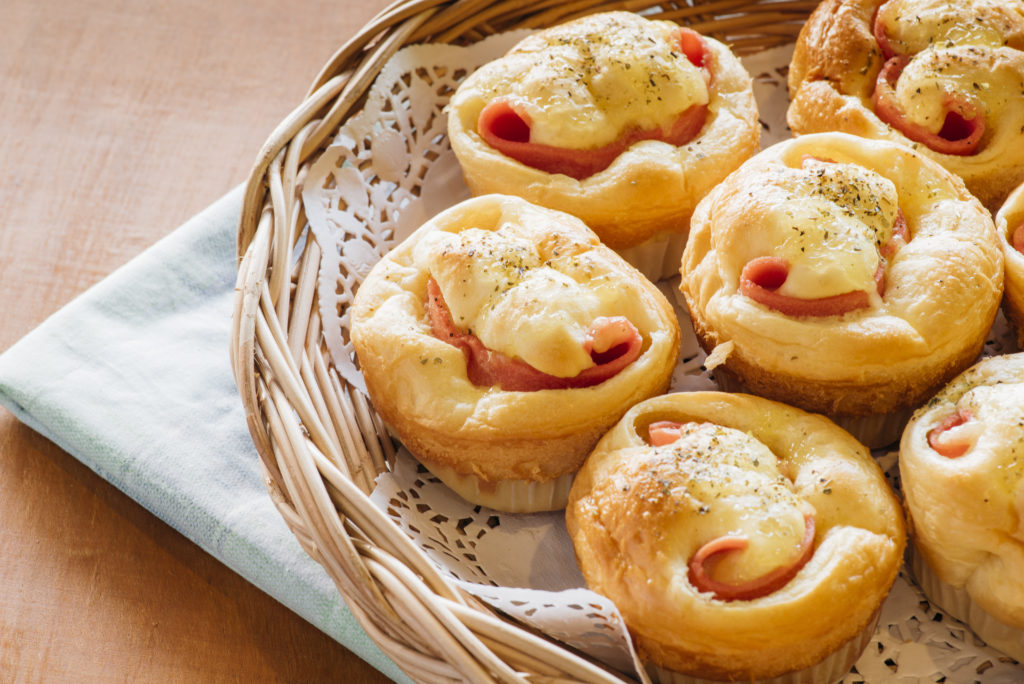 Ingredients
1 cup self-raising flour
3/4 cup Greek-style yoghurt
1/4 cup diced bacon
1/2 cup tasty cheese, grated
See how to make it: Mouths of Mums
7. Egg & ham breakfast muffins
Eggs are a staple of any budget breakfast recipe. They fill you up and can make so many things, from omelettes and scrambled eggs, to frittatas and quiches. Even muffins! See how easy these egg muffins are, and how simple it would be to trade out any of the add-ins for what you have on hand.

Ingredients
1 cup all-purpose flour
⅓ cup oats
1 tbsp baking powder
½ tsp salt
¼ tsp pepper
6 eggs, beaten
¼ cup unsweetened applesauce
½ cup shredded cheddar cheese
⅓ cup finely chopped bacon or ham
½ cup chopped capsicum, any colour
2 tbsp finely chopped fresh parsley
See how to make them here: Family Balance Sheet
To eat
You can serve these muffins right out of the oven or allow them to cool and store them in the freezer in freezer bags. When you're ready to eat, wrap in a paper towel and microwave for 15 seconds or until heated through.
8. Bulk pancake mix
Pancakes on a weekday? It's possible with this make-ahead, quick and easy breakfast idea!. We bet you have most or all of these ingredients in your pantry already. When you're looking for quick breakfast ideas that are easy on the bank account, you can't go past the humble pancake.

Ingredients
6 cups plain flour
2 tbsp baking powder
1 cup milk powder
1/3 cup caster sugar
1 tsp salt
To make up the bulk mix, simply combine all the ingredients and store them in an airtight container for up to three months. Then when you want to make the pancakes, use:
1½ cups bulk pancake mix
¾ cup water
1 egg, lightly beaten
2 tbsp vegetable oil
And that's it! Check out the full recipe here: Kidspot Kitchen
9. Breakfast casserole
People like to serve casseroles for a crowd, so why not for breakfast? So here's a quick and easy breakfast idea that you can experiment with by adding different veggies and meats.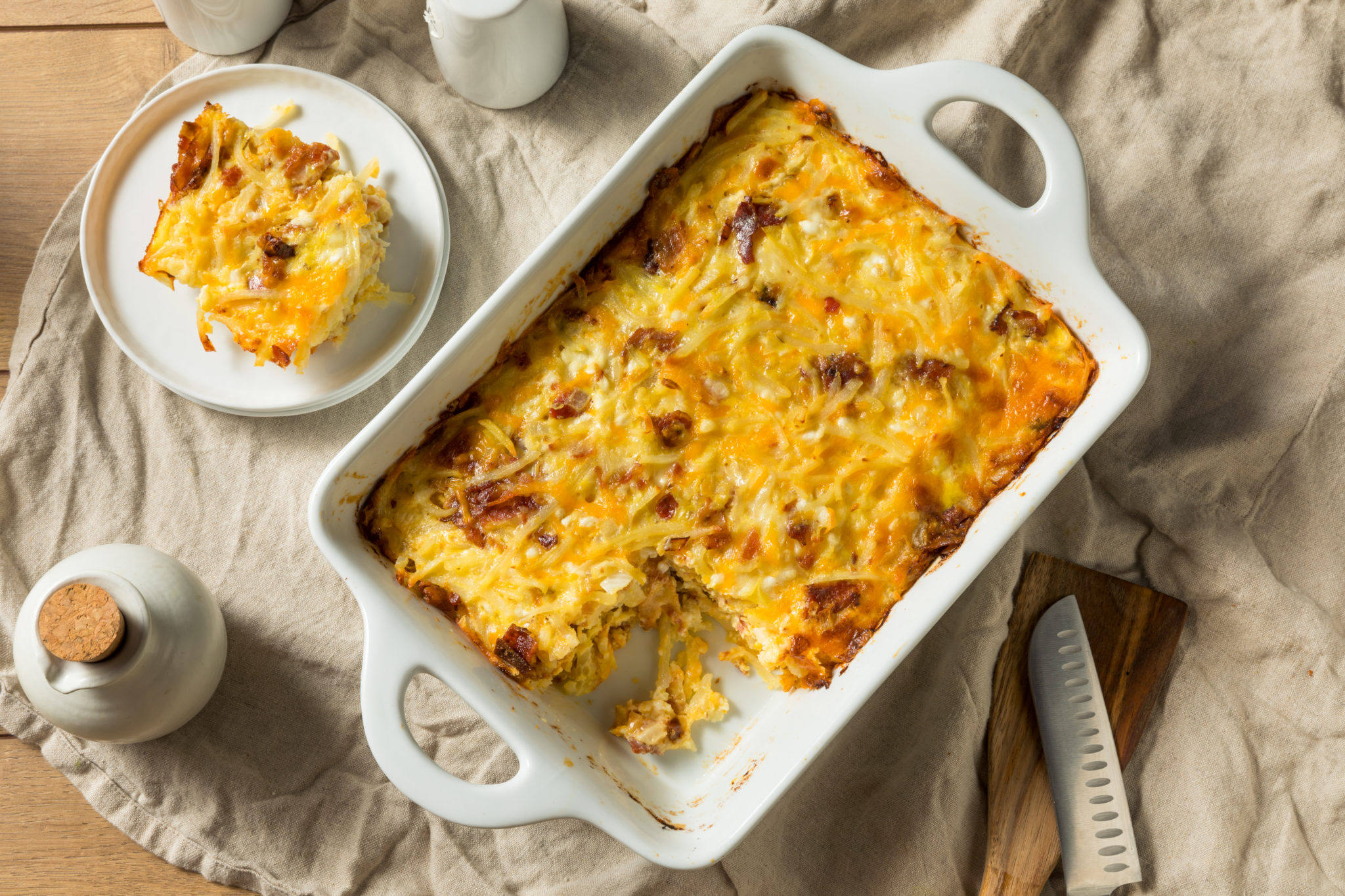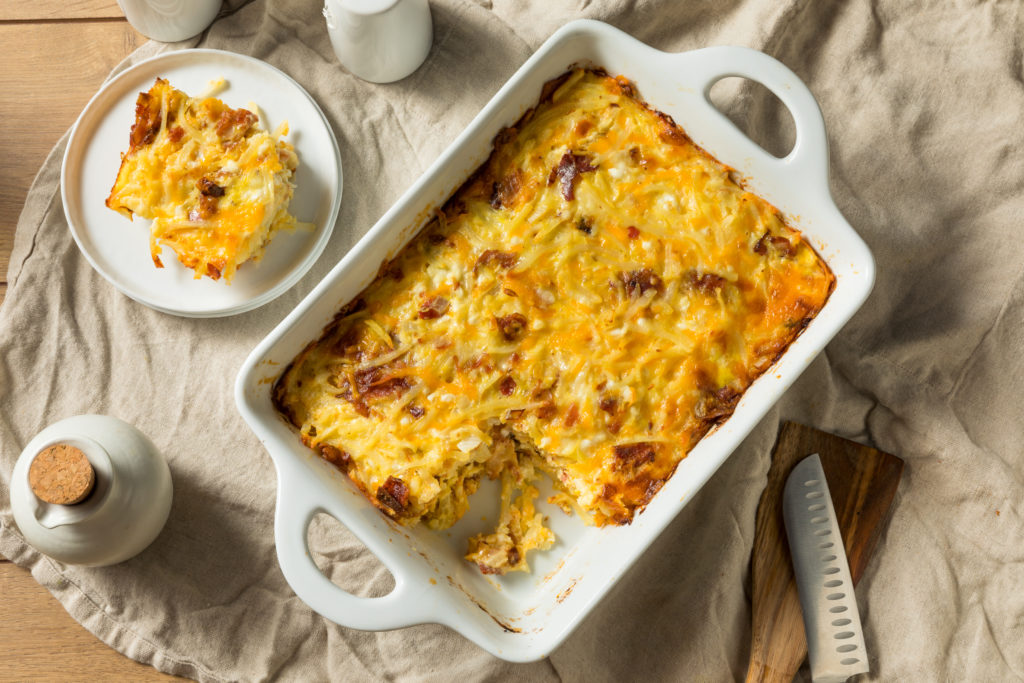 Ingredients
6 large eggs
500g sausage
2 cups milk
1 cup grated cheddar cheese
2 slices of bread, cubed
1 tsp sea salt
See how to make it: Eat Well Spend Smart
10. Choco-banana pikelets
For less than $10, you can make enough to feed a family of four. Probably better made on a weekend, this recipe still feeds everyone and might just be one of their favourites!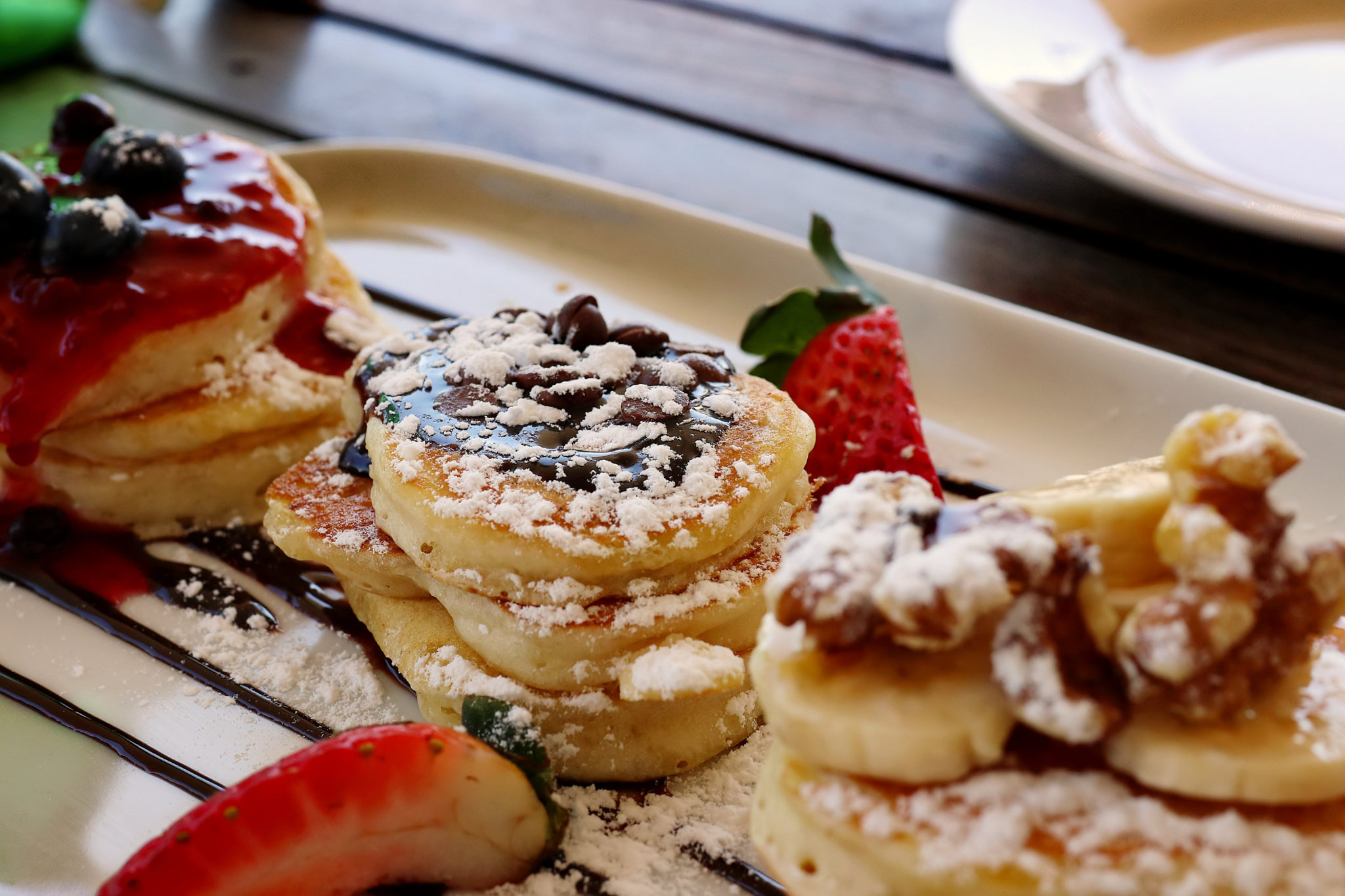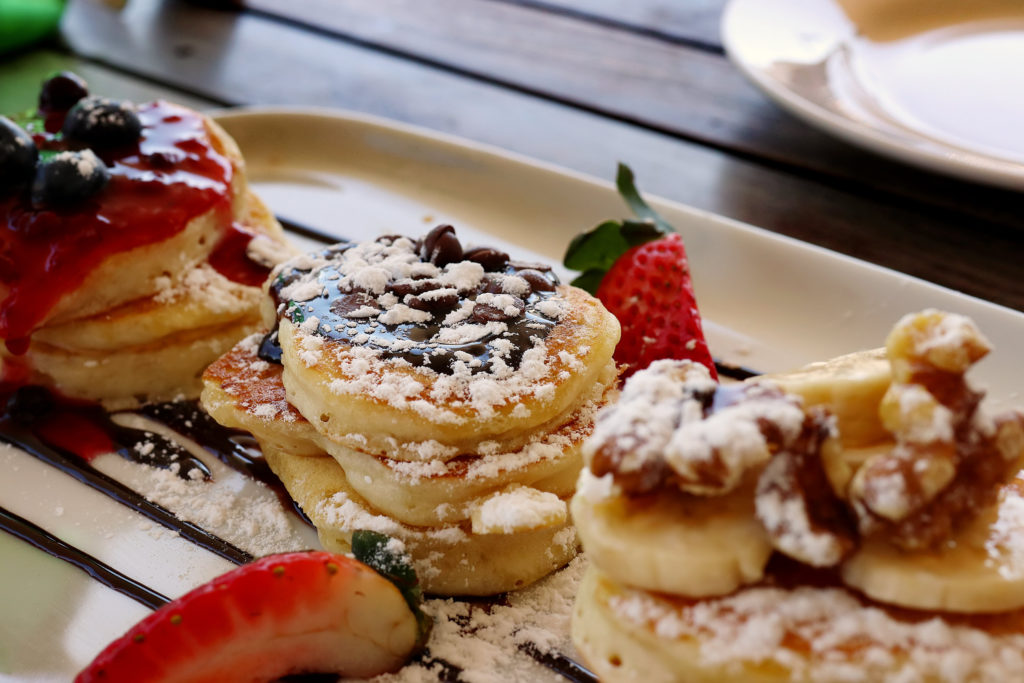 Ingredients
1 cup self-raising flour
1/4 cup brown sugar
2/3 cup skim milk
1 egg, lightly beaten
cooking oil spray
1/2 cup milk chocolate bits
1 large banana, cut into 24 slices
150g vanilla Frûche
1 cup fresh mixed berries
Learn how to make it: Healthy Food Guide
And there you have it! Our top 10 quick and easy breakfast ideas for a delicious breakfast on a budget.
In case money gets too tight…
Money isn't coming in the way you expected this month? The payment you were anticipating from a freelance gig hasn't arrived? Or maybe the car has decided to malfunction, or there's one more kid's activity you need to pay for? We get it, and hey, there are times money just gets too close for comfort. That's when you look into a Swoosh small personal loan. Our online loans can help you get over the hump. With an easy application, you'll be ready to take care of the bills again in no time.
Learn more: how to apply for a payday loan online
FAQs about quick and easy breakfast ideas:
How do you make a 5-minute breakfast?
The easiest way to make a 5-minute breakfast is to prepare it beforehand, and simply heat and eat! Try breakfast burritos and muffins, overnight oats, or cheese and bacon rolls.
What should I eat for breakfast in a hurry?
If you're in a hurry, we recommend the following quick and easy breakfast ideas mentioned in this blog:
Breakfast burritos
Pumpkin muffins
Overnight oats
Cheese and bacon rolls
Egg and ham breakfast muffins
They're all recipes you can heat and eat, or have at your desk!
What is a balanced breakfast?
A well-balanced breakfast should include things like:
Fruits or vegetables
Whole unprocessed grains
Healthy proteins and fats
People also read: