5 Delicious & Cheap Family Meals For Under $20
It is amazing how much money goes into the food portion of a family budget. No matter how much you try, it just doesn't seem like you can keep those growing kids full – and it can sometimes feel like you need to take out a small loan just for the groceries! For most families, it's a struggle between feeding good, healthy meals to your family and going for a cheap family meal that's much easier but not as nutritious.
Well, we're here to tell you that you can feed your family for less than you think. With a little menu planning and perhaps taking advantage of supermarket sales, you can start saving money on that portion of your budget with our cheap family meal suggestions!
So without further ado, here are our favourite budget family meals that won't break the bank.
Overview:
5 Healthy & Cheap Family Meals
1. Asian Beef and Rice Bowls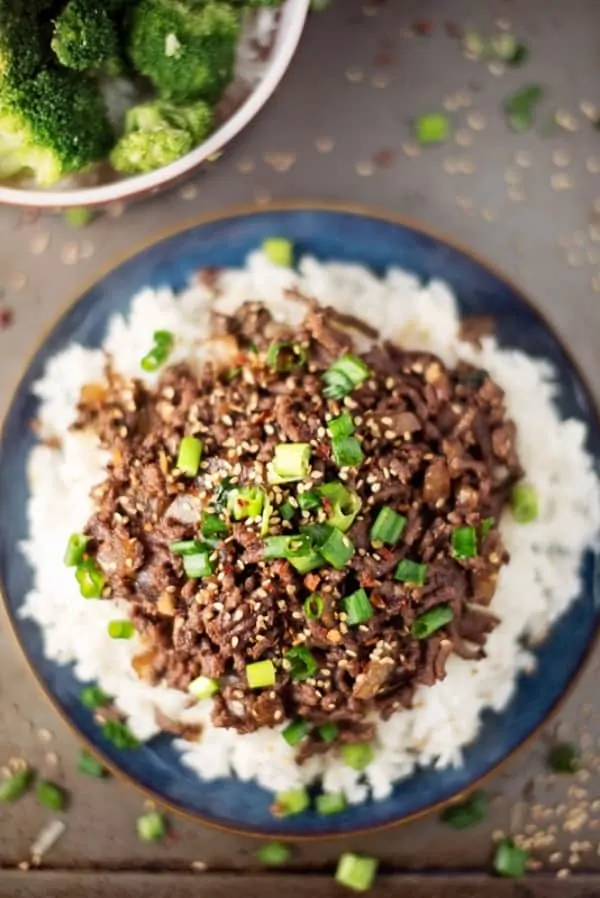 This quick, family dinner recipe is sure to be a hit with everyone around the table, and best of all, it's healthy! Add in a side of steamed or roasted broccoli, and you'll have an awesome, cheap family meal ready in under 20 minutes.
Ingredients
500g lean ground beef
½ tbsp olive oil
1 cup onion, roughly chopped
1 tsp finely diced ginger
2 cloves garlic, roughly chopped
¼ cup soy sauce
¼ cup brown sugar
Method
In a large pot, heat the olive oil and cook the onions on medium-high heat until translucent. Add in the ginger and garlic and cook for a minute or so. Add the ground beef and break up the meat into small pieces. Cook until no longer pink, then add in the soy sauce and brown sugar, stirring to mix everything evenly. Let simmer for 2-3 minutes. Serve over rice with toasted sesame seeds and chopped green onion.
The whole recipe: Apple of My Eye
2. Aussie Bubble and Squeak with Fried Egg Topper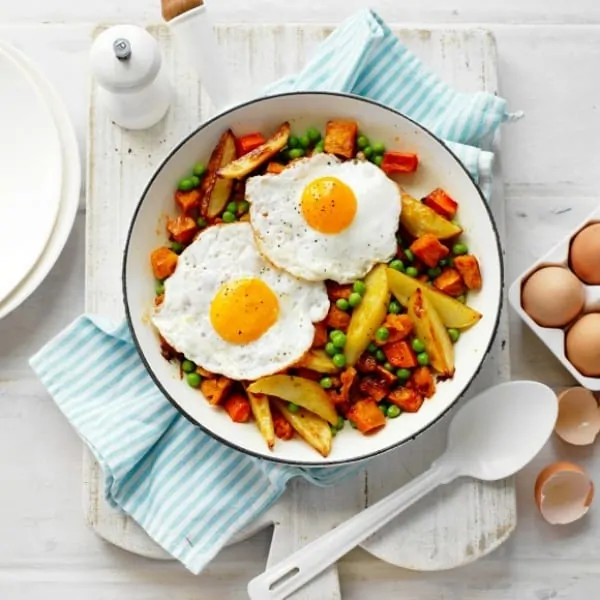 Here is yet another healthy and budget-friendly family meal for under $20. Eggs are an inexpensive way to fill everyone up, and they are so easy and versatile because you can pair them with so many things. It makes throwing together dinner at the end of the day quick, easy and, best of all, cheap.
Ingredients
1 tbsp olive oil & cooking oil spray
500g roasted vegetables (such as roasted sweet potato, pumpkin, potato and carrots), roughly chopped
1 cup frozen peas
2 eggs
Method
Heat oil in a  frying pan over medium heat. Add roasted vegetables and cook, tossing often, for 4-5 minutes until vegetables are hot and crisp at the edges. Toss through peas and keep warm over low heat. Spray a separate frying pan with oil to grease. Heat over medium heat. Crack eggs into the pan and fry until cooked to your liking. Top vegetables with fried eggs, season and serve.
The whole recipe: My FoodBook
3. Spaghetti Carbonara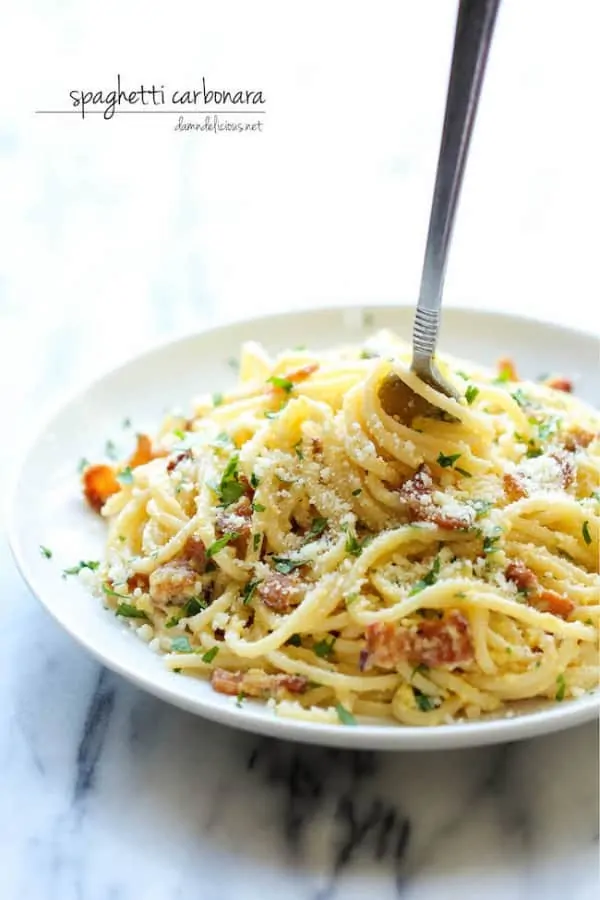 Another easy and cheap family meal for under $20 is pasta – and it takes just under 30 minutes to make! Pasta can be used in so many ways and is a pantry staple). Plus, with this recipe, you can take the bacon that you don't use and use it another day to make a whole different meal. Your weeknight dinners are sorted – score!
Ingredients
225g spaghetti
2 large eggs
1/2 cup grated Parmesan
4 slices bacon, diced
4 cloves garlic, minced
salt and pepper
2 tbsps chopped fresh parsley leaves
Method
In a large pot of boiling salted water, cook pasta according to package instructions; reserve 1/2 cup water and drain well. In a small bowl, whisk together eggs and Parmesan; set aside.
Heat a large skillet over medium high heat. Add bacon and cook until brown and crispy. Stir in garlic until fragrant, about 1 minute. Reduce heat to low.
Working quickly, stir in pasta and egg mixture, and gently toss to combine; season with salt and pepper to taste. Add reserved pasta water, one tablespoon at a time, until desired consistency is reached. Serve immediately, garnished with parsley, if desired.
The whole recipe: Damn Delicious
4. Chicken, Rocket and Hummus Burgers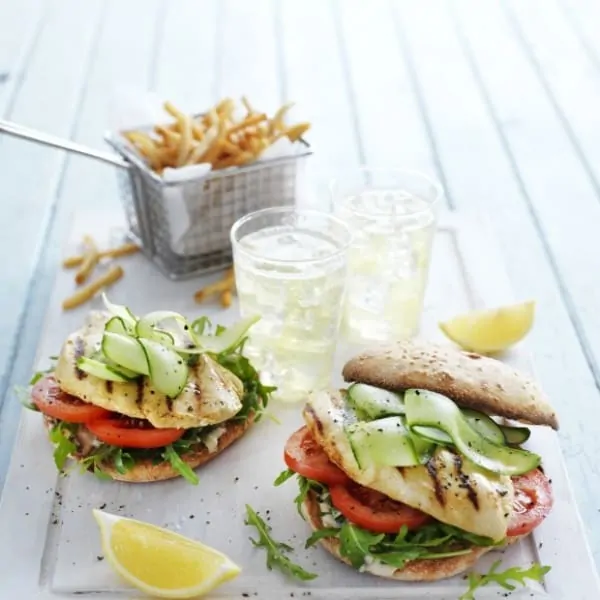 Another healthy dinner recipe on a budget. Sometimes something on a bun sounds good, but it doesn't always have to take the form of a hamburger. This refreshing recipe still comes in under $20, but certainly doesn't taste like it. For a veggie friendly version, substitute the chicken for halloumi or marinated tofu.
Ingredients
4 (about 180g each) chicken breast fillets
2 tbsp olive oil
2 tsp Moroccan spice mixture
4 Turkish bread rolls
2 tbsp lemon juice
1/2 cup hummus
60g baby rocket leaves
2 ripe tomatoes, sliced
2 Lebanese cucumbers, cut into thin ribbons
Potato fries and lemon wedges, to serve
Method
Place chicken between sheets of baking paper. Gently flatten to about 1cm-thick using a meat mallet. Combine oil, spice and lemon juice in a large snap-lock plastic bag. Add chicken and toss to coat in mixture. Chill for 15 minutes.
Preheat a frying pan over medium heat. Add chicken and cook, for 4-5 minutes on each side or until golden and just cooked through. Transfer to a plate, cover and keep warm. Toast or grill bread rolls. Place roll bases onto a board. Top each with hummus, rocket, tomatoes, chicken and cucumber. Season with salt and pepper. Serve with fries and lemon wedges.
The whole recipe: My Foodbook
5. One-Pot Chicken and Potatoes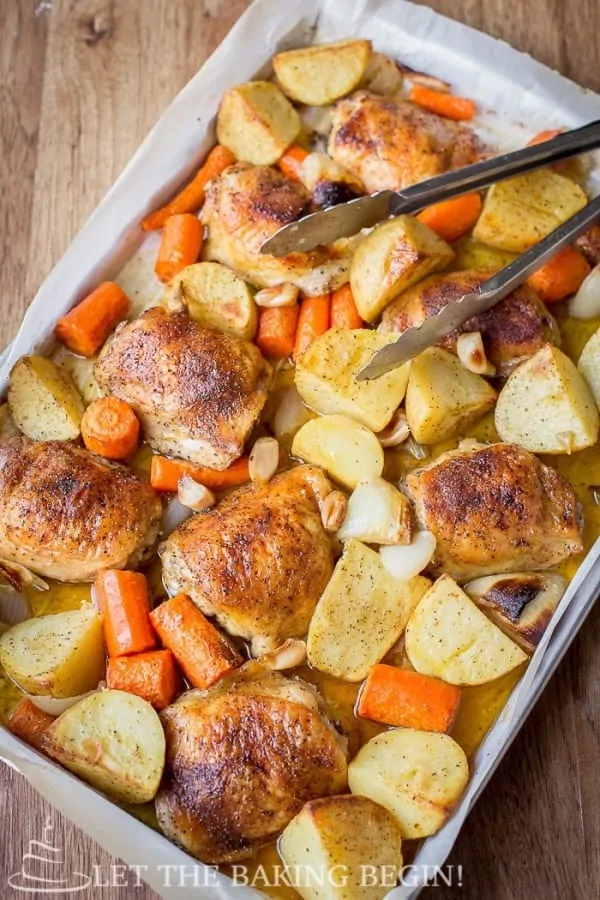 For our final healthy, cheap family meal, we bring you this simple one pot wonder. When trying to feed a family, who doesn't love it when you can throw everything in one pot and pop it in the oven? Well, this recipe does just that and still won't cost you a lot.
Ingredients
8 chicken thighs
6-8 large potatoes, cut in quarters or halves
5-6 carrots, cut in 5cm pieces
1 onion, cut in quarters
15-20 garlic cloves
salt & black ground pepper
5 cloves garlic, crushed
½ tsp paprika (optional)
3-4 tbsp olive oil
Method
Preheat the oven to 190C. Line a rimmed baking sheet with foil or parchment paper. Add chicken, potatoes and carrots, onion and garlic to the lined rimmed baking dish and sprinkle with salt, ground pepper and garlic. Drizzle with olive oil. Carefully toss everything to coat. Place in the oven and bake for 1 hour 20 minutes.
Remove from the oven and serve right away in the baking pan or transfer to a warm serving plate.
The whole recipe: Let the Baking Begin
Talk to Swoosh
As you learn how to cook meals on the cheap for your family, there might come a time where you find yourself in a pinch. An unexpected expense might weigh heavily on you this month and will tie up your expenses for a while. Rather than spend every night worrying how to pay for everything your family needs, consider taking out a cash loan from Swoosh! Our small personal loans take the stress out of figuring out how to pay your bills or spoil the kids on a weekend getaway.
So, start menu planning with these dinner ideas and find out how to apply for a payday loan online today!
People also read: