Best Value Mobile Plans in Australia 2021 | Swoosh
How much are you paying for your mobile? It's probably more than you want, but with data getting cheaper and mobile plans including more as part of their package, it might be time to rethink your plan. We've put together our list of the best value mobile plans in Australia in 2021.


Overview
Prepaid vs Post-Paid
You may be old enough to remember buying recharge vouchers at the newsagents and entering the long pin number to recharge your phone. You may also remember "running out of credit" and not being able to text. O.M.G
But prepaid has come a long way since those days. Most prepaid plans now offer an auto recharge option so you don't have to remember to top up each month. At the very least, their apps save card details to make the process smooth. And they have some of the best offers around.
Previously, one of the benefits of a post paid plan was including a mobile phone for $0 in the plan. The government has cracked down on this practise as it was causing people to get locked in to contracts they didn't understand. You can still get a phone on a payment plan, but now the plan costs extra so gone are the days of the $0 handset.
Some people prefer the convenience of a post-paid plan. You never have to worry about running out of credit and you just pay the bill each month. The problem with this is you can get penalised for going over your data cap and can end up with a hefty bill. You can also incur late fees, which is not an issue with prepaid. So when looking for the best mobile plans in Australia, it's important to take this into account.
Post-Paid Plans
We've put together some of the best post-paid plans, from cheapest monthly to the best data packages.
Telstra XL
Cost: $65/month
Data: 180GB
Features:
unlimited talk and text
no excess data charges
This package is on sale for a limited time and is normally $115/month. The best part about this plan is the lack of excess charges for going over the data limit, which makes it virtually unlimited. This plan is great if you stream a lot.
Vodafone Mobile Plan
Cost: $35/month
Data: 50GB/month
Features:
unlimited talk and text
no excess data charges
This is one of the best value mobile plans around. No excess data charges means you can browse all you like. Vodafone allows tethering but only to personal devices, so you may not be able to use it as a substitute for home internet. While this is better value than the Telstra one, the coverage is not as good, so look into your area to see if this is right for you.
Belong 10GB Plan
Cost:$25/month
Data:10GB/month
Features:
unlimited talk and text in Australia
data rollover
uses Telstra network
add unlimited calls and texts to 30 countries for $5/month
This is the best value post-paid mobile plan we have found in Australia. Using the Telstra network means that the coverage will be great, although 5G is not available with Belong. Telstra have to keep something for themselves after all. If you want no frills affordable post-paid service, this is the one for you!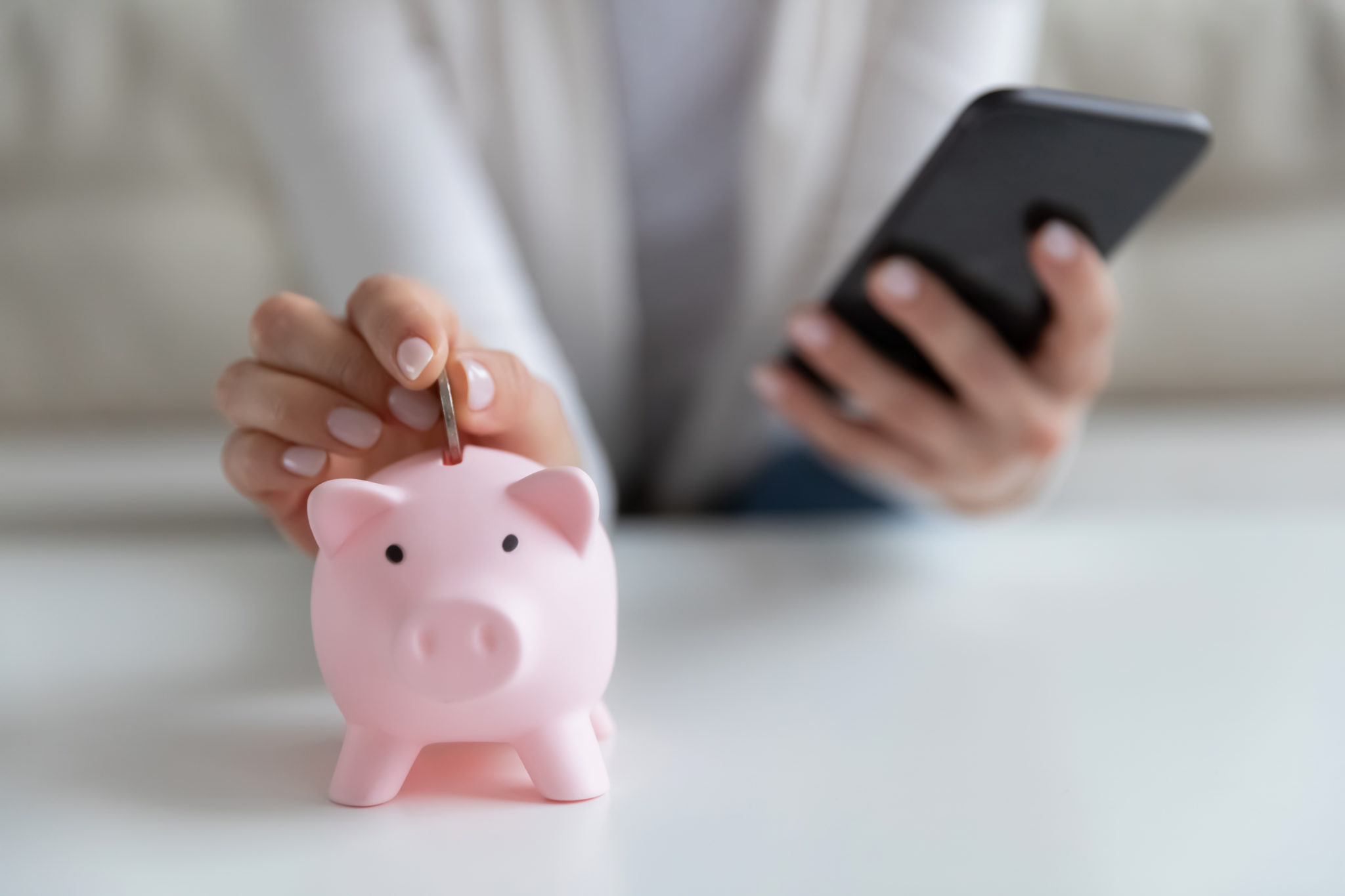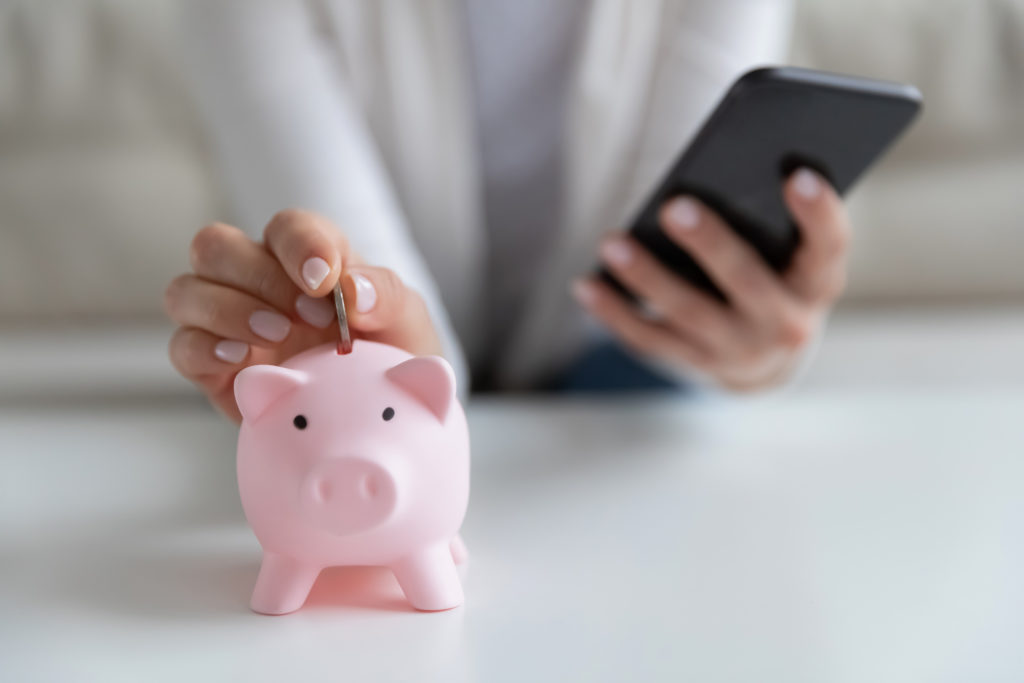 Prepaid Plans
Prepaid isn't just for teenagers anymore! Some of the best value mobile packages are now prepaid. Have a look at our picks below.
Telstra $150 Sim Kit
Cost: $25/month paid upfront
Data: 60GB to use over 6 months
Features
unlimited talk and text
3000 international talk minutes to select countries
currently on special for $135 for 6 months
Great if you have $150 to pay upfront for your mobile plan. Making 60GB stretch over 6 months can seem stressful, but if you spend a lot of time on Wi-Fi you'll have no worries.
ALDI Mobile $25 Monthly Plan
Cost: $25/month
Data: 20GB
Features:
ALDI mobile is surprisingly good service. They use Telstra network so coverage is good and the plans are good value. The best part of this plan is the unlimited talk and text to 15 countries, which are listed here and include Canada and New Zealand.
Boost Mobile $200 Plan
Cost: $200/year
Data: 110GB/year
Features:
unlimited talk and text within Australia
data rollover month to month
unlimited calls and text to 25 select overseas countries
Boost uses the Telstra network so coverage is not an issue. $200 for a whole year of mobile use is the cheapest you'll find. Even better, it's currently on sale for $180!
Coles Mobile
Cost: $20/month
Data: 15GB
Features:
unlimited talk and text
unlimited talk and text to 15 countries
rollover up to 50GB data
This is a great value plan, and also has an annual $120 package including 60GB data. The only downside is the regional coverage, which is not great. If you want dirt cheap mobile and you live in a city, this is for you! One note, some customers have had troubles bringing their own number to this service.
Avoid
Sometimes the best dollar cost doesn't mean the best value. Avoid these plans to save yourself the headache
Circles.Life
Cost: $30/month
Data: 100GB/month
This mobile plan offers big value with 100GB and a years network access for just $30/month. However, Circles.life underdelivers on service. Customers have complained about the following:
unable to contact customer service
poor network coverage
unable to use your existing number
Check out some of the customer reviews for yourself. This highlights an important point when looking at changing your existing number. Make sure you do you research.
So, who is the winner?
Two winners emerged for the best value mobile plans in Australia of 2021. Best Value for Data is Telstra XL at 36 cents per GB! The cheapest Monthly Plan is Boost Mobile at just $17/month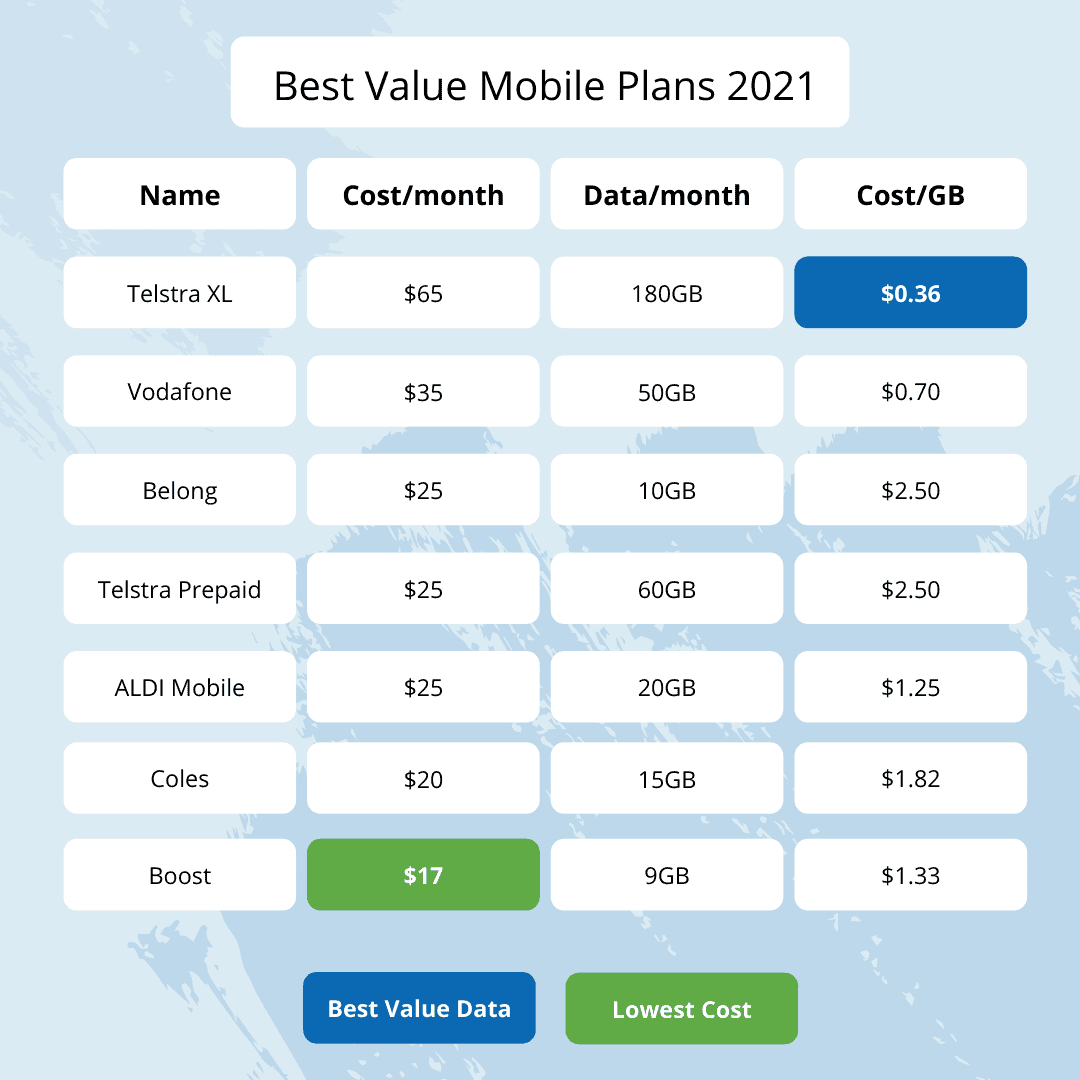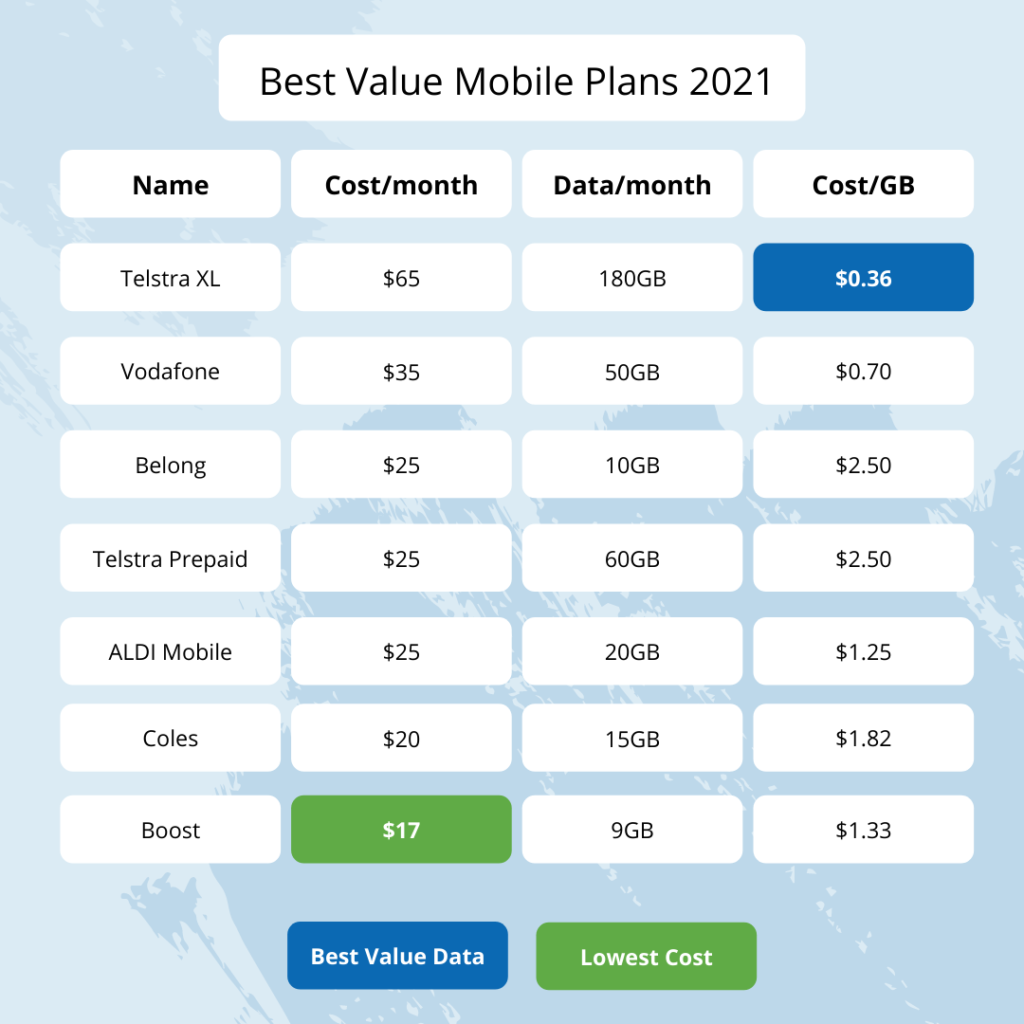 So if you want to save yourself a few dollars this year, consider switching to one of these great value plans. For more financial tips have a look at some other articles on our blog. You can also Apply for a Fast Cash Loan with Swoosh.
People Also Read