Cheap Easter Ideas
Easter is a much loved holiday full of family, fun, joy– and chocolate! But it can be difficult to think of budget friendly ways to celebrate. That's why we've put together a list of cheap Easter ideas to help you celebrate this year. Whether you're looking for gift ideas, decorations, or Easter activities, Swoosh has you covered!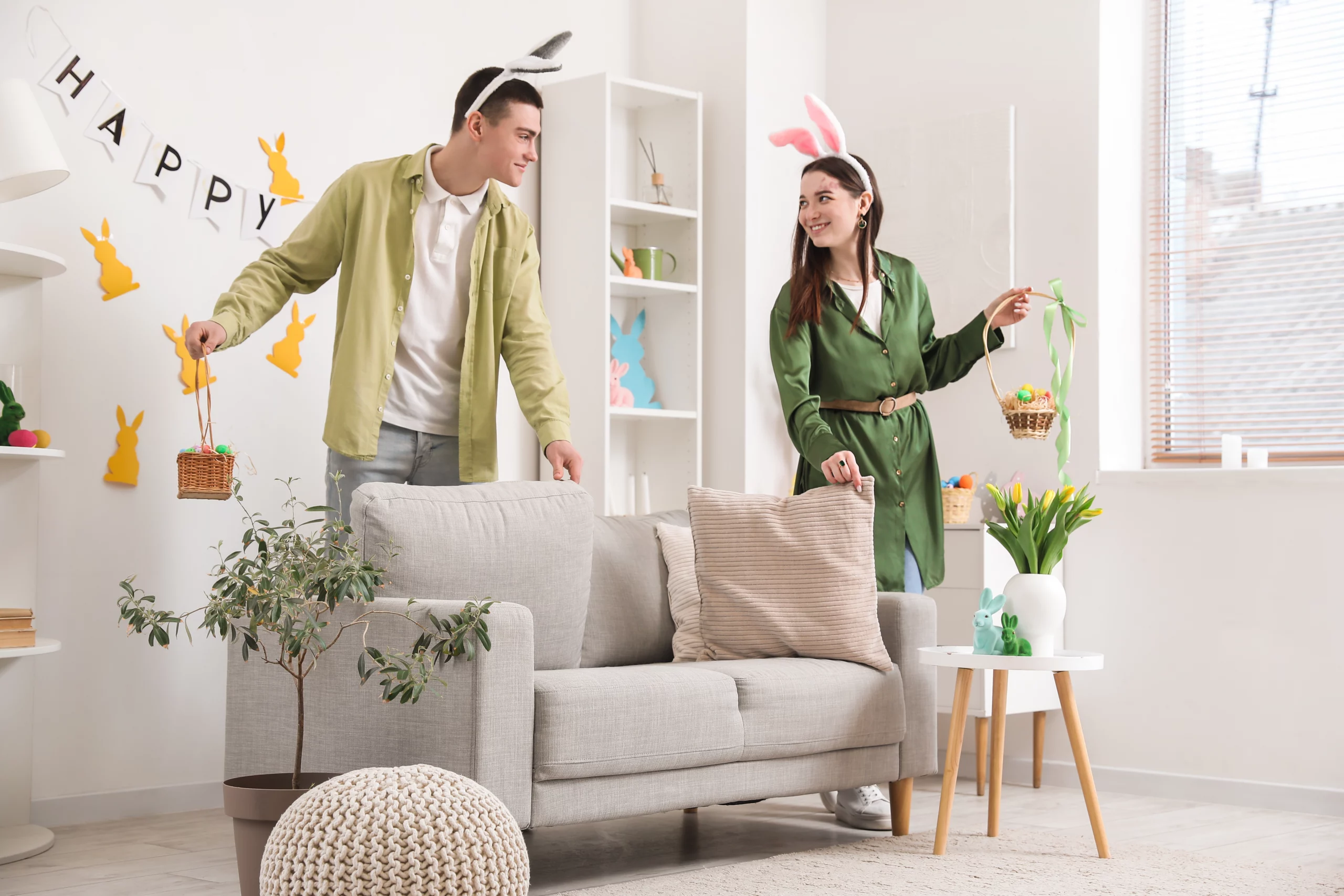 Overview
Easter gift ideas that aren't chocolate
Chocolate is life, we all know that. But sometimes when it comes to the perfect Easter gift, you need to find a budget friendly alternative to the traditional sweet treat.
Cheap Easter gifts for adults
Indoor Plants
If you're looking at the perfect cheap easter gift for coworkers or the other adults in your life, consider an indoor plant. Indoor plants have been proven to positively impact both your physical and mental health. And with Easter being associated with new life, they're the perfect gift. They're also a long lasting gift that won't hurt the wallet. Local plant nurseries and garden stores often have seasonal sales with inexpensive plants readily available.
Handmade Gems
If you're feeling brave and want to tap into your creative side, handmade Easter gifts can add a personal, meaningful touch. And best of all, they don't have to cost the earth!
Try these DIY gift ideas that are sure to put a smile on someone's dial:
Hand decorated photo frames – try painting your frame or create a mosaic out of old pottery from charity shops – like Vinnies or the Salvos.
Small crochet gifts – like book marks, mug cosies and coasters.
Macrame gifts – like wall hangings, plant holders, and placemats.
Homemade candles – make a unique scented candle for each person to give your gift that personal touch.
Marble dipped coffee mugs – create patterns and colours that suit your loved one.
If you're a craft beginner, don't stress. There are a lot of easy, step-by-step DIY kits available at places like Kmart, Big W, and Spotlight that any novice can do!
Board Games
Board games are back baby! Once considered just a favoured pastime of childhoods, studies have shown that non-digital board games are also beneficial for adults and for improving cognitive function. Studies show that people who regularly play board games have better memory, problem solving skills, and thinking abilities.
Not only are board games great for brain health, but they're also a great way to socialise and bond with friends and family. And best of all, they won't have you dipping into your savings! Often on sale, you can find cheap board games online, at speciality stores, and at most major retailers.
Cheap Easter gifts for kids
Creative Easter baskets
If you're struggling to find cheap Easter basket ideas for kids that don't involve an unhealthy amount of chocolate, why not try making your kids a creative Easter basket?
Kids love to create. They love to use their imaginations and their hands to make little masterpieces just for you. So this Easter, consider filling an Easter basket full of DIY craft kits and craft supplies. Your kids will be occupied for hours and they'll have a sense of pride when they're done. Best of all, there are plenty of inexpensive craft and DIY kits available at Big W, Kmart and Spotlight so you can fill your child's basket without draining the bank account.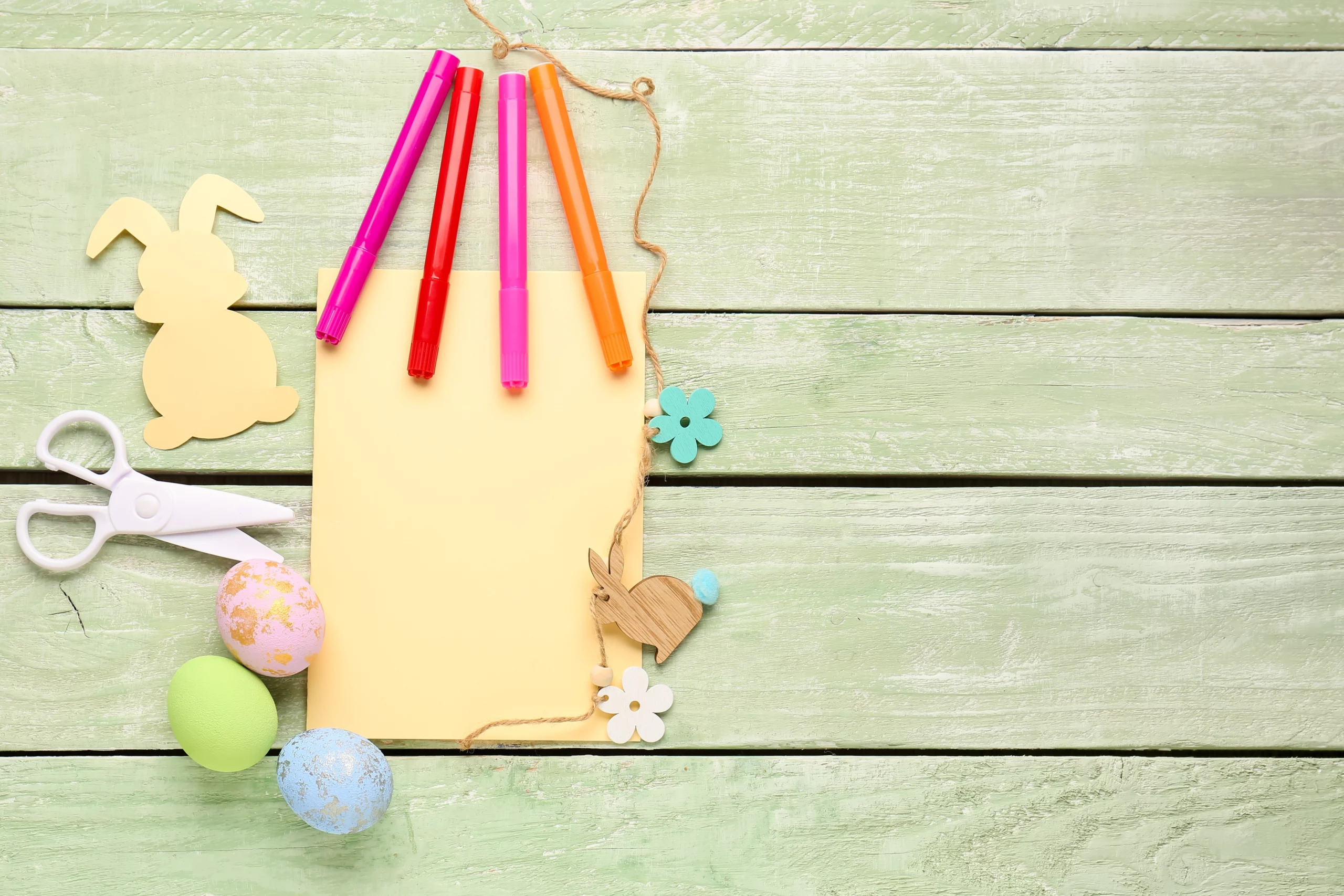 Easter books
All adults can fondly recall their favourite books from childhood that took them to places of wonder and imagination. So give you children the same gift of wonder and imagination this Easter with books like Peter Rabbit: Great Big Easter Egg Hunt, We're Going on an Egg Hunt, I Will Always Be Your Bunny. Children's books are already pretty cheap, but if you're really looking for a great deal, try your local second-hand bookshops.
Soft toys
Easter is all about cuddly bunnies and soft baby chicks so you can't go wrong with traditional soft Easter toys this year – especially if you're searching for cheap easter gifts for toddlers. Luckily they're also an easy find with most supermarkets selling a wide variety of Easter themed cuddly items. Check out your local supermarket for the latest pre-Easter weekend specials so you can snag a good deal!
Get festive with budget friendly Easter decorations
Hosting an Easter soiree this year and in need of some cheap Easter decorations ideas? Try these little gems that are sure to get you in the Easter mood without getting you into debt.
Mason jars of goodness
We've all got old mason jars kicking around the house that we don't know what to do with. This year, fill them with some Easter treats and decorate them with ribbon. Then, place them on your table to create some colour and delight for your table setting. It's inexpensive, easy, and versatile!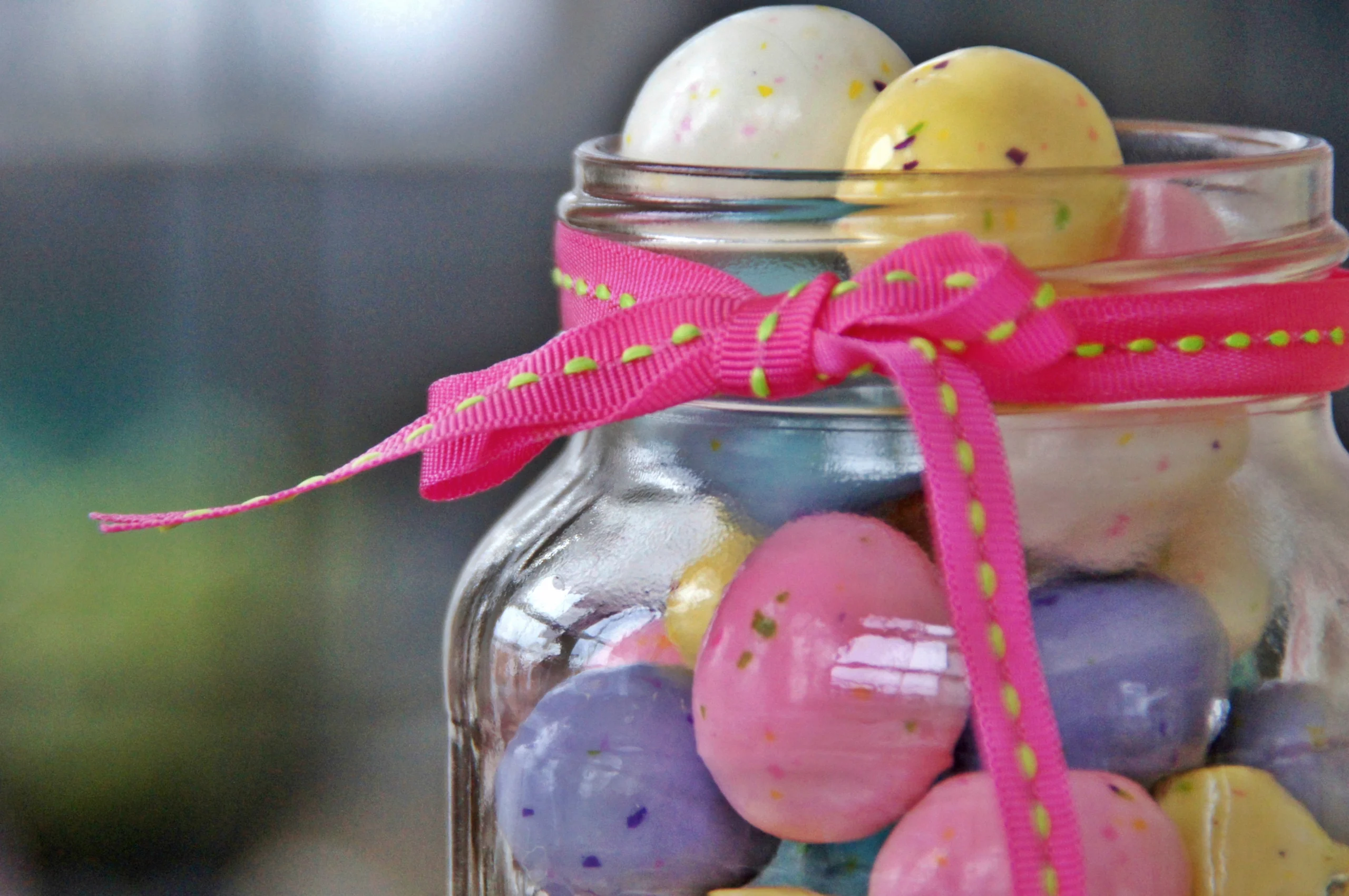 White flowers and food colouring
This unbelievably simple–but stunning–decoration idea will be your lifesaver this Easter! Cut some white flowers from your garden (or the garden of a willing donor), place them in a vase of coloured water, and wait for the magic! Within a few hours, the petals of your white flowers will absorb the food colouring and turn into beautiful masterpieces. Try a variety of colours to make your Easter party a colourful paradise.
Felt bunnies
Felt bunnies are a DIY classic. All you need to do is grab some cheap felt fabric from your local fabric supplier and cut out any bunny shape you like. You can stick them up around the room for some cute wall decorations or arrange them on the table. If you're really in the mood to get creative, buy some cheap cotton balls and craft glue for cute fluffy tails.
Paper chains and paper garlands
Paper chains and paper garlands are quick, easy, and versatile. They're also a great task to give the kids to get them involved in the fun of decorating. Mix it up with egg shapes, bunny shapes, and Easter chicks before hanging them around the room to boost festivities.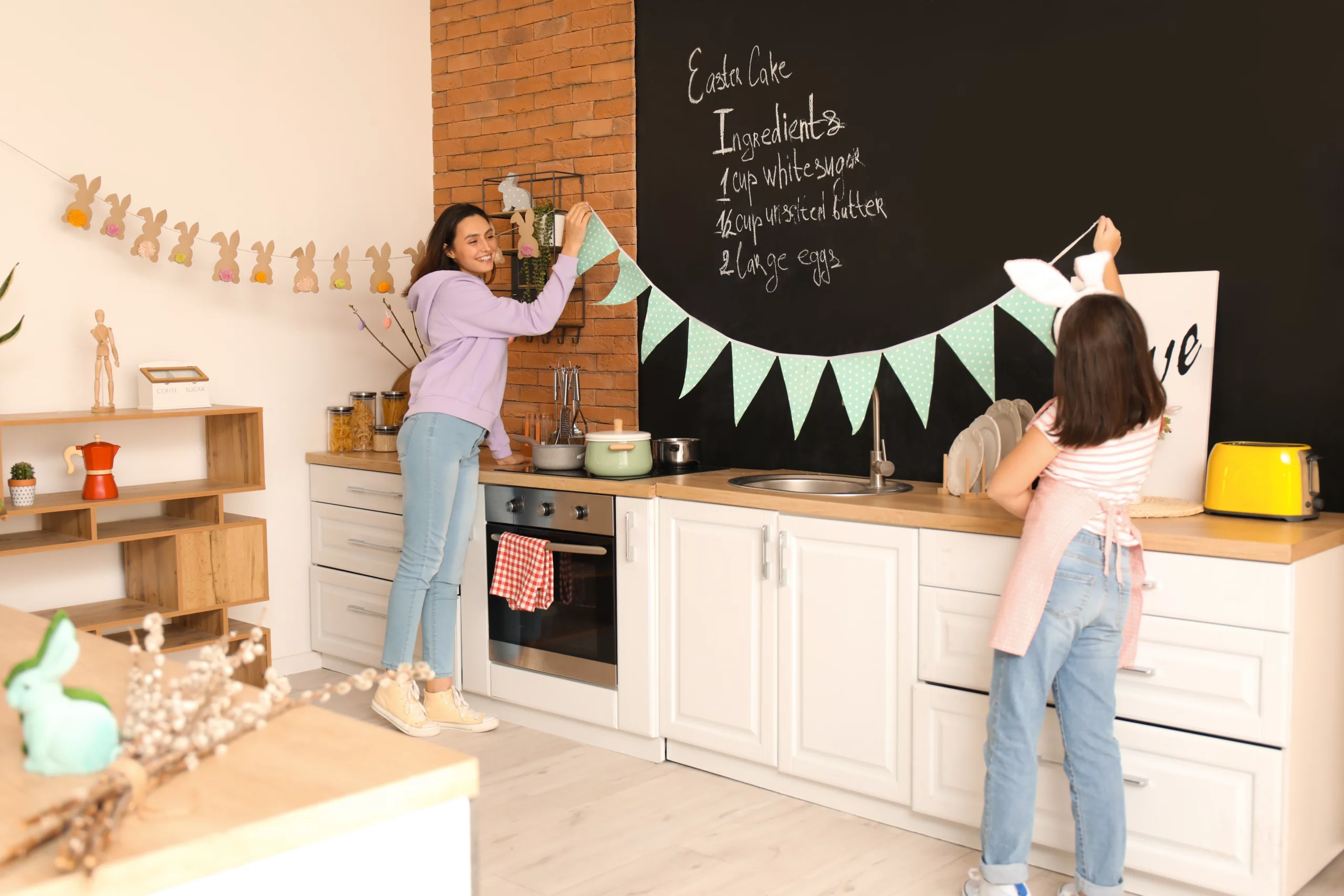 Bunny footprints
Kids go wild for bunny footprints! If you don't mind a little mess,then talcum powder (or even cooking flour) and bunny footprint stencils can be used to create 'Easter bunny tracks'. Try doing it before the kids wake up to give them a little magic on Easter morning. If you'd prefer to avoid the mess, try using paper bunny footprints instead! A cheap but effective way to get into the spirit of Easter.
Cheap Easter activities in your city
Looking for some fun Easter activities in your city? We've scoped out the best events happening in your city this Easter.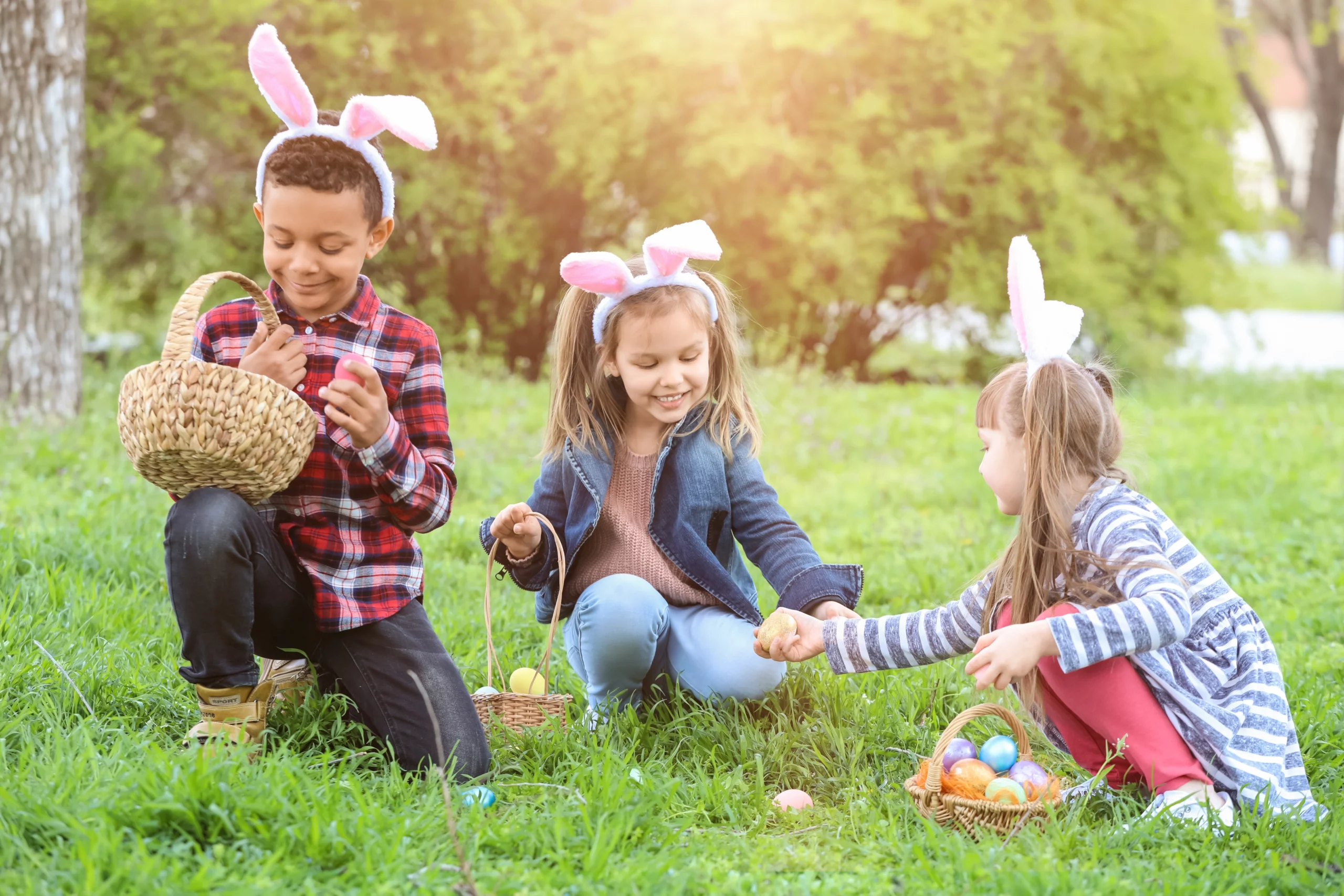 Brisbane
Bands in Parks: Easter Egg Hunt
If you need a budget-friendly activity for the whole family this Easter, then Band in Parks: Easter Egg Hunt is for you. This free event offers live music, market stalls, food, and an Easter egg hunt that the kids will love!
Sydney
Sydney Family Show
If you're looking for a day of fun, food, and excitement then the Sydney Family Show is the right place for you. There'll be rides, petting zoos, games, entertainment shows, and food–all the ingredients for an epic family day out this Easter weekend. While tickets aren't free, the best value is the family pass for $65.
Melbourne
The Story of the Moving Picture
A free exhibition perfect for the whole family, The Story of the Moving Picture tells viewers back in time to discover the birth of moving pictures. You and your children will be delighted by shadow puppets, magic lanterns, and iconic costumes. Best of all, it's free!
Canberra
Easter Sunday Market
Looking for handcrafted jewellery, delicious food, unique homewares, and a visit from the Easter Bunny? Then Canberra's Easter Sunday Market is for you! It's free and a great opportunity to support local businesses.
Hobart
The Funny Bunny Market
If you want to see the Easter Bunny arrive on the back of a motorbike, then you better head down to the Funny Bunny Market! There'll be photo opportunities with the Easter Bunny, an Easter egg hunt, and stalls with quality handmade goods. And most importantly, entry is free!
Perth
Easter Twilight Market
The Easter Twilight Market is a free event that is sure to please the whole family. There'll be market stalls, a scavenger hunt for the kids, an appearance by the Easter Bunny, and a popup bar for the parents!
Darwin
Recreation Lagoon
Easter in Darwin can be a hot one! So if you're looking for a place to cool off, have fun, and rid the kids of their chocolate-induced sugar highs, then Darwin's Recreation Lagoon is the place to be. Your wallet will be safe with free entry and your kids will be kept safe with daily life guard patrols.
Need some extra cash to turn your Easter long weekend into a mini getaway?
Want to turn your Easter long weekend into a much-needed holiday but don't have the funds? Swoosh has you covered. We offer secured loans up to $5000 with same day approval. Use our online application to apply for a holiday loan in 5 minutes or less.
Find out where to go for a long weekend for cheap and really make the most of the Easter break!
People also read: