Dental Loans – Your Best Dental Finance Options
Dental health is essential to maintaining your overall health. Unfortunately, your average dental visit does not come cheap. With high costs, long wait times, and inconvenient appointment times, needing dental work is most people's worst nightmare. But what if the cost could be spread out over time? That's where emergency loans come in. hey can be used for any dental treatment you need. We'll walk you through your best dental finance options and give an in-depth look into getting a dental loan in Australia.
Overview
Why are dental costs so high?
According to the Australian Institute of Health and Welfare, over $9.5 billion was spent on dental services between 2019-2020. Dental care feels like one of those necessities that just keeps rising in price year after year.
Key factors
There are a number of reasons why the dentist is so expensive in Australia. Here are some factors that bring about expensive dental procedures:
Lack of government funding

Unlike medical services, there aren't a lot of dental services that are funded by the government. So, you have to front the cash yourself for most dental services.

High demand

Everyone needs to go to the dentist semi-regularly, we all should be getting yearly check-ups at the very least. But, like most public services, the wait time is generally very long due to the high demand and small workforce. After all, in 2019, only 5.2% of the 18,061 registered dentists in Australia worked in public dental clinics – that's 836 people. As a result, most people have to turn to private dental care.

Long wait times

A flow-on effect of the high demand and limited staff is the long wait times. There's nothing worse than tooth pain and rather than enduring the long wait times, most people who can swing it turn to private.

High cost of equipment and premises

Not only does the surgical equipment itself cost a fortune but in order to use specialist machines like X-ray equipment, the room and premises need to be fitted out with special radiation shielding. Not to mention the licensing costs associated with the dental practice, staff, premises, and equipment.

Cost of qualifications and skills

It takes years of study to become a dentist and those student debts pack a punch. Given that you always have several people in the room with you at a time, it's an expensive field to operate in.

Lack of standardised pricing regulation

Pricing is not included in Australia's dental regulations so there's no limit on what dentists can charge for their services.

Accessibility costs for people in rural areas

This doesn't apply to the dental bill directly, but it does become another cost barrier. We can all be squeamish about going to the dentist at the best of times. Now factor in the cost of needing to take time off work to travel, plus the cost of travelling a long distance to get to your checkup. And having to do it all again for any follow-up appointments or major surgeries. No wonder it's not our favourite thing!
There are a lot of factors contributing to Australia's expensive dental care industry. But it's good to remember that we do have some of the best dental standards and safety requirements in the world.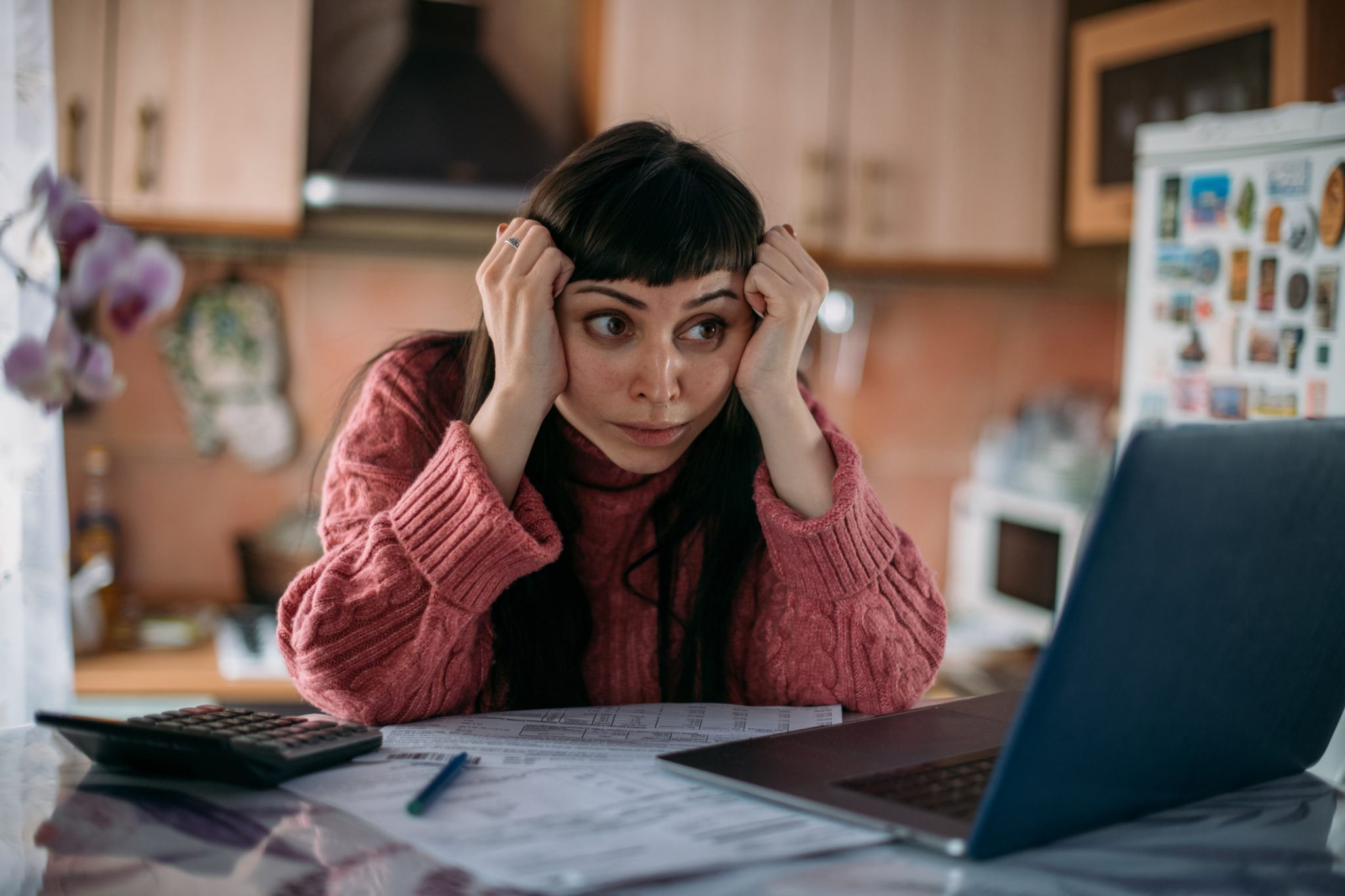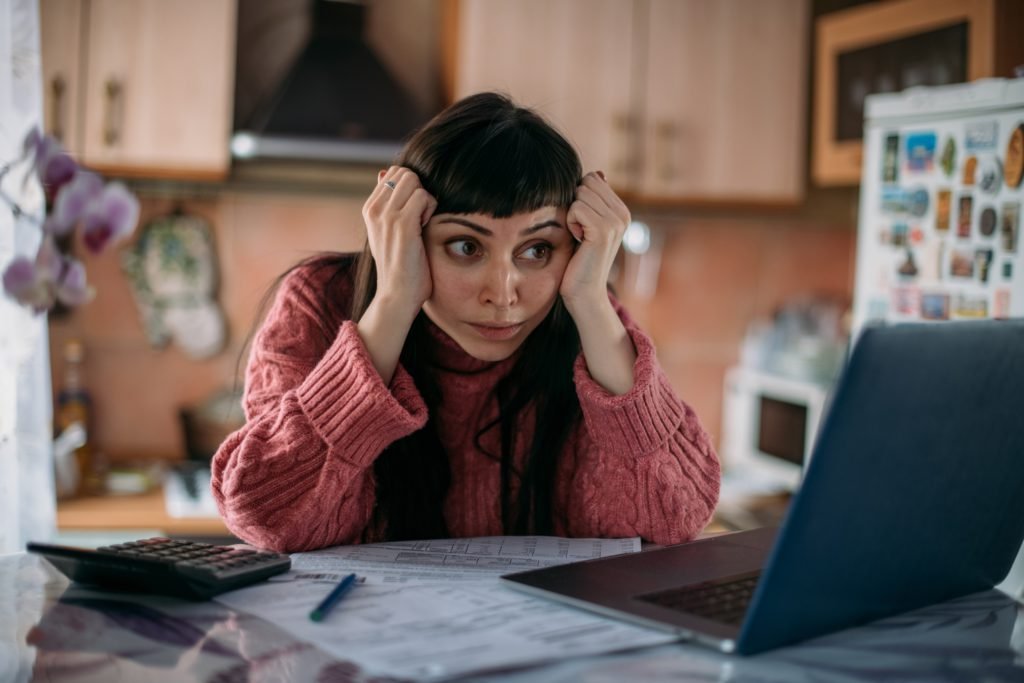 Why dental is not covered by medicare
Back in 1974, when the first Medicare (originally called Medibank) legislation was passed, the government decided not to include dental care. The Whitlam Labour government faced a lot of backlash from medical professionals over the introduction of Medibank. And so they decided to avoid the added cost and conflict that would have come with adding dental to the legislation.
It's been a tough fight over the years to keep public funding in place for medical services. And despite the essential role oral health plays in overall health and wellbeing, dental has yet to make it onto the list of publicly funded services. Until it is, people will have to continue using alternative payment solutions for dental care.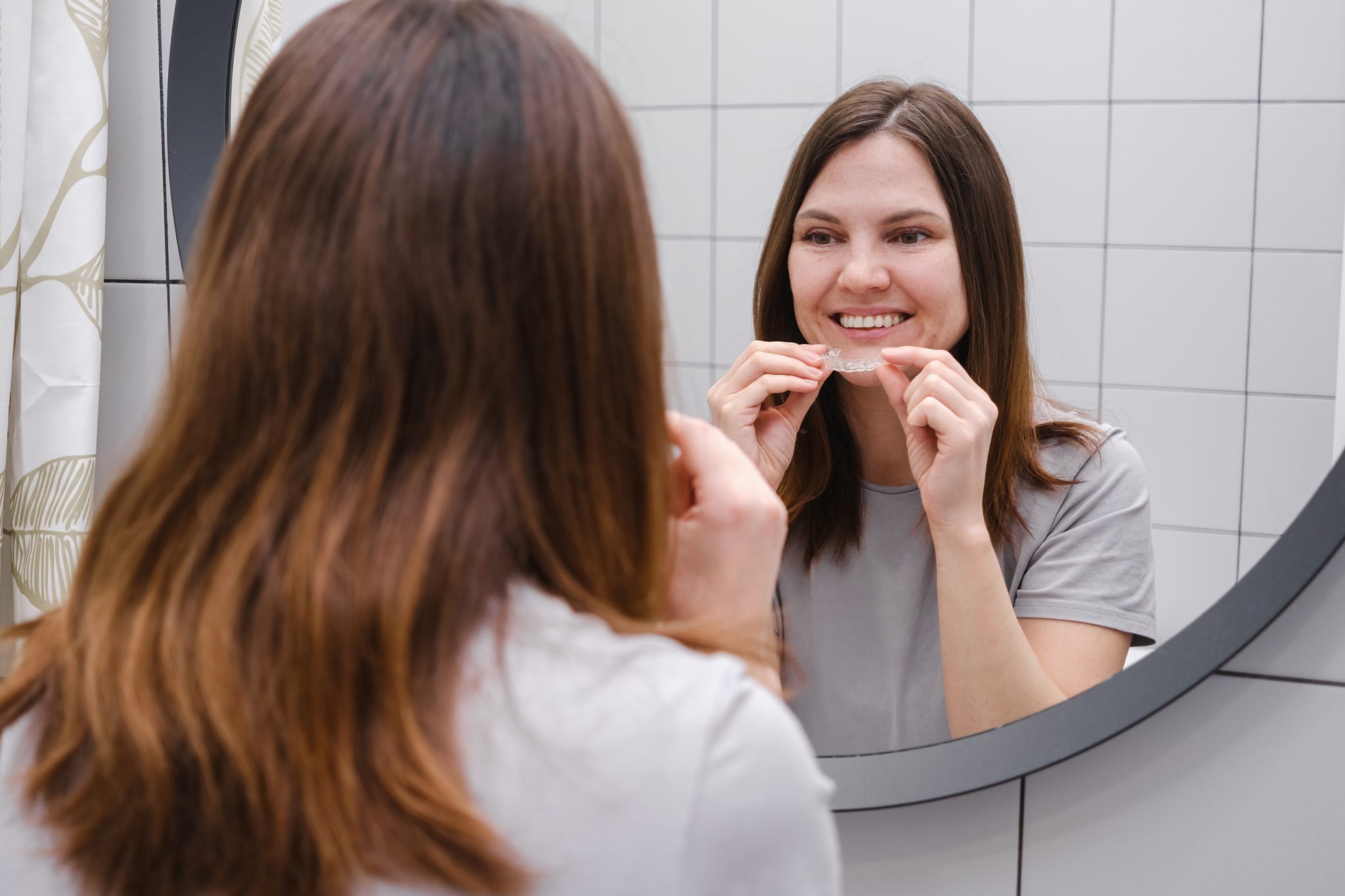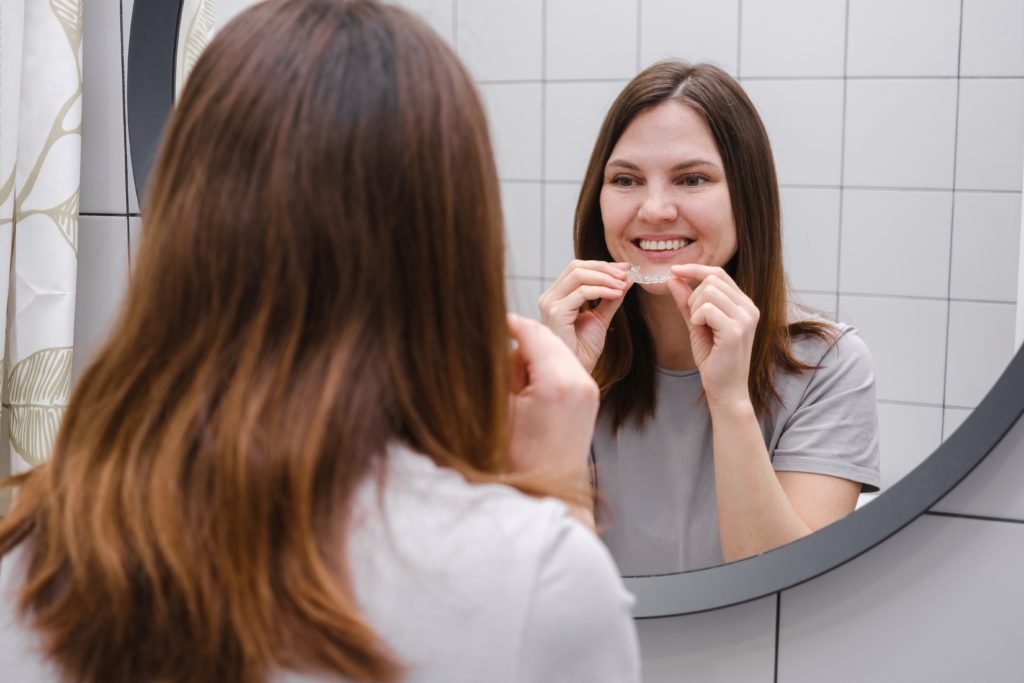 Dental cost statistics
One of the key contributing factors to poor oral hygiene is access and availability of services. This specifically includes the affordability of private dental care.
How cost creates a barrier to dental treatment in Australia
Oral health plays an essential role in our overall health. Yet many Australians put off or avoid going to the dentist. The National Study of Adult Oral Health 2017–18 reveals how the cost of dental care is a major barrier to many Australians.
Here are some of the key statistics from the report on barriers to dental work associated with cost in Australia: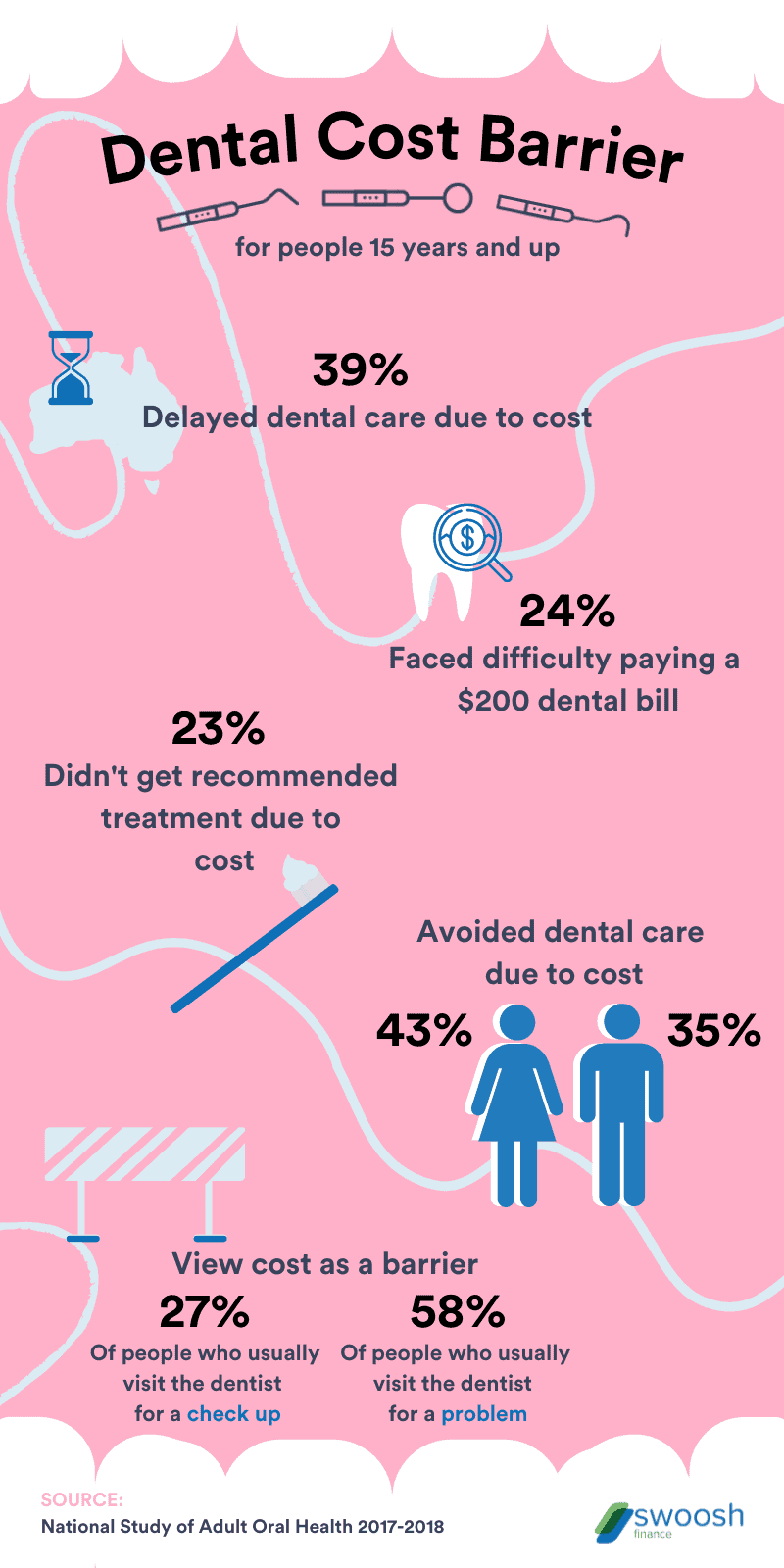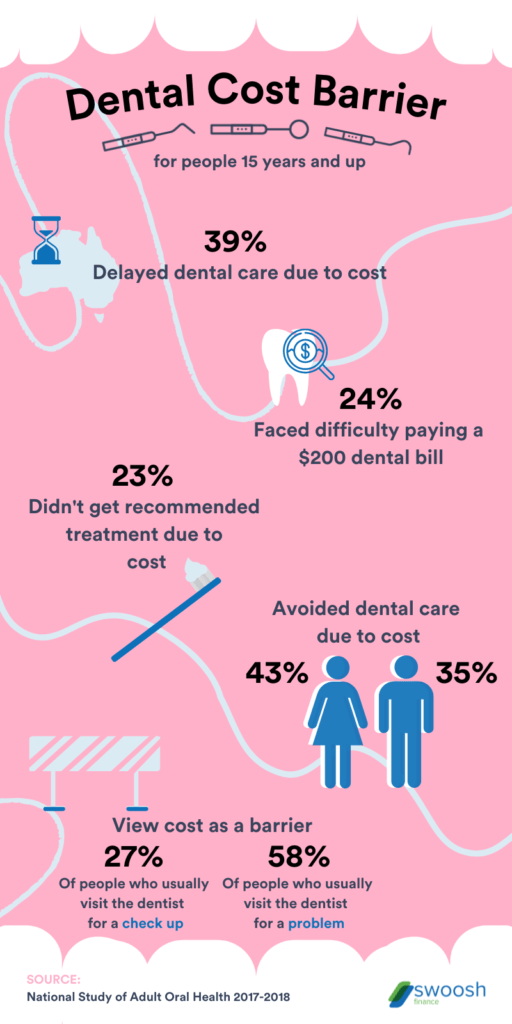 See below for a transcript of the above infographic.


Text Version

Dental cost barrier statistics for Australia – based on a survey of Australians 15 years and above between 2017-2018:

39% of Australians delayed dental care due to cost.
24% of Australians faced difficulty paying a $200 dental bill.
23% of Australians were prevented from getting recommended dental treatment due to cost.
43% of women and 35% of men avoided dental care due to the cost.
27% of people who usually visit the dentist for a check-up view cost as a barrier to dental care.
58% of people who usually visit the dentist for a problem view cost as a barrier to dental care.

How to get cheap dental work (without insurance)

Unfortunately, your choices are pretty limited when it comes to cheap dental clinics in Australia (unless you are a child). So here are our top tips for where to get cheap dental work done.

Dental finance options

Here are your options when it comes to paying and managing dental treatment bills in Australia:

Government funded dental care

For adults:

Free dental care for children: the government funds a range of dental services for children in Australia.
Child Dental Benefits Schedule: free basic dental care for children.

Nonprofit clinics:

Dental payment plans

Some dentists will offer payment plans to help you manage dental costs (in some cases your dental plan may even be interest-free). This option will depend on the individual dental clinic and you may not be able to access these with bad credit. However, there are other avenues available to you if you need dental finance but have bad credit (see dental loans below).

Superannuation

You can now use your super to cover certain dental expenses in Australia.

Buy Now Pay Later (BNPL)

some dentists now offer BNPL as a payment option for dental work. Read our article on tips for using Buy Now Pay Later to weigh up whether this is a suitable option for you.

Student dentist clinics

This can sound a bit scary, but if you're in a tight spot financially this is one way to get cheap or free dental care. The student dentists are either post-grads or at the end of their studies and supervised by registered practitioners. Look up your local university website for a cheap dental clinic near you.

Dental loans

There are a range of emergency loan options available to help cover costs, which we'll look at in detail below.

What are dental loans?

A dental loan gives you the cash to pay for any dental treatment you need. You receive the money in a lump sum and repay the funds over a set period of time. The length of your loan will depend on things like the amount you borrow, your repayment schedule, and the lender you use.

What dental work can you use personal loans for?

You can use a personal loan for any dental treatment you need, including:

Dental braces
Dental implants
Veneers
Dentures
Filling
Cosmetic dental procedures
Crowns and caps
Extractions
Roots canals
Other dental surgeries
+ Any other dental treatment

Who can get a personal loan for dental work?

There are only 4 simple eligibility criteria to get a Swoosh dental work loan:
Employed for at least 3 months
Are a permanent resident or valid visa holder of Australia
Own a vehicle registered in your name
How to get a dental loan
With Swoosh, applying for a dental loan is easy. Our application process is 100% online and can be completed in 3 easy steps:

1. Complete an online application on your mobile phone, computer or tablet. Applications only take minutes.

2. Applications are reviewed within minutes and approved within 60 minutes of receiving all the required information (during business hours)*. The decision will arrive promptly – right in your inbox

3. After approval, we will pay off your debt directly with the outstanding lenders and send any remainder to your bank account.
The online application process makes Swoosh dental loans fast and easy to apply for. And as long as we get all the information we need to assess your financial situation, you should have your cash in the bank by the afternoon. That's same day cash to help you afford those expensive dental bills!
Dental loans for bad credit
We pride ourselves on being an accessible lender that caters to as many Aussies as possible. That includes people with bad credit histories.
We know that when you're in a pickle, bad credit can hold you back from getting the cash you need. That's why we only look at your current financial situation to ensure you can afford repayments now, not sometime in the past. Getting an emergency dental loan with bad credit is easy with Swoosh.
Learn more: Bad Credit Loans
Dental loans for low-income earners
As responsible lenders, we need to ensure that everyone is reasonably capable of repaying their loans. This is why we have an income specific eligibility requirement. But as long as you have been earning a steady income for at least 3 months and meet our other eligibility requirements, you can still get a loan.
What are the rates and fees?
Your rates and fees will depend on the lender, with Swoosh you can expect the following:
| | |
| --- | --- |
| Online cash loan amount | $2,200 to $5,000 |
| Application fee | $0 (even if your application is not approved) |
| Standard establishment fee | $400 |
| Other Fees | $16 (included in loan) |
| Annual Interest | 47% (Comparison Rate 66.0347%)** |
| Term length | 12 Months |
| Flexible repayment options | Weekly, fortnightly or monthly (based on your payday) |
| Direct debit dishonour fee | A $35.00 debit dishonour fee may be issued if a scheduled payment is missed or returned unpaid |
Interest rate
Interest rates are set for the duration of your loan. Read more about our interest rates and fees.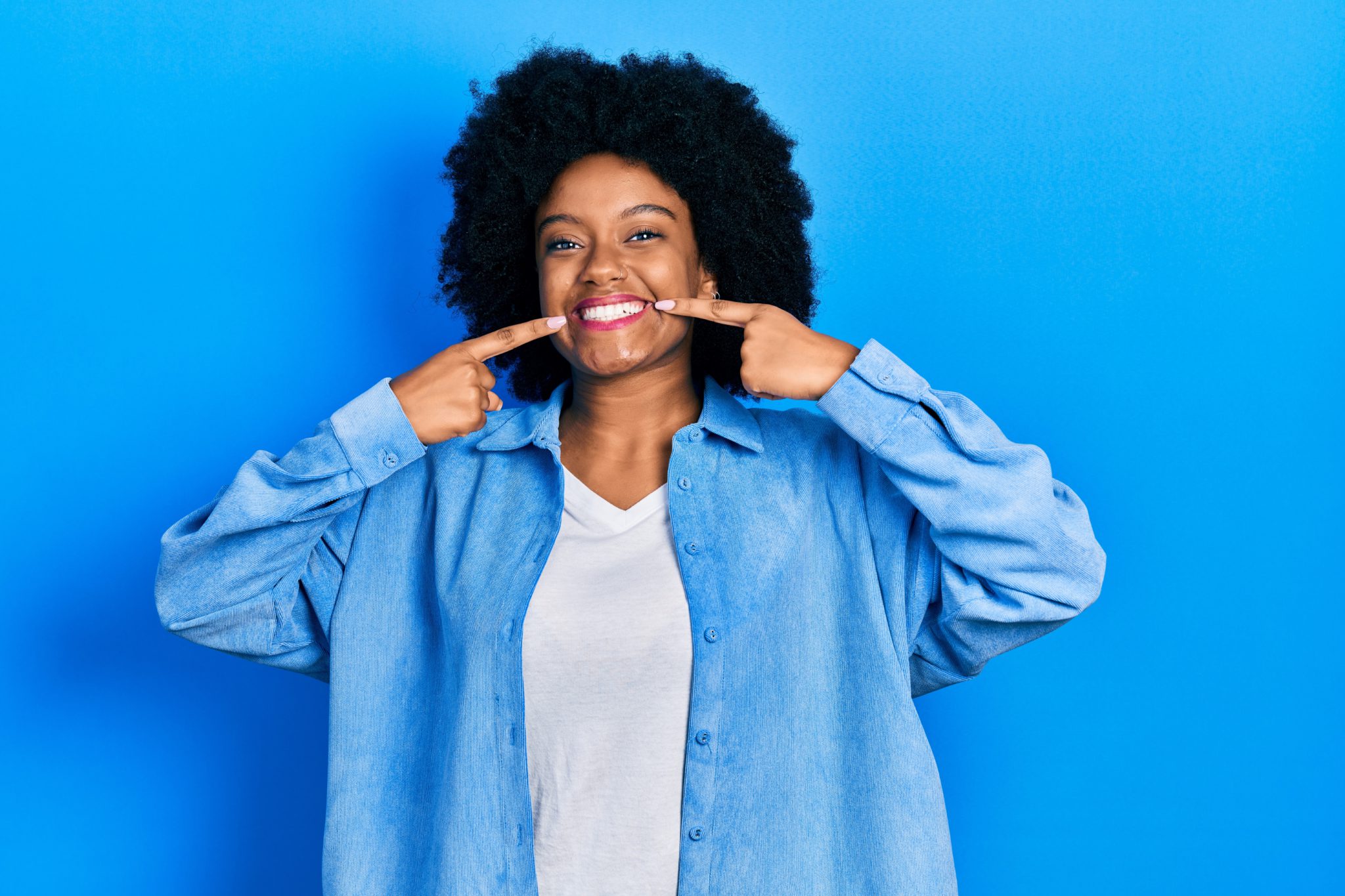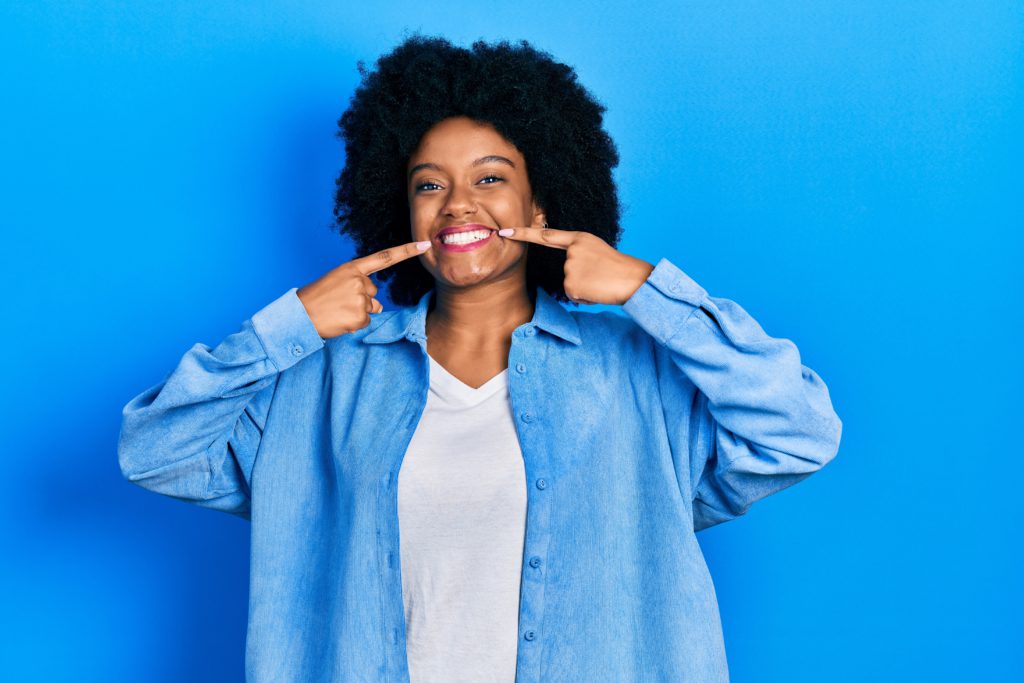 Apply for a dental loan online
You can apply for a dental loan in minutes with Swoosh. Our application process is 100% online and available 24/7. So you can apply from the comfort of your own home – or even from the waiting room of the dental clinic!
If you have more expensive dental treatment coming up, you can apply for a personal dental loan to cover the costs.
People also read