How to sell on Gumtree
Selling items you no longer need is a great way to make some extra cash. From books and DVDs to outdoor apparel and furniture, you can rid your living space of unnecessary clutter, and make some extra dough while doing it. If you take a moment to learn how to make things sell on Gumtree (for free!), you can quickly earn top dollar for your items.
By following our top 5 beginner tips you can make good, easy money – perfect for some pocket money as you pay off your online loan.
Overview:
How does Gumtree work?
Gumtree is a free online marketplace where you can create ad listings for items you no longer want. Like the classified section in a local newspaper but online. You can sell pretty much anything you like, no matter how big or small, whether it's a car or an old spoon collection. As the saying goes, one man's trash is another man's treasure.
There are 3 basic stages to selling goods on Gumtree in Australia:
Post an ad listing with as much detail as possible
Communicate/negotiate with potential buyers via the Gumtree website or app
Organise a meeting point for the buyer to inspect the item and pay – meeting in person can be less scam prone than sending an item but take steps to stay safe
Gumtree payment options
Gumtree allows a variety of payment options, including:
PayPal
Credit and debit card
BACS bank transfer
Western Union
MoneyGram
Cash (if meeting in person)
Cheque (if meeting in person)
How to sell on Gumtree for free: 8 steps for beginners
How to put an ad on Gumtree Australia
1. Register and create an account
To register for your Gumtree account, you can use your email address, Facebook account, or Google account.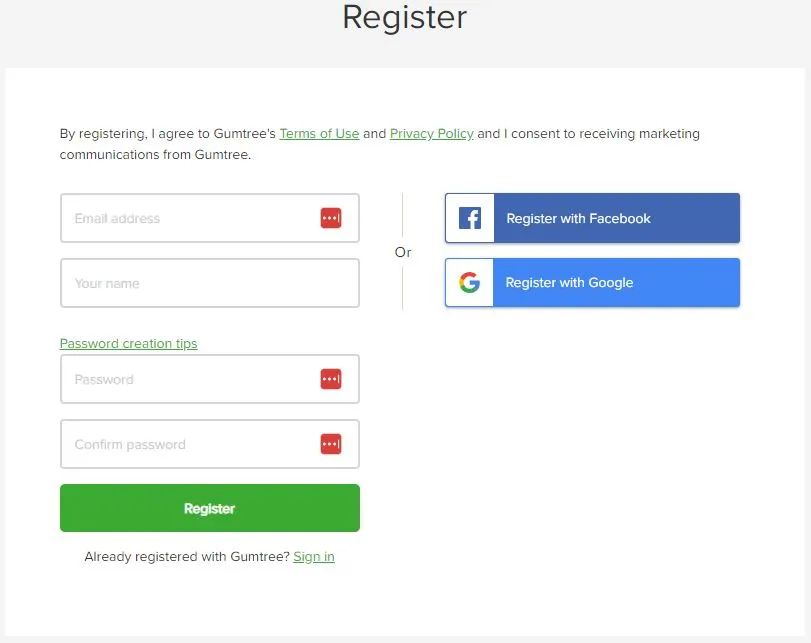 Source: Gumtree, accessed 06/06/2023
2. Activate your account
Once you have registered, you will be sent an email to activate your Gumtree account.
Click the Activate Now button in the email.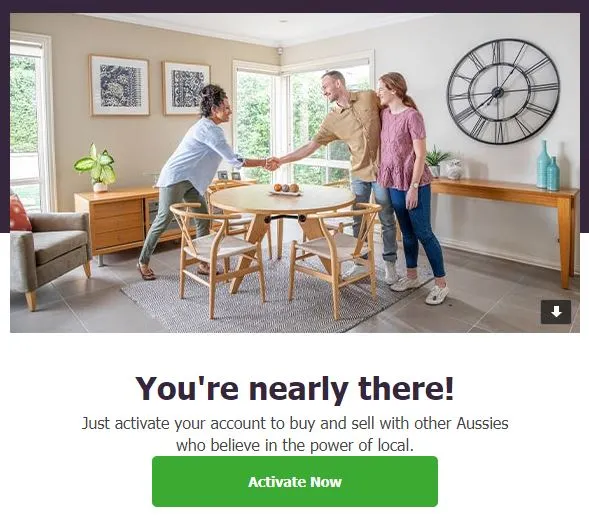 Source: Gumtree, accessed 06/06/2023
3. Create a new ad
Once your account is activated, you can start posting ads by clicking the Post an ad button at the top right of the page.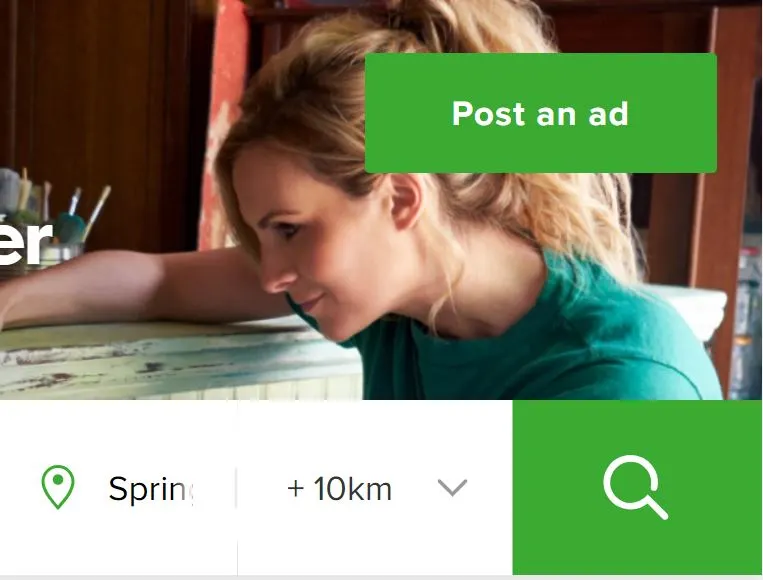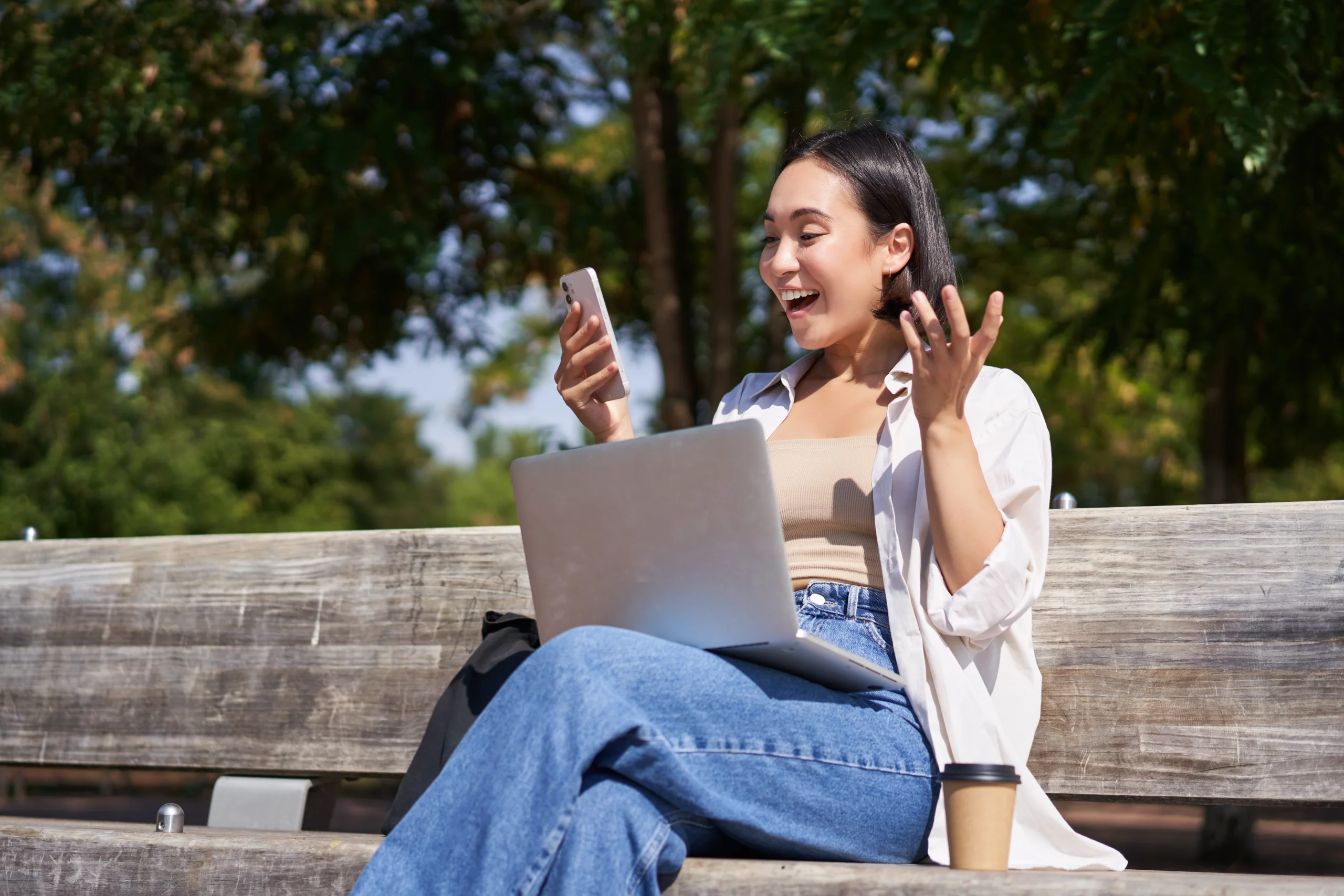 Source: Gumtree, accessed 06/06/2023
You'll then need to choose an ad type, choose an ad title, and select the category your item falls under.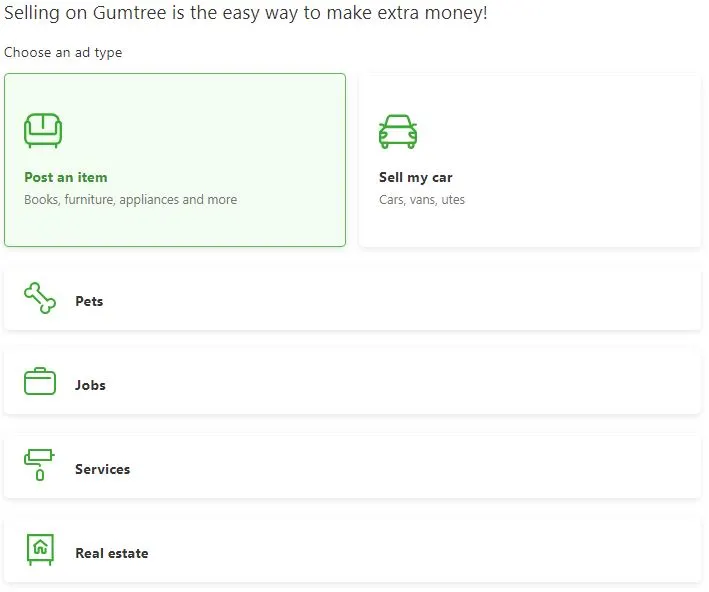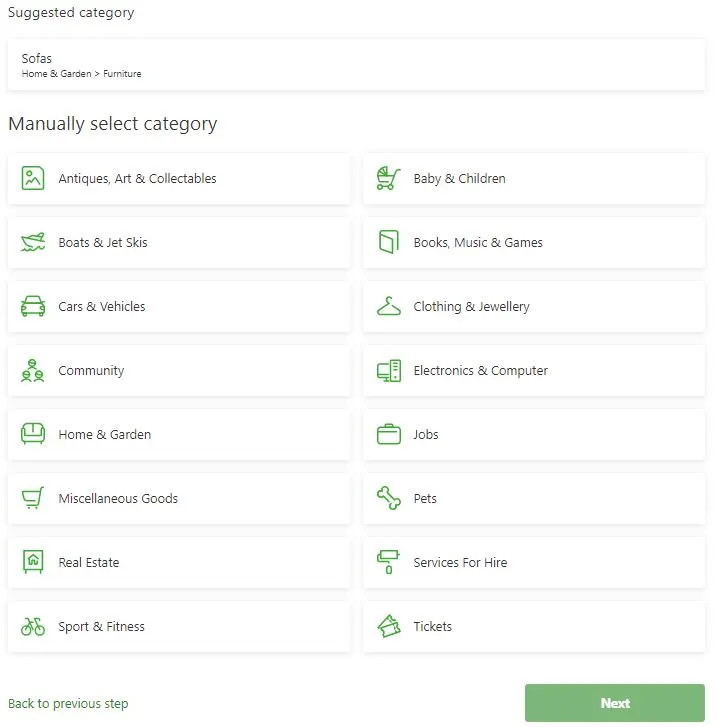 Source: Gumtree, accessed 06/06/2023
4. Fill in product details
Fill in your product details such as price type, price, and minimum offer amount. You will also need to select the ad type: Offered or Wanted.
Remember, Offered means you're selling the item, Wanted means you're searching for an item.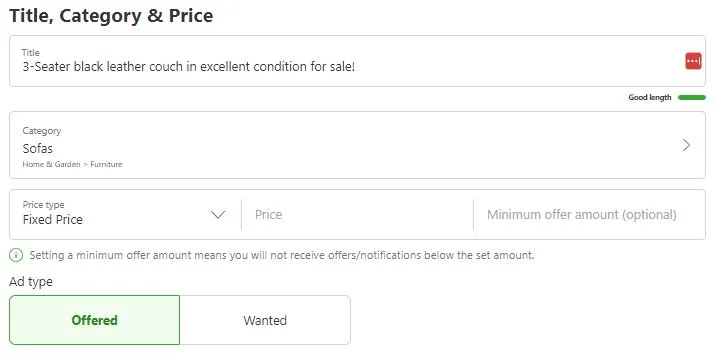 Source: Gumtree, accessed 06/06/2023
5. Upload your photos
Now it's time to upload your photos. Make sure they're high quality and show your item from all angles.
Remember to show any damage or wear. Honesty is always the best policy!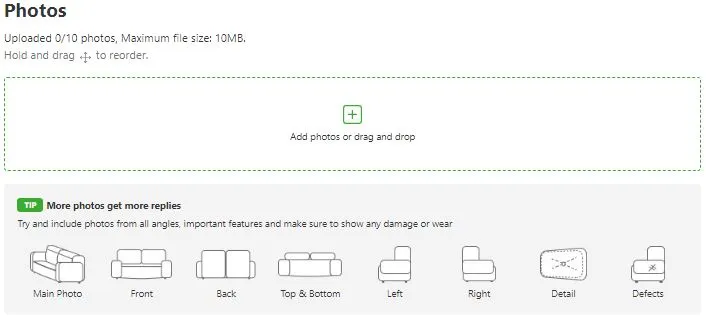 Source: Gumtree, accessed 06/06/2023
6. Provide your contact information
Fill in your contact details.
While you can opt to show your number on your ad, think carefully before choosing this option as SMS scams can target Gumtree members.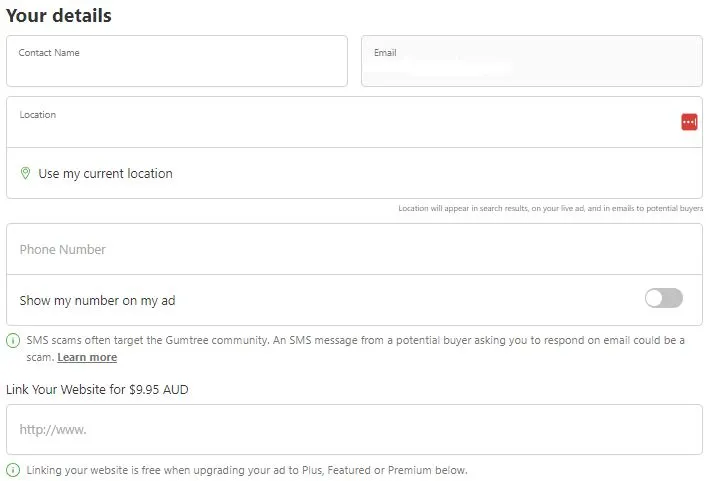 Source: Gumtree, accessed 06/06/2023
7. Select free ad type
Ensure you select Free when choosing your ad type.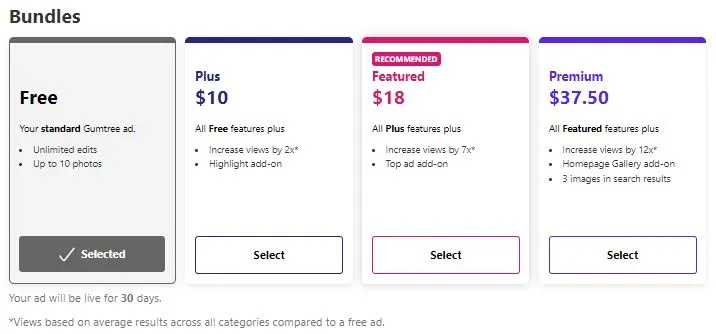 Source: Gumtree, accessed 06/06/2023
8. Post your ad
Now that you have selected your ad type, you're ready to post your ad. Ignoring the add-ons, click the Post ad button and you're good to go!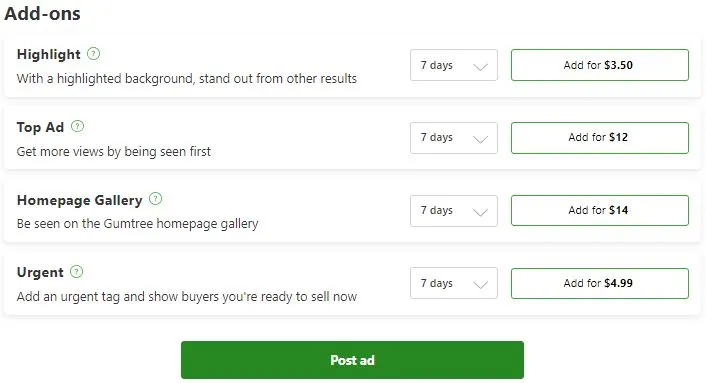 Source: Gumtree, accessed 06/06/2023
5 tips for selling (successfully) on Gumtree in Australia
Overview: Tips for selling on Gumtree
Post crystal clear, high-quality photos
Be overly descriptive
Stay upbeat and friendly
Be responsive
Consider how your ad looks on the app
We have 5 amazing tips for boosting your sales on Gumtree and making the most of the free online marketplace. You'll be able to sell your stuff fast and be surprised how easy it is once you get the hang of it.
1. Post crystal clear, high-quality photos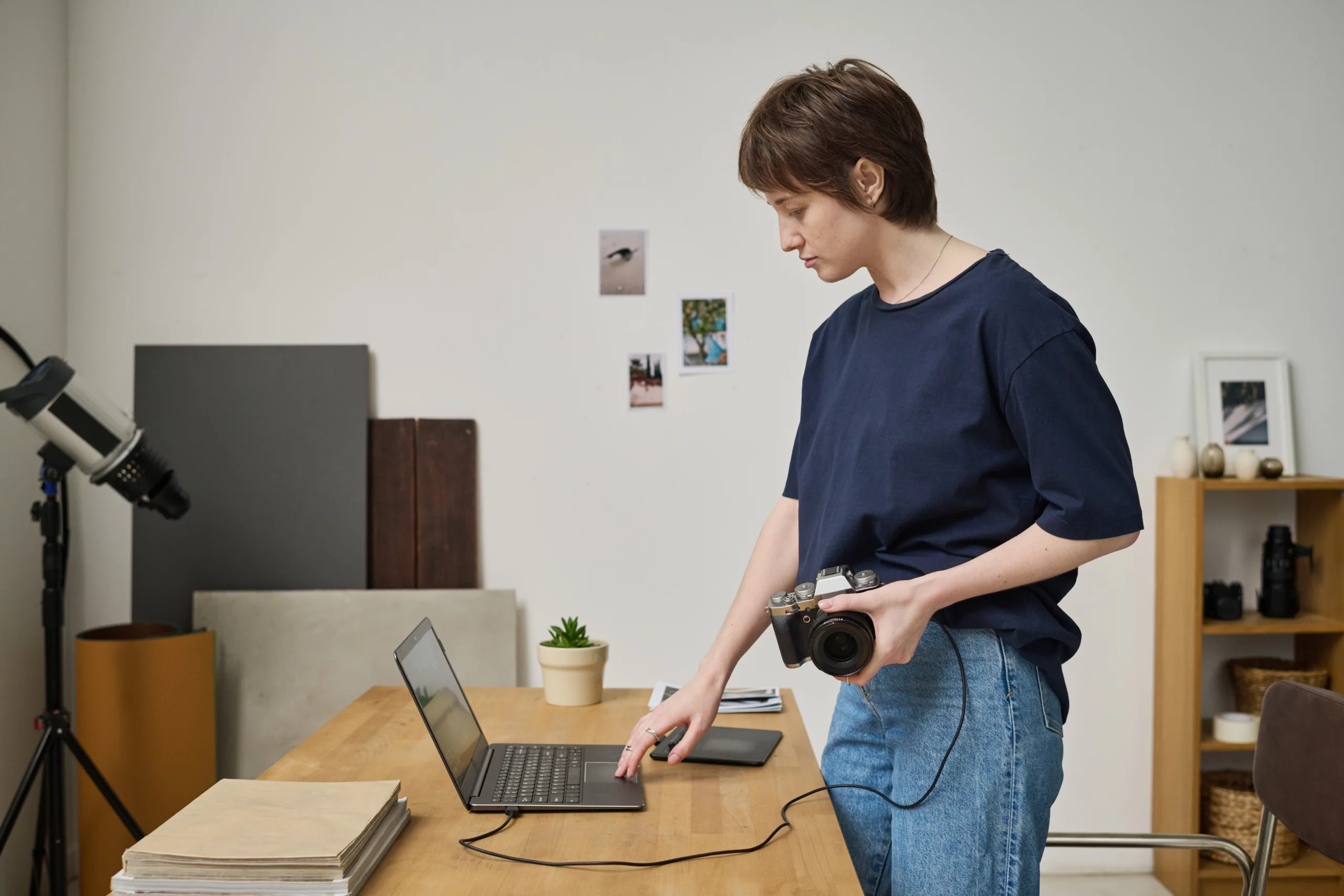 We've all heard the cliché, "don't judge a book by its cover." But the truth is, it's a natural human tendency to focus on how something looks. Our first tip for how to sell on Gumtree is to post the best photos possible.
The first thing that nearly every shopper on Gumtree does is look at the pictures of an item. Buyers compare the photos of one listing directly with the photos of something similar. Most likely, the listing with the better photos will win out.
To guarantee your product is the winner, ensure your photos are clean, clear, and accurate. You don't want a customer to write a poor review because the item they bought didn't match your photos. It pays to be honest and give your customers a true preview of what they're getting.
In addition to clean and clear photos, make sure you provide several photos of your item. Display multiple sides of your item by taking photos from the back, front, and sides.
When setting up your photo shoot, use a high-quality camera and bright lighting. You want people to easily see the item you're selling, and not be distracted by dingy lighting.
In the same way, set your item in an uncluttered area of your house. Remove unnecessary items and distractions from the photo scene. You want the buyer to know they're purchasing from someone who maintains a clean and tidy household.
Include a video in your ad
If you really want to up your game you can link to a YouTube video and give people a 360-degree view of the item. This is a great tip for selling electronics like mobile phones or computers so the buyer can see how it runs before they decide to buy.
2. Be overly descriptive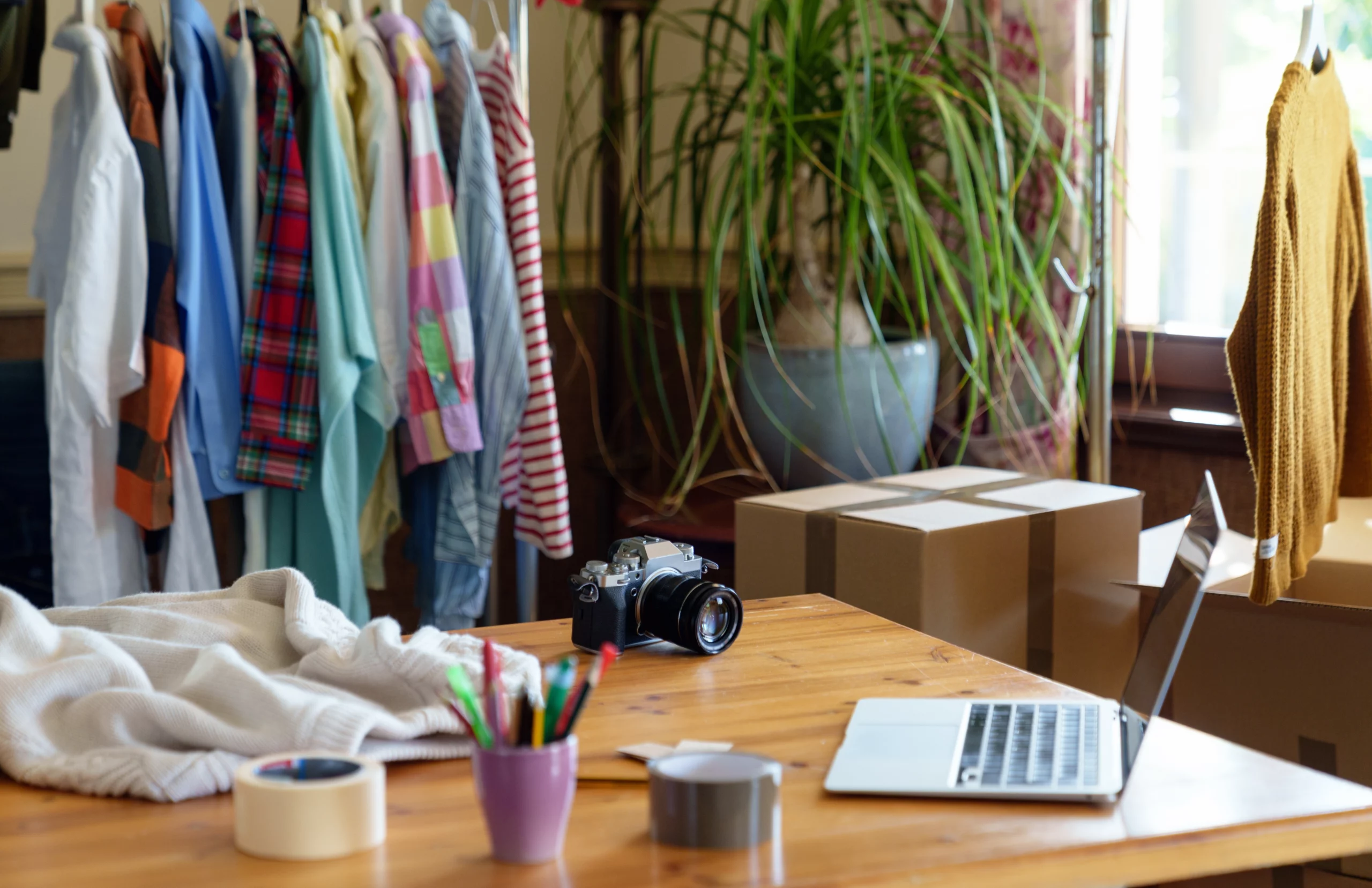 Our second tip for writing a Gumtree ad is to be very descriptive. Sites like eBay and Gumtree give you ample room to describe your item for a reason. Telling a buyer exactly what they're getting, what condition it'll be in, how well it works, and how it looks, is critical to the item being sold. Use simple words and phrasing to appeal to a wide range of people, no matter their age or education level. If you're ever unsure of what detail you can provide, have a look at similar items and see if it's inspiring.
Use keywords in your description
Not only does a description let you share details about the item, it allows you to naturally place keywords throughout your text. This allows your ad to be found when various people search for what they're looking for. People may type in different terms to find the same item.
For example, if you're selling a used phone, you may want to add in several phrases or descriptions, such as: black Samsung S6, used Samsung S6, Optus compatible Samsung S6. That way, you're capturing a wide range of search terms for the item you're offering.
Give the buyer examples of how they can use your item
When you post an ad on Gumtree, use the description space on your ad to prompt the buyer with inspiration for how they might use the item. If you're selling a travel mug, for instance, you could generate ideas by mentioning they could bring soup to work or drink coffee on their commute or make a protein smoothie for breakfast.
3. Stay upbeat and friendly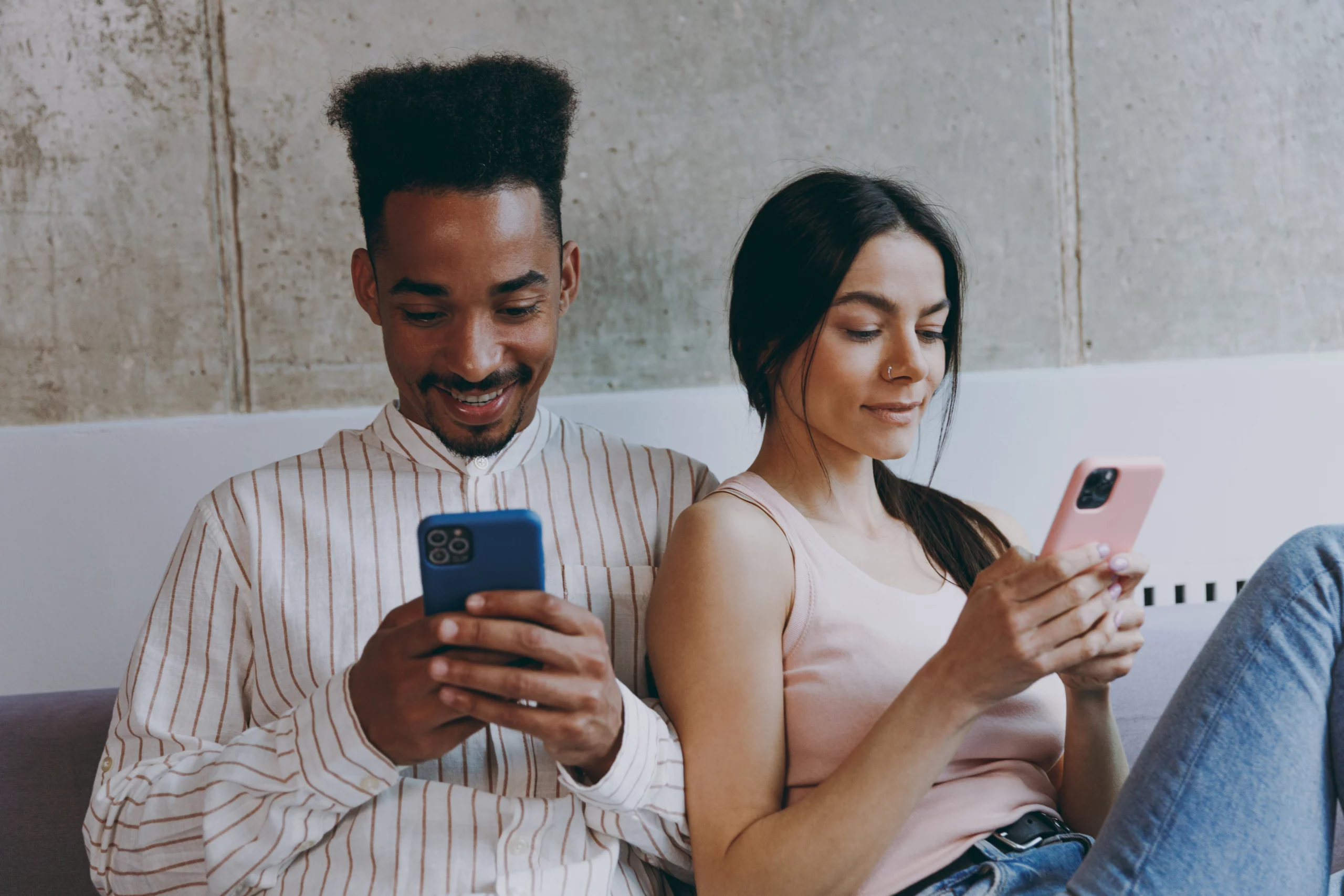 Gumtree selling etiquette
One of the best tips for writing a gumtree ad is to make a sales pitch. Make your ad and seller's profile as approachable and friendly as possible. If there's an option to create an 'About Me' section, seize the opportunity. Make yourself seem like a genuine person who cares about the buyer's experience. Tell them how you got the item, how much you loved it, and maybe even why you're getting rid of it. People find it easier to connect with a story, so make your ad personal.
Consider offering a refund policy
If it makes sense for you, you might even consider offering a refund policy. Be sure you thoroughly understand the parameters of what that means (based on what site you're using), and make sure it makes sense from a financial perspective. Buyers enjoy having a return option, but if it doesn't make sense for you, it'll be more hassle than it's worth.
4. Be responsive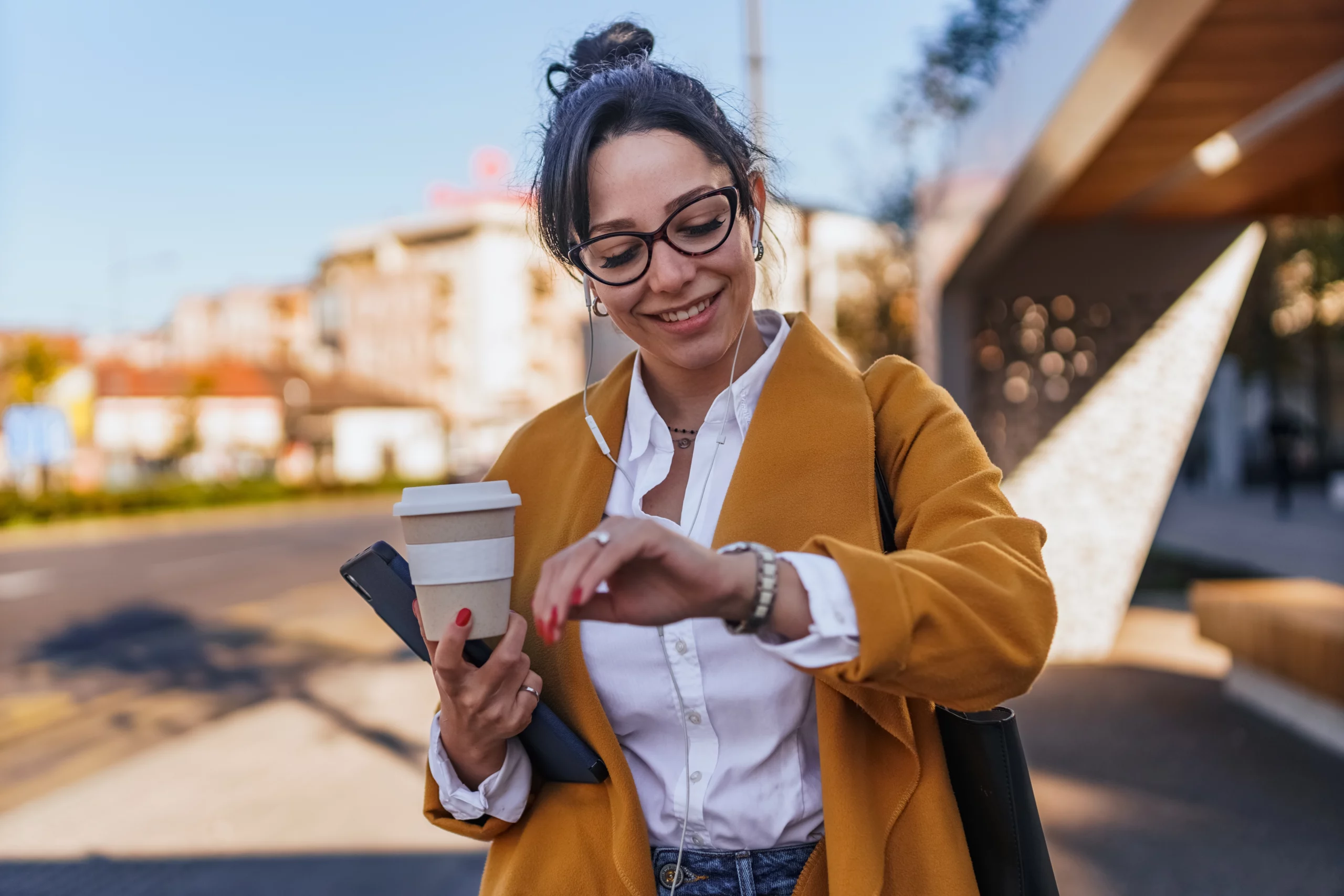 Do you love it when an item ships quickly and arrives at your doorstep in a matter of days? This goes for Gumtree shoppers too.
Responding to potential buyers and shipping your item quickly makes people feel excited to buy from you, and excited to leave a review. The sellers who take the best care of their customers receive positive reviews.
Encourage positive reviews
When you have a high rating on selling websites, more customers will buy from you in the future. Your profile and listings will appear better and higher on search engine results and people will be more convinced they should buy from you over someone else.
In other words, don't underestimate the power of the customer experience and customer reviews. Some of the most successful companies, like Amazon, have focused on ensuring the best customer experience possible. That's part of the reason their sales and services are so ubiquitous today.
5. Consider how your ad looks on the app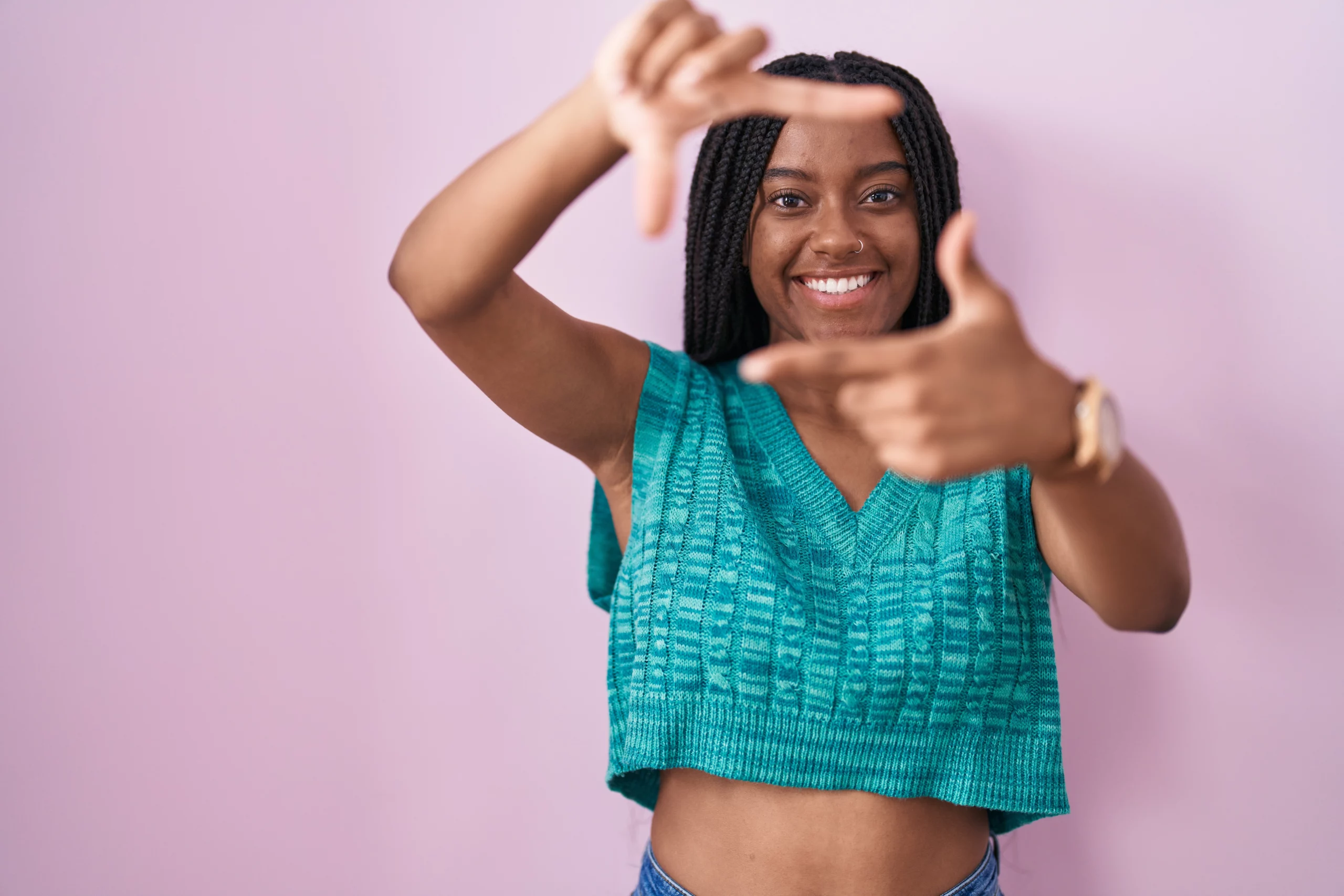 Our final tip for how to sell on Gumtree is to think about how it is displayed on the app. As of 2016, over 12.1 million people accessed Gumtree via the app. That's a lot of people searching on their mobiles and using their thumbs to shop.
When creating your ad, make sure it looks crisp and easy to read on the app version of whatever site you're using. Edit your listing if it doesn't look right or seems too lengthy. You want people to be able to search easily and review your information without being overwhelmed.
In the same vein, have the app version of the site downloaded on your phone. This allows you to respond to messages as quickly as possible, and maybe even ship your item sooner.
Selling safely on Gumtree
As an online marketplace, it can be a bit scary not knowing who you are dealing with. But there are steps you can take to protect yourself when selling items on Gumtree, including:
Stay up to date on existing and new Gumtree scams*
Message via the app – don't give out your mobile number
Get paid in cash or via Paypal through your Gumtree account
If the buyer is picking up the item, choose a public place wherever possible and bring someone with you
Use the suburb – don't list your home address in your profile
Don't use your full name
*If you think you have been scammed you should contact Gumtree and report it to Scamwatch.
Possible Gumtree scams
Buyer asks you to email them instead of messaging through Gumtree – this scam saw Australians lose more than $6 million in 2022
Buyer sends courier to collect & requires payment upfront
Buyer offers to arrange pick up or pay through Gumtree (these so-called Gumtree services don't exist)
Buyer overpays you
Urgent email claiming to be from Gumtree
Know how to sell on Gumtree, but need a little extra?
Buying and selling on Gumtree can be time-consuming. If you're tight on time or don't have enough items to free up the cash you need, consider a cash loan or a small personal loan from Swoosh Finance today. It may be the solution you need to get back on your feet, whether that's to pay a bill or the expenses for a weekend away. Find out how to apply for a payday loan online today.
FAQs
Is selling on Gumtree easy?
You know what they say, it's easy when you know how! As long as you have an internet-enabled phone (or computer), you can sell on Gumtree. Just sign up for an account (you can do this using your Facebook profile) and get started.
How much does it cost to sell on Gumtree?
It doesn't have to cost you anything to sell on Gumtree. You can post an ad completely for free. You're then given different payment options to increase your ad's exposure but you don't have to take them.
How do I post something on Gumtree for free?
Head to gumtree.com.au, create an account (this is super easy if you register using your Google or Facebook account), then click the 'Post an ad' button.
What are the Gumtree selling fees in Australia?
Gumtree charges no selling fees in Australia. That means it's completely free to list an item for sale and Gumtree does not take a cut of your profits. However, your chosen method of receiving payment may charge fees for you to receive or withdraw those funds. For example, PayPal's fees are their standard domestic transaction fee of 2.6% + $0.30. It's also worth noting that you can choose to pay Gumtree if you want to promote the item you're selling with, for example, a banner ad, as a top featured listing, or with more photographs.
People also read: