How Does Cash Converters Work?
Cash Converters have been around for a long time. It's a good way to earn some extra cash quickly and give your home a spring clean. But buying and selling used goods is not the only thing this business does. There's more going on than you might think. So let's answer the question, how does Cash Converters work?
Overview:
How does Cash Converters work in Australia?
There are 3 steps involved if you want to sell something at Cash Converters:
Get an online quote or head to a Cash Converters store
Bring 100 points of ID with you
Get paid for your items
You might think of Cash Converters as just a place to pawn some old things and make a bit of quick cash. But they actually offer a few different services, you can also use Cash Converters in Australia to:
Sell unwanted goods
Buy second hand goods
Get personal and vehicle finance
Get a pawnbroking loan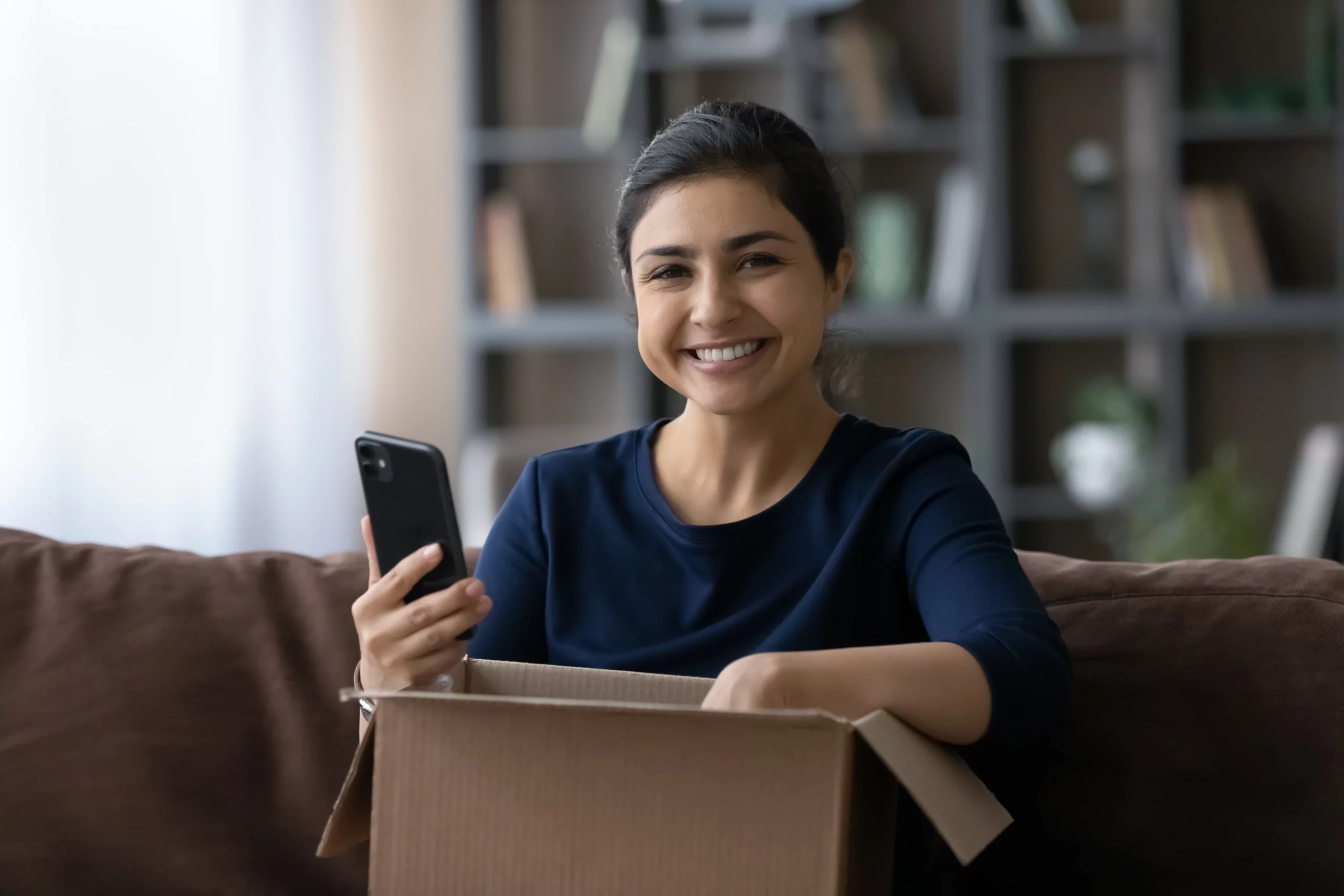 Who owns cash converters?
Cash Converters began in Perth back in 1984. It was founded by Brian Cumins, who retired in 2005. The company currently has over 150 stores across Australia and expanded internationally in the mid-90s.
What items does Cash Converters buy?
Cash Converters accepts the following items:
Jewellery
Gold
Mobile phones
Gaming consoles and equipment
Computers and laptops
Cameras
Musical instruments
Fitness and outdoor equipment
DIY tools
Electronics
Toys and collectables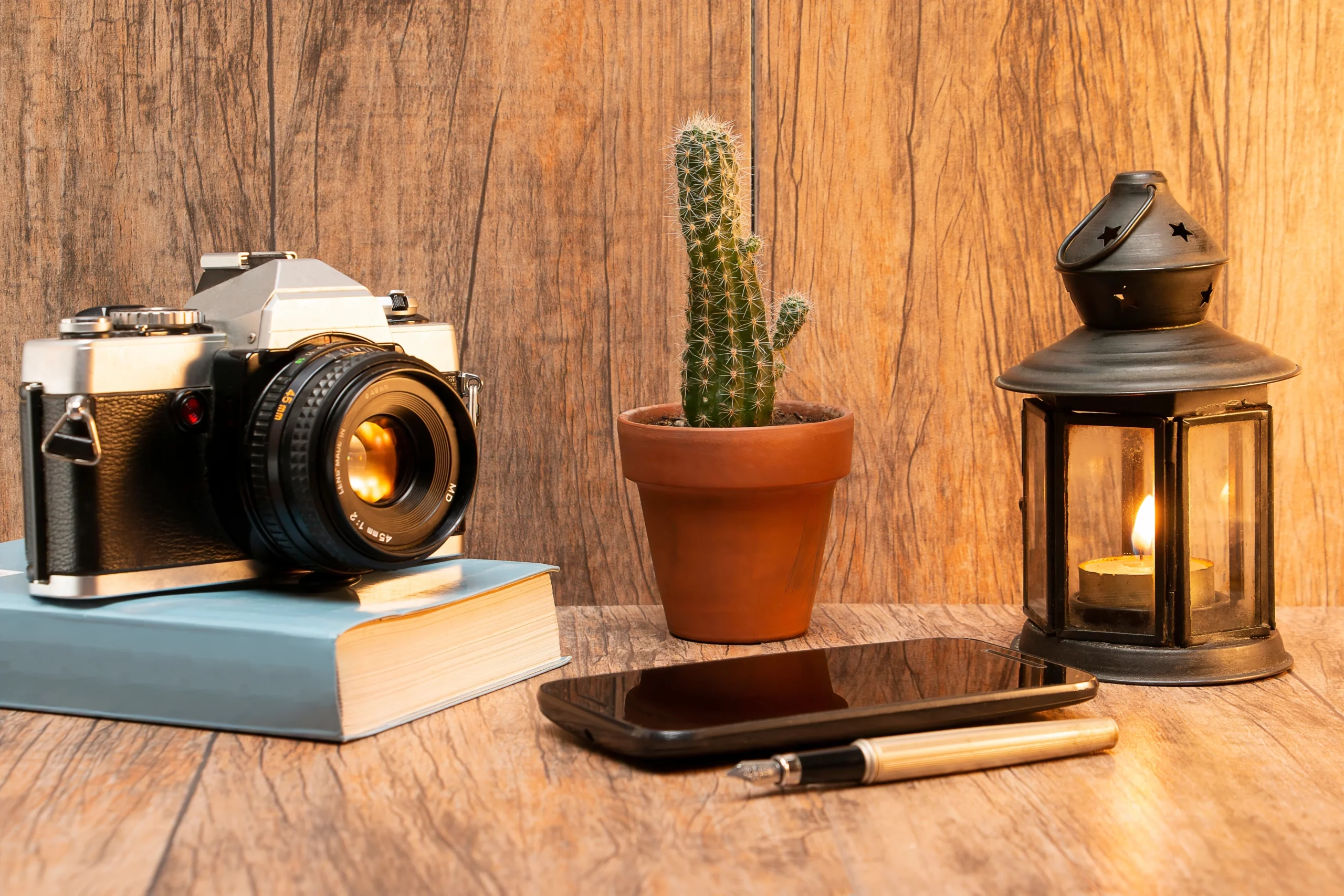 How much does Cash Converters pay for items?
The amount that Cash Converters pays for items varies depending on a number of factors, including the type of item, its condition, its age, and its demand. In general, Cash Converters will pay more for items that are in good condition, newer, and in high demand. They will typically pay less for items that are damaged, older, or not in demand.
Does Cash Converters do Afterpay?
Cash Converters does not currently offer Afterpay on online purchases. But some in-store shops do allow Afterpay.
How do you get paid?
Cash Converters offers on-the-spot cash for some of their services, but others will require a bank transfer. The payment method will depend on what product or service you are using. See the table below to see how you will get paid by Cash Converters.
| Product/Service | Payment Method |
| --- | --- |
| Selling second-hand goods | Instant cash in store |
| PayAdvance loan | Immediate transfer of funds to your bank account |
| Cash Advance Loan | Instant cash in store |
| Small Loan | Funds are transferred to your bank account within 24 hours of approval |
| Medium Loan | Funds are transferred to your bank account within 24 hours of approval |
| Car Finance | Paid to the car dealership |
Is Cash Converters safe?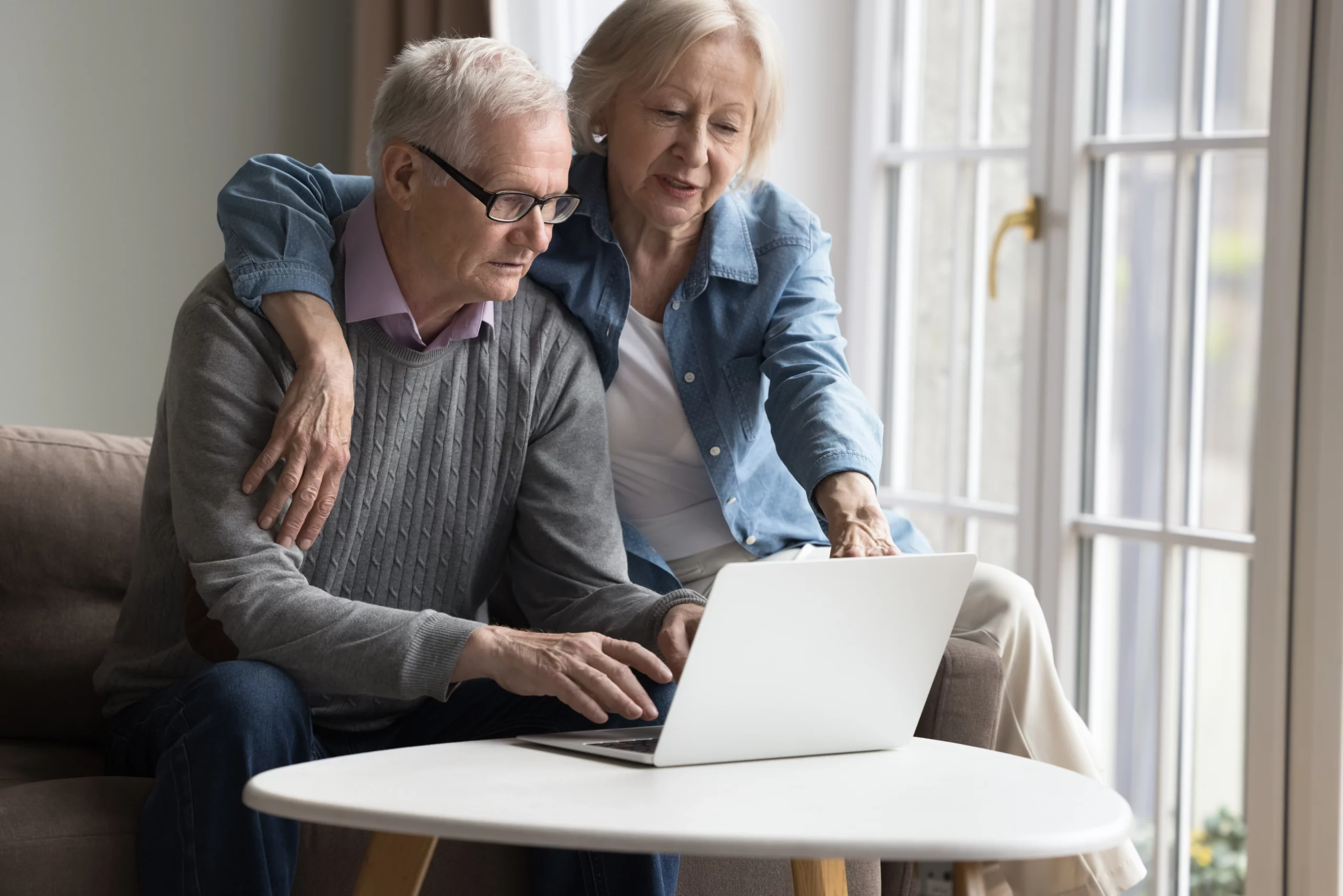 If you're wondering if Cash Converters is legit, you can relax. It's a legitimate Australian business and lender, so it is safe to buy and sell unwanted goods through them. You can check the Australian Business Number and Australian Credit Licence listed at the bottom of their website. Most Cash Converters items also come with a 90-day warranty, so it is safe to buy second-hand items online or in-store.
Keep in mind that small loans and microloans tend to come with higher interest rates, so make sure you consider your financial position and check reviews before you apply. Cash Converters has had legal action brought for excessive fees in the past.
How Cash Converters makes money
According to a 2022 Analyst Report, the largest contributor to Cash Converters' income comes from the small to medium personal loan services on offer. But they also make money in the following ways: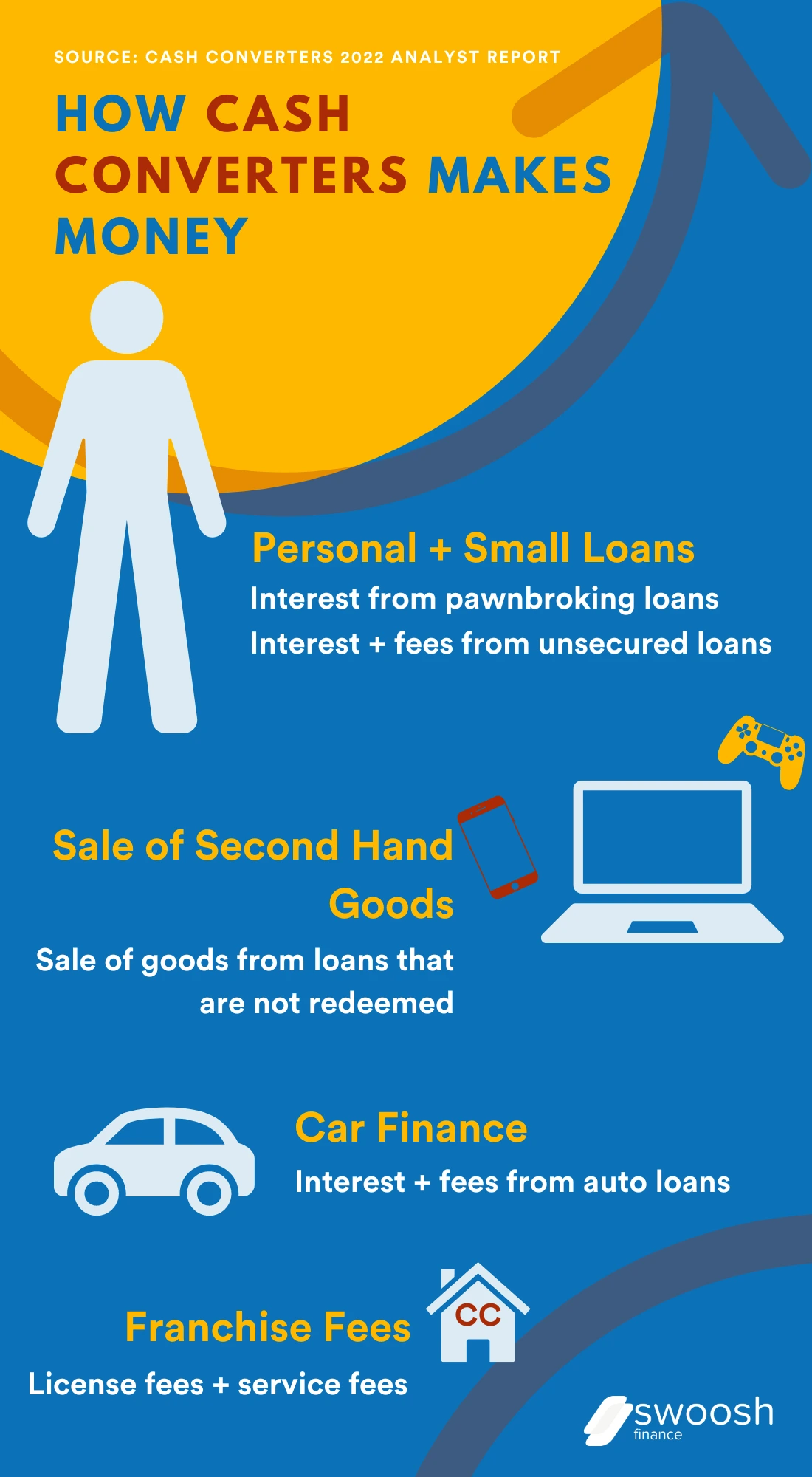 How Cash Converters makes money:
Personal loans and small loans

Interest from pawnbroking loans
Interest and fees from unsecured loans

Sale of second-hand goods

Sale of goods from (pawnbroking) loans that are not redeemed

Car finance (Green Light Auto Finance)

Interest and fees from auto finance

Franchise Fees

License fees and service fees from Cash Converters franchise stores
How do Cash Converters loans work?
A Cash Converters loan works like other loans: you borrow a bulk sum of money and pay it off over time. There are 4 types of loans you can apply for:
Cash Advance Loan: Unsecured micro-loans between $50 – $2,000. Apply in-store and get paid instantly if approved. Loan terms are usually between 4 – 12 weeks.
Personal Loan: Small to medium unsecured loans, ranging from $400 – $5,000 and usually repaid in 2 – 24 months. You can apply online or in-store.
Pawnbroking Loan: A type of secured loan that uses an item or car as security for the loan. Once you have repaid the loan, the item or vehicle will be returned to you.
Car Loan: $6,000 – $45,000 available for car finance through Green Light Auto (owned by Cash Converters). Flexible terms and payment options are available.
Does Cash Converters give you a fair price?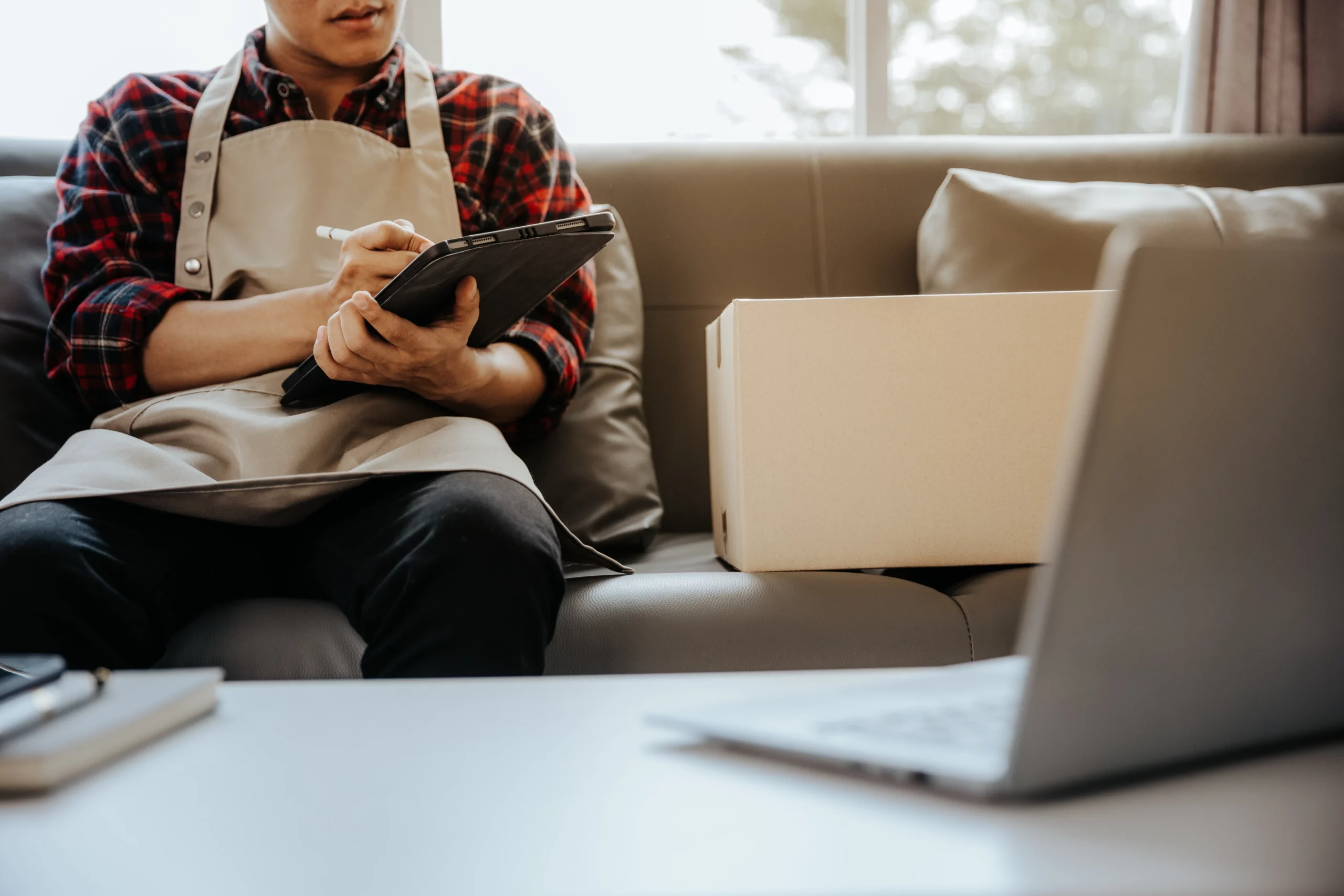 Cash Converters can be good if you need money ASAP and you have something decent to sell. But if you're looking to get back what you paid, it may not be the best option. In order to make a profit, they need to factor in how much someone would pay for second-hand items and how much it costs to buy from you.
Not every Cash Converters will give you the same price for an item. Seek out areas where the item is likely to be more in demand if you want to get the best price. For example, you might get more for your old laptop if you go to a Cash Converters near a university. You can always contact them ahead of time and ask for an estimate before you go. That way you can weigh up your options.
If you're not on a time crunch, then it might be worth it to check out other second-hand options like Facebook Marketplace or selling on Gumtree. You'll have to do a bit more work setting the listing and negotiating the price yourself. But you will likely get a better price.
So, is it worth selling stuff to Cash Converters?
In general, Cash Converters offers relatively fair prices for items that are in good condition and are in high demand. But they may offer lower prices for items that are damaged, outdated, or not in demand.
However, if it's a small loan you're after, we recommend comparing different lenders and the true cost of each loan option.
People also read